This Podcast Is Episode Number 0180 And It Will Be About Annual Taxes And Job Costing From The View Of The Wife Of A Contractor
The First Question You May Ask Yourself Is Why Doesn't My Tax Accountant Help Me With Job Costing?
They are Tax Accountants, not Construction Accountants and may not know the answers. You may think they are just keeping it a secret. Sometimes you may think they don't know what they are doing, and maybe I need to get a new tax accountant.

My Advice is Stop, take a deep breath. Is your tax accountant doing a good job with your annual taxes? If the answer is YES. Please keep them, they are doing what they are supposed to do.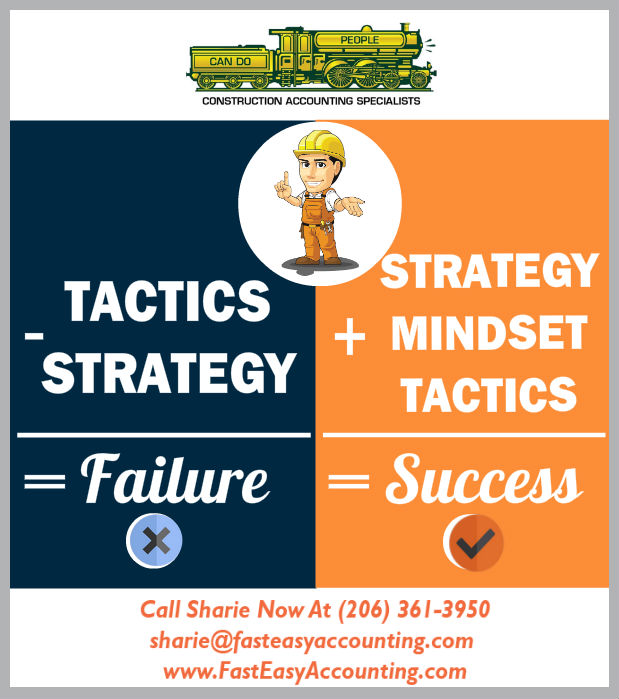 Annual taxes is like the game of "Pick Up Sticks" Details are everywhere, and all need to be gently picked up and placed on your tax return in a specific order. Not all of the items on the table are actual tax deductions. Your tax accountant must be up to date on the latest changes made by Congress and implemented by the Internal Revenue Service.

Remember a few years ago when Congress made changes went they met in January. Then next the Internal Revenue Service had to determine how those changes applied to the individual pages on the tax return. Those changes then had to be sent to the software engineers to update all of the tax software.

The rule is the first two pages of the annual 1040 are the summary of your tax return. The balance of the pages is supporting documents and worksheets. Congress in a single bill can make decisions that are for the current year (today), future years (tomorrow), and yesterday (as in the example of the year changes were made in January that impacted the prior year's taxes).

Most tax accountants are "Generalists" which means they have every combination of family structure, with and without children, elderly parents, grown children that moved back home, and friends they are helping out. Do you have health insurance, a qualified plan, non-qualified, State-run plan, or hoping for the best and will pay the No Insurance penalty.

Do you own your home, have a second home, RV or Travel Trailer that qualifies as a second home. What about IRA's, 401k's, changed jobs, someone was ill; had to or chose to take an early distribution. What is a tax deduction and What is Not a tax deduction?

Now add your Construction Company to the mix. Is the business a Sole Proprietor, LLC, Sub-Chapter S-Corp, C-Corp, Partnership. Did you take a payroll, Loans to Owner, Loans to Members, Loans to Shareholder (makes a difference when preparing the tax return?

If you are a Sole Prop, LLC being treated as a Sole Prop or a Partnership, then there is an additional form "Self-Employment Tax" which leads to paying quarterly estimated taxes Quarterly to the Internal Revenue Service.
Tax returns are many pages long; gone are the days of the Easy File. They were the "Good Old Days" when you had a W-2 job, no house, and no to a zillion and one other questions.

Asking your tax accountant to focus on the details of your business is just TOO Much. By the time your information gets to the tax accountant; their focus in on picking up all the pickup sticks and put them in the proper order to save you money on your taxes.

Job Costing and job profitability is a question about details and good record keeping on the part of the contractor. A wife, spouse, partner, friend with the help of a construction accountant provide Job Costing reports. Without the proper tools, it is a frustrating activity for everyone involved.

The contractor, if you don't know what job you are on and unable to unwilling to slow down long enough to put a job name on the receipt. Then expecting your others in your life to be able to EASILY (anything can be done) figure out the Job Costing with limited information is unreasonable.

CONCLUSION:
So when the tax accountant tries to keep their expression blank, without rolling their eyes, and gently fobs off your wife, spouse, partner, friend off; they think they have it easy. Tax accountant rolls the numbers all up.
Did you make a profit, Yes or No; determine your depreciation, review your travel, meals and entertainment, other misc. items. Move the numbers over to the personal side which can be much messy. Complete your return and thank you for coming in.
The smart Tax Preparers send you back to your Construction Accountant for more Job Costing details. Hoping you have a better year and a little cleaner, tidier records the next time you meet.
I trust this podcast helps you understand that outsourcing your contractors bookkeeping services to us is about more than just "doing the bookkeeping"; it is about taking holistic approach to your entire construction company and helping support you as a contractor and as a person.
We Remove Contractor's Unique Paperwork Frustrations
We understand the good, bad and the ugly about owning and operating construction companies because we have had several of them and we sincerely care about you and your construction company!
That is all I have for now and if you have listened this far please do me the honor of commenting and rating podcast www.FastEasyAccounting.com/podcast Tell me what you liked, did not like, tell it as you see it because your feedback is crucial and I thank you in advance.
You Deserve To Be Wealthy, Because You Bring Value To Other People's Lives!
I trust this will be of value to you and your feedback is always welcome at www.FastEasyAccounting.com/podcast
This is one more example of how Fast Easy Accounting is helping construction company owners across the USA including Alaska and Hawaii put more money in the bank to operate and grow your construction company. Construction accounting is not rocket science; it is a lot harder than that and a lot more valuable to construction contractors like you so stop missing out and call Sharie 206-361-3950 or email sharie@fasteasyaccounting.com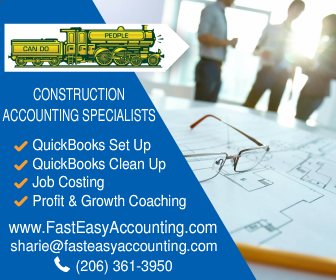 Thinking About Outsourcing Your Contractors Bookkeeping Services?
Click On The Link Below:
This guide will help you learn what to look for in outsourced construction accounting.
Need Help Now?
Call Sharie 206-361-3950
Thank you very much and I hope you understand we really do care about you and all contractors regardless of whether or not you ever hire our services.
Bye for now until our next episode here on the Contractors Success MAP Podcast.
Warm Regards,
Randal DeHart | Contractors Accountant
Contractors_Success_MAP, Contractors_Success_Marketing_Accounting_Production, Contractor_Bookkeeping_Services, QuickBooks_For_Contractors, QuickBooks_For_Contractors,Contractors_Success_Map__Annual_Taxes_and_Job_Costing_from_the_view_of_the_Wife_of_a_Cont