This Podcast Is Episode Number 0182 And It Will Be About A Unique Faucet Of Qualified Leads Just For Contractors Like You!

Today's Guest Article Is From Tomer Applebaum

Tomer was interviewed for the Contractors Success M.A.P. Podcast and was very generous with his time and provided some extremely valuable insights for how you can generate Job Leads as easy as turning on a faucet.
A Faucet of qualified leads
You are a master craftsman
You have spent years learning and plying your trade to get where you are. If you're an electrician, you can run wires in your sleep. You don't have to think about wiring the electric box, you know.. If you're a plumber, you know just how much dope or tape to wrap for the seal to be tight. You don't have to do it twice to prevent leaks. You do it right the 1st time.
Whatever your trade, whether you're a painter, a carpenter, a handyman, whatever it is, you know it well. You can serve people and help them. And now you've started a business…

Oh oh…
The number 1 challenge
As every new business owner knows, the 1st thing you need for your business is customers. Where are the customers? how to get to them to come knocking on the door? and even more importantly: where are the right customers?

This is a crucial element of your business. At first, you probably try to lowball a few people you know. kicking yourself when the expenses turn out to be higher than expected. An extra run to get parts perhaps, or an unforeseen complication. And now you're not even sure you're making any money on the job.

And even at a later stage of your business, when you've accumulated a few loyal customers, and word of mouth starts slowly kicking in. You find that… not all customers are 'born equal'.

some customers, are easy to work with, easy to serve, and easy to collect payment from (a crucial part of any healthy business) but some… well, not so much.
What do you do?
Is it possible to eliminate this constant pain of wondering about whether you will have work next week? And whether your customers will be a good match to the service you provide?
Is it possible to be able to focus on delivering an excellent service, on getting the job done right, and knowing that the leads and customers will be there when you need them? Yes it is.

A useful trade that can serve you

I know you might be a bit skeptical, but bear with me a moment, you've spent years learning your trade until you became as good as you are, it took years of learning and practice, and making mistakes to become as good as you are at your trade. And as you know quite well not all customers understand and appreciate the effort and expertise you bring to the table.

Bear with me a moment and let me show you how my trade can serve you
What I do is I get you leads. Plain and simple. And not only do I bring you leads but I create a faucet of leads which you can turn on and off at will. If you have more work then you can handle, then you just turn off the faucet, if you have extra time on your hands, you simply turn the faucet back on. I do this solely on the internet, for 1 simple reason. It's the best way to market your business.

The reason the internet is the best place to advertise your business
What is so special about digital advertising? Why is it better than print, TV, radio, street signs?

Well, I don't want to be blunt about it, but unless you're Coca Cola. Old advertising is DEAD.

The thing is, all of those ways of reaching potential customers are like a shotgun, like a loudspeaker. You're just sending out your message (and Wasting your hard-earned advertising dollars) to e-v-e-r-y-b-o-d-y.

And you're paying big bucks, to expose your message to all of these people who will Never buy from you!

Not everybody is your customer, so you shouldn't pay to broadcast your message to everybody. Your ads should be delivered to your ideal potential customers.
Online It's different

Facebook knows everything about your customers, and trust me your customers are there, there are more than 1,000,000,000 users on Facebook, (yes that's over one BILLION) And using some specialized tools Facebook gives me. I can make sure your ad is seen, only by the people you want to see it.

When you advertise online you can (and should) tailor that ad for your ideal customer.

All of a sudden, instead of yelling at people scattershot, you're offering them something of value, that they're very likely to appreciate.

And how do I do this? What is this magical power?

No magic. This is my trade. I run a Digital marketing Agency. I provide you with a simple service.

I target your ideal customer and strike a conversation with him on your behalf, make sure he's a valid potential customer of yours. I win his trust, and he gives his trust in your business in return, and you get his contact info.

And using some specialized tools. You can know down to the cent. How much each lead is costing you. It could be $10.00 it might be as cheap as $1.30!

Let me repeat that, you're not getting just any random leads. Before we even start building you this stream of leads and customers we're going to have a conversation, and really understand — who is your ideal customer? Who do you love working with most? who can you serve best?

And then we build a campaign, a faucet designed to makes sure you reach your ideal kinds of prospects.
A Faucet of qualified leads
You're not going to spend a dime on random people who you cannot serve: If you're focused on commercial we'll advertise only to business owners, if you do residential, only homeowners. We'll make sure the prospects live in the areas you serve, make sure we advertise to men or women or both according to which is the better prospect in your niche, we make sure our ads only reach people making an annual income that can afford your services, and we can even screen according to the customers interests if relevant.

Your ads will be reaching only the kinds of people which you want to reach, only those who are a good match for you.

Long story short: You need qualified leads, you need to know that money that the money you spend on advertising is coming back to you tenfold as paying customers. You need to Advertise online.
Thriving Craftsmen
What makes my advertising agency so special? Nothing really. There are a lot of digital marketing agencies out there. You are free to choose whoever you want. Heck you can even do this yourself. If you want I'll even show you how to do it. But just do yourself a favor and start advertising Online.

The only thing that is unique to me. Is that I specialize in servicing craftsmen. Why? Damned if I know. I love you guys. I've been an electrician myself for years, and I just really love craftsmen, I really want you guys to succeed. I know, how much effort it takes to do what you do. I love the fact that you love your craft. I appreciate the skill and integrity and effort it takes to deliver what you deliver. I want you to thrive. You deserve to thrive.

That's why I started my digital marketing agency ThrivingCraftsmen. I want Craftsmen to thrive.

And one more thing. My agency, ThrivingCraftsmen focuses on Direct Response advertising. That's a big way of saying that I can tell you to the cent how much each lead cost you, and once we establish a long term relationship and do the math we can start calculating how much money you made per $ invested in advertising. The fluffy listing that you pay for each month — that you think is making money, you're just not sure how much? we don't do that. Random brand awareness stuff. Nope.

We get you qualified leads. Pure and simple. And we tell you how much each lead is costing you.
What this will look like
Imagine the following:

You're booked for 2 weeks ahead. You turn off the advertising stream. You deliver your magic. Business slows down, you have some empty slots, you turn it back on. Boom, Leads walk in the door.

You want to go on vacation? Off season for your trade? No problem. Shut it down.

You never, ever, ever, have to worry about where the customers will come from. You sleep well, knowing that you will always have customers, you only need to focus on what you do best — delivering on the job.

Your business is thriving. You're growing month to month. Now you can focus on some better challenges. Like hiring more qualified employees.

And by the way, as a side note, we can help you with that as well. Your ideal employees are on Facebook too! And we can help you find them, and hire them!
Final word.

You're a craftsman, an artisan. You know your trade down cold, and you should be free to focus on that aspect of your business.

Let us handle the marketing aspect of your business for you. Let us deliver you as many qualified leads as you need.
Focus on your trade. Deliver the awesome work you know how to do. What you do is awesome! It's the foundation of our society. No disrespect to lawyers, accountants (sorry Randal) and such, but Without craftsmen like you society is literally moving back into caves.

You deserve to thrive

Yours truly,
Tomer Applebaum

If you're interested in learning more you're welcome to register for our free live webinar. I will be going more in depth on how this works, and how you can easily start going in the right direction. There will also be a Q&A session where you can have all of your questions answered.

The webinar will be held on The upcoming Tuesday 9/20 at 3pm EST. sign up now to get access, and more free resources on this topic.
If you want to talk about hiring our services either Call us at 631–7460437, or drop us a line at Tomer@ThrivingCraftsman.com
-----------------------------------------------------------------------------
I trust this podcast helps you understand that outsourcing your contractors bookkeeping services to us is about more than just "doing the bookkeeping"; it is about taking holistic approach to your entire construction company and helping support you as a contractor and as a person.
We Remove Contractor's Unique Paperwork Frustrations
We understand the good, bad and the ugly about owning and operating construction companies because we have had several of them and we sincerely care about you and your construction company!
That is all I have for now and if you have listened this far please do me the honor of commenting and rating podcast www.FastEasyAccounting.com/podcast Tell me what you liked, did not like, tell it as you see it because your feedback is crucial and I thank you in advance.
You Deserve To Be Wealthy, Because You Bring Value To Other People's Lives!
I trust this will be of value to you and your feedback is always welcome at www.FastEasyAccounting.com/podcast
This is one more example of how Fast Easy Accounting is helping construction company owners across the USA including Alaska and Hawaii put more money in the bank to operate and grow your construction company. Construction accounting is not rocket science; it is a lot harder than that and a lot more valuable to construction contractors like you so stop missing out and call Sharie 206-361-3950 or email sharie@fasteasyaccounting.com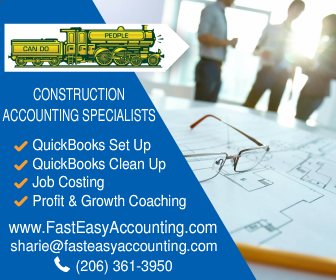 Thinking About Outsourcing Your Contractors Bookkeeping Services?
Click On The Link Below:
This guide will help you learn what to look for in outsourced construction accounting.
Need Help Now?
Call Sharie 206-361-3950
Thank you very much and I hope you understand we really do care about you and all contractors regardless of whether or not you ever hire our services.
Bye for now until our next episode here on the Contractors Success MAP Podcast.
Warm Regards,
Randal DeHart | Contractors Accountant
Contractors_Success_MAP, Contractors_Success_Marketing_Accounting_Production, Contractor_Bookkeeping_Services, QuickBooks_For_Contractors, QuickBooks_For_Contractors,Thriving_Craftsman_Interview, A_Unique_Faucet_Of_Qualified_Leads_Just_For_Contractors_Lik