Apr 28, 2017
This Podcast Is Episode Number 0214 And It Will Be About Proven Contractor Bookkeeping Road Map
We Make Contractor Bookkeeping Look Easy
Because we do it every day, Monday through Friday and some holidays. This makes it over 300 days per year. With multiple clients, we are not new; it's not new.

The same goes in your field of Construction. You do many of the same things over and over again. The end result is so clean and tidy when the customer is watching you it looks like it was effortlessly done. That's so simple "Why Couldn't I Do That." When I tried, it seems to be "A Lot Harder."

Everyone has a skill set. Construction Bookkeeping and Construction Accounting is what we do. I confess – we think we find it easier having come from a Construction Background (for Randal growing up in a construction family and for us personally having started, owned, operated several Construction Companies).
We can speak with conviction about the basics and the more complex issues as you grow your Construction Company, Handyman Company, Trade Contractor or any one of the dozens of Construction Company types we serve.
Short List Construction Contractors We Serve
Brand New Construction Company Handyman Company
Cabinet Installer HVAC Contractor
Carpentry Contractor Insulation Contractor
Carpet And Tile Contractor Interior Designer
Commercial Tenant Improvement Contractor Land Development Company
Concrete Contractor Landscape Contractor
Construction Company Masonry Contractor
Construction Manager Mold Remediation Company
Contracting Company Moss Removal Company
Contractor Painting Contractor
Custom Deck Builder Plumbing Contractor
Custom Home Builder Pressure Washing Company
Demolition Contractor Remodel Construction Company
Drywall Contractor Renovation Contractor
Electrical Contractor Restoration Contractor
Emerging Contractor Roofing Contractor
Excavation Contractor Spec Home Builder
Finish Millwork Contractor Specialty Contractor
Flipper House Contractor Subcontractor
Flooring Contractor Trade Contractor
Framing Contractor Underground Contractor
General Contractor Utility Contractor
Glass Installation Contractor Construction Employees
Gutter Installation Company Construction Support Specialist
Additional QuickBooks Templates, Resources, And Services
QuickBooks Set Up Templates Solopreneur

QuickBooks Chart Of Accounts Free Stuff

QuickBooks Item Lists Templates Consulting

We Serve Over 100 Types Of Contractors So If Your Type Of Company Is Not Listed
Please Do Not Be Concerned Because If You Are A Contractor
There Is A Good Chance We Can Help You!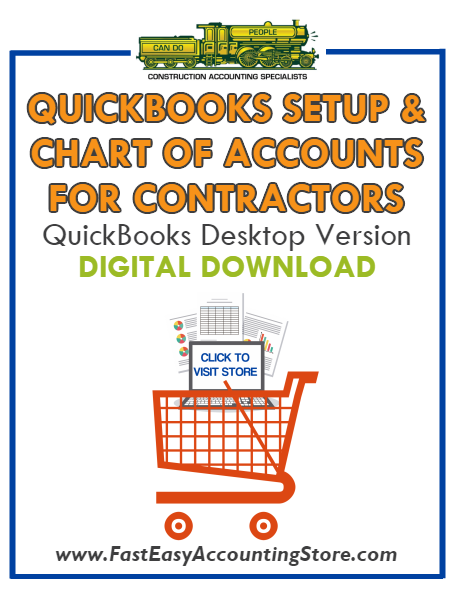 You must decide for yourself the benefit and value of having W2 employees. Other options include using a Staffing Service, subcontractors, becoming a consultant or Project Manager, 1099 Contractors or keeping the company smaller where no outside employees are needed.
All of us need employees. The question is "Are They, Ours? Yes, we have direct employees. I can tell you we do not have as many direct employees as when we were Construction Contractors.
Do we ever intend to have that many direct employees again? No Never, not ever in this lifetime.

When we are reviewing software and services; we look for the larger companies who HAVE employees. We want to have access to their Customer Support and Tech Support (all are indirect employees).
Outsourcing means we have access to highly qualified staff without all the headache and expense of in-house employees. This is what it takes to keep everything running smoothly (Plus good equipment).
Fast Computers, Multiple Monitors, each office with their own printer, Hi-Speed Internet, Hi-Speed Scanners, good office environment with large "L" shaped desks, plus additional tables as work areas, comfortable office chairs, and finally working HVAC system.
Hats off to Construction Companies who have 20, 30, 50 or more direct employees:
· As you grow, there are additional regulations that come with more and more employees.
· Recommend using a 3rd Party Payroll Service with an HR Component.
· Suggest paying Bi-Weekly unless mandated to pay weekly.
· Use Electronic Timecard. Limit Employee Advances.
· Give Perks and Benefits that employees will appreciate.
· Pay Well – There is a balance between Under Paying and Over Paying your employees.
· Reward the productive employees.
· Have written Coaching Reports for those who need a little reminder.
· Don't be afraid to "Let Someone Go" if it is no longer a "Good Fit."
· Some employees want to leave and just don't know how to Quit.
· They do not want to leave and have "Hard Feelings, " but they want to move on.
Many challenges "Big or Small" are exactly the same for all companies:
· Keeping Track of Paperwork
· Developing Processes
· Creating Estimates
· Getting Signed Change Orders
· Creating Customer Invoices in a Timely Manner
· Presenting The Invoice To The Customer
· Asking For Money
· Paying their Bills
· Focusing On Tomorrow
· Dealing With Today
· Learning From Yesterday
How can you do all of those things all at the same time?
It is simple; but not easy. It takes practice
Finding a "Good Bookkeeper" who understands construction and your issues is a First Start.
Note – I did not say find a bookkeeper who will come to your house, pick up your mail, open it.

Decide what is important. Deposit the checks, Write the checks, Pay the bills. That is a role for you, your spouse or a partner – not an outsider. Do not give a bookkeeper TOO MUCH AUTHORITY or you could wake up one day and be a victim of Bookkeeper Embezzlement!

I have known bookkeepers who have "Presented themselves as part of Management" (as a Partner) which upon further questions to the actual owner I learned that was not true. (Just The Bookkeeper)
Same has been true for Project Managers, Estimators, and other Field Employees who go beyond their authority. It is easy to spend "Other People's Money" it is so much easier than spending our own.

The local paper recently had an article about a "Bad Bookkeeper" who had been caught embezzling the Contractor's funds for several years. The hardship to the Contractor and the loss of money is enormous. The Bad Bookkeeper was convicted, but even if restitution is 100%, it will take years and years to be pay off.

In the meantime, the Contractor has a Problem – A Huge Problem. That money is GONE! Fast Easy Accounting presents and provides a "We Solution" Our focus is mostly "After The Fact" Accounting. We never want any Government Agency to say we "Should Have Paid Something."

We also never want for our Clients to worry that we spent their money on Anything. The only funds we touch is our own fees – we auto receive Weekly (on Mondays) or Monthly (1st Day of the month) depending on the services provided.
All services are Month-To-Month; ending on last day of the month.
We Enter All Of Your Paperwork Into QuickBooks Desktop Version In The Cloud
Accessible 24/7 From Your Desktop, Laptop, Notebook, Tablet, Smart Phone
Any Web-Enabled Device Including iPads, iPhones, Apple, MacBook
We use a Commercial Host approved by Intuit. Access it like going to the Bank – log into your account, view, print reports, move money between accounts and chose if you want to use "online bill pay" feature. We embrace Cloud Services (especially those with a Master Dashboard).

State Governments are also embracing Cloud Access for many Government Services. All the State of Washington agencies work together; if a contractor is audited The Agency involved is asking for documents beyond what they need to help the other agencies.
What does this mean?
· Good Recordkeeping
· Customer Invoices
· Customer Payments
· Timecards
· Employee Paystubs
· Bank Statements
· General Receipts
· One which includes a Cloud based Document Management System where you send your documents
· You can forward emails, scan, snap a picture, scan and send PDFs, whatever is easy for you.
· If you use a "Main Stream" bank with enhanced images, you can link the bank feeds to our paperless server and get your contractors bookkeeping service running almost 100% autopilot!

What Does "Full-Service Contractor Bookkeeping" Mean To You?
For many contractors, it means Hire someone – usually anyone at all who says Yes – I will do everything.

Giving that BRAND NEW Person all the user names, passwords, authorization to sign checks and run back out to the field as fast as possible and "Forget About It – Everything Is Handled"

For many Construction Contractors That Answer Is Wrong | Very Bad | Leads To Painful Results!
I'm Sorry for those who were hoping – This is not "How We Work."
In our system – It is a "We Process" We want YOU to "Help Us Help You."

A Major Part of this process is that "You Control The Money."
· Receiving The Money
· Paying the Bills
· Hiring
· Promoting
· Coaching
· Firing Employees.
You are an Owner, not a Manager – Making Decisions Is A Daily Activity
Though there is a lot of managing the day-to-day activities of owning and operating a business.

Our part is getting every scrap of paper (income or expense) in an accounting system.
We use QuickBooks Desktop so that you have the reports you need to properly make decisions.
Your Tax Accountant understands the QuickBooks layout and maps their Tax Software to it.

I am reminded of a book about decision making I read to our son as a small child.
David Decides About Behaviors: A Story for Children, a Guide for Parents by Susan Heitler

The same principle applies to everyone. Each one of us is David.
We make decisions every day about everything. No decision is a decision.

We are here to help – If you will let us!
AND if you will do Your Part it can be a seamless activity without undue stress on either side.

With good accounting, you are able to focus on getting your work done.
You do not have to explain to use How To Do The Bookkeeping – We Know What To Do!
I recommend being an S-Corp over an LLC or Sole Prop. (call me, and we can discuss why)
For The Do-It-Yourself Contractor Fast Easy Accounting Store
Have The Perfect Solutions To Fit Your QuickBooks Setup Needs

The choice is yours – Either way we are looking to Help You with your Accounting Needs.

Enjoy your day.

About The Author:



Sharie DeHart, QPA is the co-founder of Business Consulting And Accounting in Lynnwood Washington. She is the leading expert in managing outsourced construction bookkeeping and accounting services companies and cash management accounting for small construction companies across the USA. She encourages Contractors and Construction Company Owners to stay current on their tax obligations and offers insights on how to manage the remaining cash flow to operate and grow their construction company sales and profits so they can put more money in the bank. http://www.fasteasyaccounting.com/sharie-dehart/ 206-361-3950 or sharie@fasteasyaccounting.com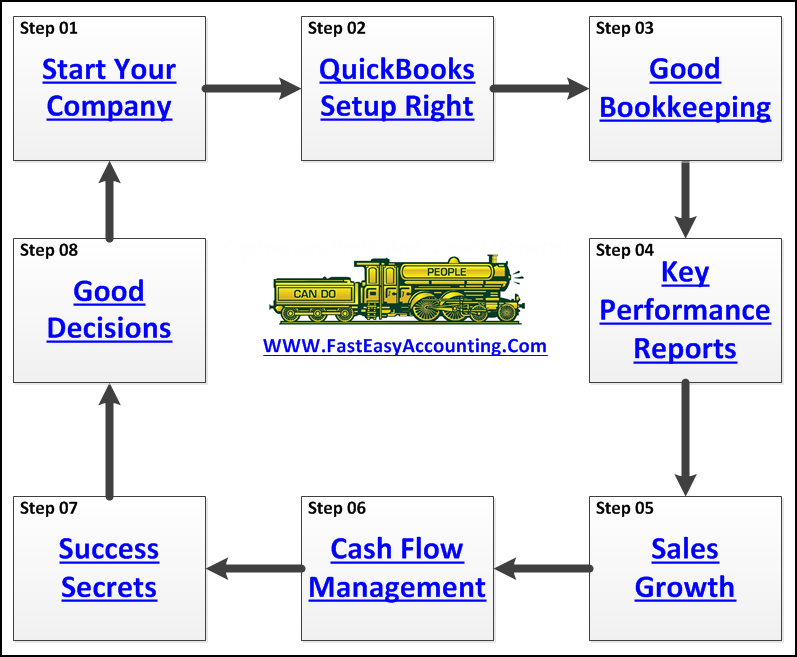 I trust this podcast helps you understand that outsourcing your contractor's bookkeeping services to us is about more than just "doing the bookkeeping"; it is about taking a holistic approach to your entire construction company and helping support you as a contractor and as a person.
We Remove Contractor's Unique Paperwork Frustrations
We understand the good, bad and the ugly about owning and operating construction companies because we have had several of them and we sincerely care about you and your construction company!
That is all I have for now, and if you have listened to this far please do me the honor of commenting and rating podcast www.FastEasyAccounting.com/podcast Tell me what you liked, did not like, tell it as you see it because your feedback is crucial and I thank you in advance.
You Deserve To Be Wealthy Because You Bring Value To Other People's Lives!
I trust this will be of value to you and your feedback is always welcome at www.FastEasyAccounting.com/podcast
One more example of how Fast Easy Accounting is helping construction company owners across the USA including Alaska and Hawaii put more money in the bank to operate and grow your construction company. Construction accounting is not rocket science; it is a lot harder than that, and a lot more valuable to construction contractors like you so stop missing out and call Sharie 206-361-3950 or email sharie@fasteasyaccounting.com
Contractor Bookkeeping Done For You!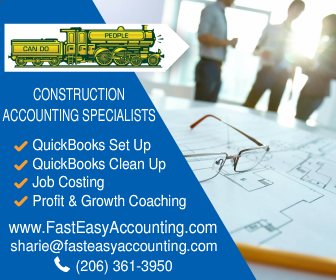 Thinking About Outsourcing Your Contractors Bookkeeping Services?
Click On The Link Below:
This guide will help you learn what to look for in outsourced construction accounting.
Need Help Now?
Call Sharie 206-361-3950
Thank you very much, and I hope you understand we do care about you and all contractors regardless of whether or not you ever hire our services.
Bye for now until our next episode here on the Contractors Success MAP Podcast.
Warm Regards,
Randal DeHart | The Contractors Accountant
For Contractors Who Prefer
To Do Your Bookkeeping
Most Contractors Setup QuickBooks Desktop Version In One Of Three Ways:
#1 EZ Step Interview inside QuickBooks Setup
#2 Asked Their Tax Accountant To Setup QuickBooks
#3 They Attended A How To Setup QuickBooks Class Or Seminar
And QuickBooks Does Not Work The Way They Want It Too!
The Answer: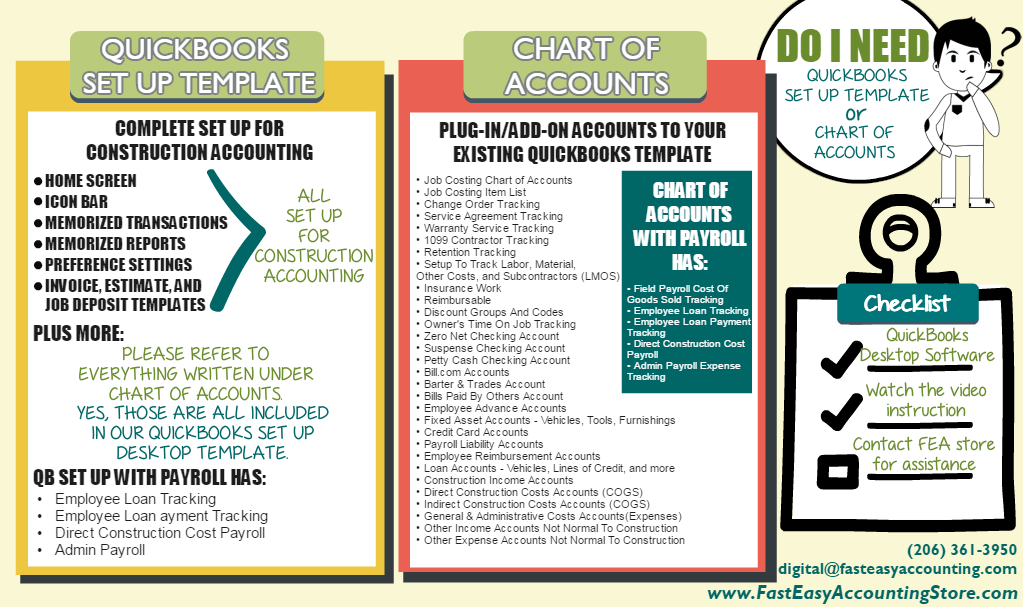 Contractors_Success_MAP, Contractors_Success_Marketing_Accounting_Production, Contractor_Bookkeeping_Services, QuickBooks_For_Contractors, QuickBooks_For_Contractors,Contractors_Success_Map_Proven_Contractor_Bookkeeping_Road_Map