May 19, 2017
This Podcast Is Episode Number 0217, And It Will Be About Untrained Bookkeepers Are Too Costly
---

Construction Bookkeepers Without Training Is A Common Problem
Many Construction Bookkeepers start out as Admin Assistants and get promoted to doing the Contractor's Bookkeeping in their free time. They were not hired to be a bookkeeper but as an office person who does a little data entry.
This method not too bad if the employee stays a long time and grows with the company from owner working solo to gradually adding a few employees one at a time because as Randal says:
Growing By The Inch Is A Cinch; Growing By The Yard Is Hard!
The Term Is Commonly Known As "Grow Your Own."
This trusted employee ends up learning:
Over the course of time, the in-house Contractor's bookkeeper / office manager develops new skills. They keep adding them as each new crisis occurs.
Every day someone calls upset, dazed and confused spouses, girlfriends and overwhelmed Contractor's Bookkeepers asking for me to "Please Help – I am so overloaded and frustrated because QuickBooks is a Mess!!"

I recently spoke with someone who wanted to make a few improvements to their business. The company had over 20 employees, and their in-house Bookkeeper was creating payroll Weekly from paper time cards. (which most of the time arrived late). It was Normal for their Bookkeeper to spend hours just trying to read the scribble and make sense of the time cards.

The Contractor's Bookkeeper had the added challenge of matching up the hours to the jobs for proper job costing. A frustrating nightmare for the bookkeeper.
All of this means The Contractor has been successful in growing the business. This is very good. The bad news is that the in-house Bookkeeper is overloaded and a lot of your profit and hard earned money is going to fall through the cracks.
As The Contractor, You

Are Paying The Price In The Form Of:
Several Ways You Can Improve In-House Bookkeeper's Life And Grow Your Profits And Your Cash Flow
Upgrade Computer to a new and faster box

Get new monitors that are larger and with better resolutions

Add a second or third monitor for more productivity

Upgrade the office chair the in-house Bookkeeper uses

Double check the phone – is a new phone needed

Would a wireless headset be helpful?

Any Investment That Saves Ten Minutes A Day Of Waste Will Pay For Itself And Pay You Ongoing Dividends
Ten Minutes Waste Kills Your Construction Company Profits

Profit Drain #1 In-House Bookkeeper
Until Your Construction Company - Reaches at least $5 million in annual sales you cannot afford to hire a qualified bookkeeper or construction accountant.
For Example - You Hire someone with bad habits which is a Cheap Bookkeeper part-time at $15.00 an hour for 10 hours a week thinking you will save money. The problem with that is you may not understand the true cost to have them on your payroll, including overhead, is closer to $25.29 per hour. See the chart below: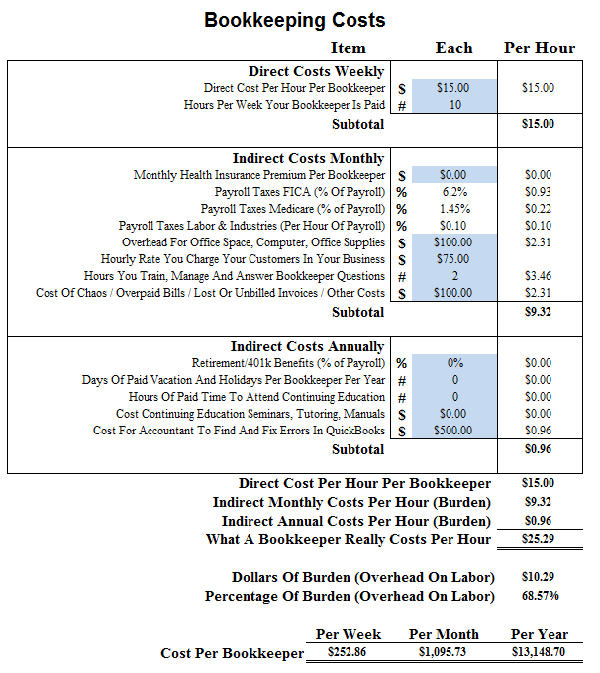 Every Ten Minutes Your Bookkeeper Is Costing You $4.21
And Could Cost Your Company $273.93 Every Year
At 10% Profit, You Need $2,739.30 More Sales To Maintain Profit Margin
In Some Cases - We can do more work for less money by providing you with real construction bookkeeping and accounting + payroll processing + monthly and quarterly tax reports + year end W-2, W-3 + profit and growth management consulting + financial and job costing reports + paperless data storage and more at a lower overall cost and as an added bonus show you how to make more money than you are now!
Cheap Tools And Equipment - Cost a lot of money that you cannot see; out-of-sight means out-of-mind. Invest in the best tools and equipment you can afford because in the short run you will save money. Construction workers who take pride in their work produce better results faster with fewer repairs if they have quality tools and equipment.
Make More Money Faster - With productivity gains. See the chart below:

For Employee #01 Could Cost The Company $1,544.42 Each Year
At 10% Profit, You Need $15,544.20 More Sales To Maintain Profit Margin
For Example - Your best construction worker asks for a tool:
It costs $1,200.00

It will save ten minutes a day in labor

It will last 3 years

The standard response is the company can't afford it!
Highly Profitable - Construction company owners ask their construction accountant to calculate the projected the Return on Investment (ROI) is and then consult their Strategic Business Plan to make an informed decision.
In This Example - It may make sense to finance the purchase even if it means using a credit card at 12% interest because the net return is $3,289.36 which is 245% ROI. See below:
Two Contractors Doing Similar Work - For similar customers with the similar direct and indirect construction costs will have massively different KPI Reports including the Profit and Loss Statements. Size matters when it comes to piles of money and bigger profits!
Before Computers – I Spent Hours Testing Adding Machines
A comfortable easy to use set of keys meant I could work faster.

By Touch, how did the keys feels, how stiff was the keys.

How LOUD, could I use it and still answer the phone?

How durable was the adding machine?

Just as the Right Tool is important to you and your Field Employees.
The Right Tools in the office has made the work of the In-House Bookkeeper easier.

The in-house Bookkeeper is a key player in your organization.
Everything in the office this them is their "Tools and Equipment."

Do you know what 10 minutes are costing you?
Can that same 10 minutes be used for something more important?

Think of all the tasks you are having your in-house bookkeeper doing. Now how many of them can or should be done by someone else? In the beginning, there was no one else but you and your Office Assistant.

The Office Assistant slowly evolved into being the in-house Bookkeeper. Before your know it the title Office Assistant no longer applies. Now the proper title would be Office Manager and be the in-house Bookkeeper as time permits.

In several blogs, I have quoted saying of my Father and my Brother. Here are some of my Mother's favorites. When being overloaded with "Things To Do" is really being "The Chief Cook and Bottle Washer" who is willing to pitch in (or by necessity) wherever and whenever a person is needed.

The phrase "Is That My Job Description" never applies to this person.

Another one of my Mother's sayings was in relationship to housework when there was a "shortage of time." She would say we are going to give the living room "A Lick and A Promise." Meaning we were going to give it a quick dusting, vacuum the center of the room, straighten the nick knacks, fluff the pillows on each end of the sofa.

The unspoken was that next time the living room would be vacuumed "Edge To Edge."
The sofa, chairs, tables would be moved and vacuumed under; baseboard would be wiped down.
Windows would be washed; drapes would be air fluffed. Feels a bit like spring cleaning.

I find reviewing QuickBooks files that many in-house Bookkeepers are giving the bookkeeping "A Lick and A Promise" Shortcuts are taken. Everything is entered into the checking account. Bank accounts are not reconciled. Credit cards, tax payments are all entered into Accounts Payable, so they will not be forgotten. The time or the willingness to "Go Back" and catch or fix the Bookkeeping never happens.

My first question is what are the things that someone else can be doing?

Would adding an assistant be helpful?

Can someone else go get the mail, open the mail, tidy up the office, make the coffee, take out the trash?

Would adding a shop person be helpful?

Can someone else lift heavy things? (case of paper)

Can someone else move that thing? (desk, cabinet

Can someone else hang that picture, change the light bulb?

My next question is how can payroll be streamlined?

Should payroll be Outsourced to a Payroll Service?

My suggestion for Outsourcing Payroll is almost always YES!
Why - The short answer is: It will free up your in-house Bookkeeper's time. Next reason is as payroll becomes more complicated as you add more employees a payroll service is on top of the rules.

(Washington State added, "Personal Time Off" for 2018. "Personal Time Off" is in effect inside City of Seattle effective in 2017 for employers just passing through (deliver drives, etc.)

Still, want to keep the payroll in-house. Add Electronic Time Card. We recommend T-Sheets.

T-Sheets if setup properly will sync with QuickBooks Desktop In The Cloud (not all 3rd party programs do this nicely)
This will save hours of time trying to read employee's scribble.

I recommend T-Sheets for contractors like you to track your own time.

How many times has a project been Time & Material Billings?

Now, where are the notes on the job?

How much time was spent on the job?

Who spent time on the job?

With T-Sheets built-in database, it is easy to pull reports based on per employee, by time, or by the job.
There is no shortage of tasks for the Office Manager | In-House Bookkeeper
Understand as The Contractor the person who has the most invested in your business is you.
The additional energy to "Get The Job Done" is yours because the company is yours.
It is by exception that the most dedicated employee will have the same intensity as you do about your business.

Why – because they can clock out and go home. It is you who has to Worry, Wait and Hustle!
And sometimes – if you don't pick up and step up to get the balance of what needs to be done. It won't get done.
We are here to help. We do not try to do it all. Every year we make improvements to our business.
Why – To help us help you. I am not excited to pay server fees, but I like the benefit of our Contractor clients and us having 24/7 access to the QuickBooks file if I need it.

Technology is everywhere. Email is nicer that faxing documents everywhere. I have on occasion emailed a client late at night or early morning to be sure they know something before their day starts. I am very much a phone person, but I would never call or answer the phone during those same odd hours.

Looking forward to Chatting About How We Can Help You

Sharie

---
About The Author:
Sharie DeHart, QPA is the co-founder of Business Consulting And Accounting in Lynnwood Washington. She is the leading expert in managing outsourced construction bookkeeping and accounting services companies and cash management accounting for small construction companies across the USA. She encourages Contractors and Construction Company Owners to stay current on their tax obligations and offers insights on how to manage the remaining cash flow to operate and grow their construction company sales and profits so they can put more money in the bank. http://www.fasteasyaccounting.com/sharie-dehart/ 206-361-3950 or sharie@fasteasyaccounting.com
I trust this podcast helps you understand that outsourcing your contractor's bookkeeping services to us is about more than just "doing the bookkeeping"; it is about taking a holistic approach to your entire construction company and helping support you as a contractor and as a person.
We Remove Contractor's Unique Paperwork Frustrations
We understand the good, bad and the ugly about owning and operating construction companies because we have had several of them and we sincerely care about you and your construction company!
That is all I have for now, and if you have listened to this far please do me the honor of commenting and rating podcast www.FastEasyAccounting.com/podcast Tell me what you liked, did not like, tell it as you see it because your feedback is crucial and I thank you in advance.
You Deserve To Be Wealthy Because You Bring Value To Other People's Lives!
I trust this will be of value to you and your feedback is always welcome at www.FastEasyAccounting.com/podcast
One more example of how Fast Easy Accounting is helping construction company owners across the USA including Alaska and Hawaii put more money in the bank to operate and grow your construction company. Construction accounting is not rocket science; it is a lot harder than that, and a lot more valuable to construction contractors like you so stop missing out and call Sharie 206-361-3950 or email sharie@fasteasyaccounting.com
Contractor Bookkeeping Done For You!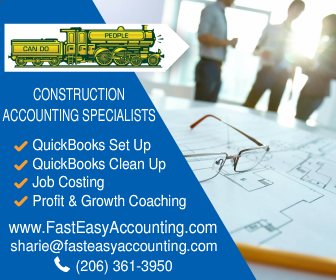 Thinking About Outsourcing Your Contractors Bookkeeping Services?
Click On The Link Below:
This guide will help you learn what to look for in outsourced construction accounting.
Need Help Now?
Call Sharie 206-361-3950
Thank you very much, and I hope you understand we do care about you and all contractors regardless of whether or not you ever hire our services.
Bye for now until our next episode here on the Contractors Success MAP Podcast.
Warm Regards,
Randal DeHart | The Contractors Accountant
For Contractors Who Prefer
To Do Your Bookkeeping
Most Contractors Setup QuickBooks Desktop Version In One Of Three Ways:
#1 EZ Step Interview inside QuickBooks Setup
#2 Asked Their Tax Accountant To Setup QuickBooks
#3 They Attended A How To Setup QuickBooks Class Or Seminar
And QuickBooks Does Not Work The Way They Want It Too!
The Answer: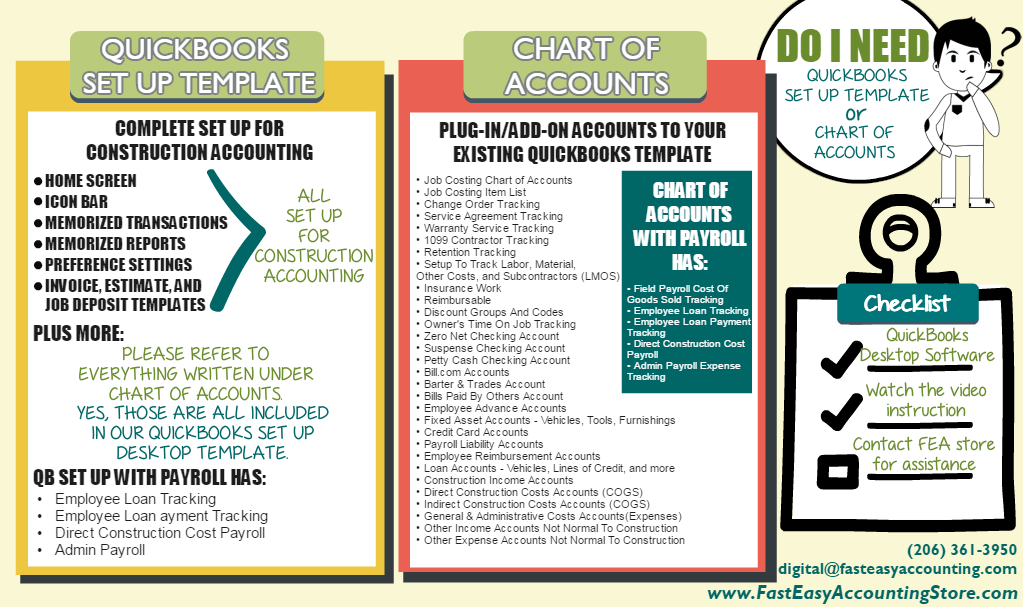 Short List Construction Contractors We Serve
Brand New Construction Company Handyman Company
Cabinet Installer HVAC Contractor
Carpentry Contractor Insulation Contractor
Carpet And Tile Contractor Interior Designer
Commercial Tenant Improvement Contractor Land Development Company
Concrete Contractor Landscape Contractor
Construction Company Masonry Contractor
Construction Manager Mold Remediation Company
Contracting Company Moss Removal Company
Contractor Painting Contractor
Custom Deck Builder Plumbing Contractor
Custom Home Builder Pressure Washing Company
Demolition Contractor Remodel Construction Company
Drywall Contractor Renovation Contractor
Electrical Contractor Restoration Contractor
Emerging Contractor Roofing Contractor
Excavation Contractor Spec Home Builder
Finish Millwork Contractor Specialty Contractor
Flipper House Contractor Subcontractor
Flooring Contractor Trade Contractor
Framing Contractor Underground Contractor
General Contractor Utility Contractor
Glass Installation Contractor Construction Employees
Gutter Installation Company Construction Support Specialist
Additional QuickBooks Templates, Resources, And Services
QuickBooks Set Up Templates Solopreneur

QuickBooks Chart Of Accounts Free Stuff

QuickBooks Item Lists Templates Consulting

We Serve Over 100 Types Of Contractors So If Your Type Of Company Is Not Listed
Please Do Not Be Concerned Because If You Are A Contractor
There Is A Good Chance We Can Help You!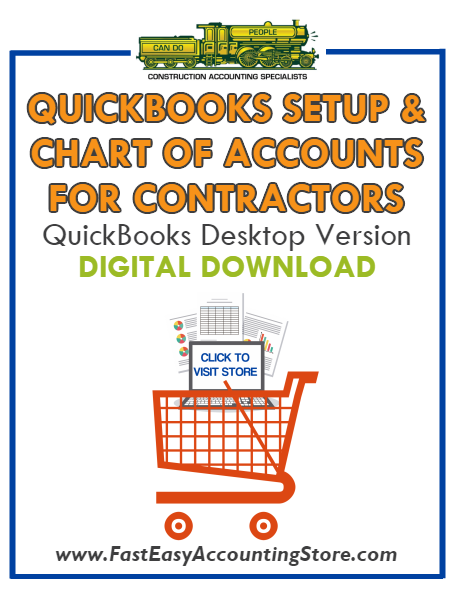 If you are a blogger, who writes about construction we would like to hear from you.
Contractors_Success_MAP, Contractors_Success_Marketing_Accounting_Production, Contractor_Bookkeeping_Services, QuickBooks_For_Contractors, QuickBooks_For_Contractors,Contractors_Success_Map_Untrained_Construction_Bookkeepers_Are_Costly