May 26, 2017
This Podcast Is Episode Number 0218, And It Will Be About Multiple Contracting Companies In QuickBooks Leads To Catastrophic Ruin
---
Contractors, Bookkeepers and Tax Accountants are trying to keep everything all in one place. That is great. A single bank account on the surface is the answer in simplicity.
Sharie's Cash Management 101 Training I Teach Contractors Please Do Not Do This!
Why – when putting everything in one bank account; it could be a FINANCIAL DISASTER.
Go to Home Depot, Lowes or any other larger store.
Use your debit card; Drop or lose your debit card,
Someone finds it and buy stuff until he or she have spent all your money!
(may be a little harder with the chip but how many places can you run your debit card as a credit card?)
---
The point is that within a short time – All the money could be GONE!




ALL THE MONEY COULD BE GONE BEFORE YOU REALIZE THERE IS A PROBLEM




All the money is all the money and losing it could put a company out of business
Just as there are Common Sense rules about Sharie's Cash Management 101Tips, there are common sense rules about mixing multiple companies in a single QuickBooks file:
Does each company have its own Federal Tax ID number?
If Yes, The Company needs its own QuickBooks File.
Everyone can own Multiple Companies
Depending on the structure if the financial statements are on a Schedule C And 1040 or 1120S (S-Corp) or other return that in turn rolls up into The Contractors personal 1040 return.

The annual tax return is pages and pages long (feels like a zillion if you have to make paper copies)
Your banker wants the 1st two pages of your personal 1040 Annual Tax Return.

If you need commercial accounts, Dun & Bradstreet wants the 1st two pages of your business tax return. Why because the 1st two pages is the summary of all the pages and worksheets that follow?

As a Construction Contractor, you need the details of the balance of the pages to run your business.
How do you know how much money each company is making?

I can think of several examples of multiple companies being in a Single QuickBooks File.
Husband has a Construction Company and Wife has a Non-Construction Company all mixed together.

Next example: Construction Company, Non-Construction Company plus a few Flipper houses for friends, and a few rental homes for themselves. Add in a few side jobs that are Professional Services.

The word MEGA-MESS comes to mind:
The Liability Insurance Company will take the easy way out.
What are Gross Sales for a specific date range? (all companies combined)
The IRS will take the easy way out – You have one Federal Tax ID number
Your Worker's Comp Program will take the easy way out – What is the highest rate for the tasks?
Apply that rate to all employees regardless of what their duties are (or which company)
I know of a small company that everyone is charged the same Worker's Comp rate because the combined office and shop space is small.
In Washington State – Plumbers are at the field rate for workers comp even when they are cleaning their truck at the shop. Why? Because Labor & Industries "Says – cleaning the truck is all part of the job." No Lower Shop Rate is allowed.

Overhead is different for each of the following companies:
Construction Company
Non-Construction Company (could be day care, hair salon, espresso stand, etc.)
Construction Management Services for Flipper houses for friends
Professional Services as a 1099 Contractor
Flippers House turned into Rentals
Flippers House Sold
Rental homes
Mixing Companies in a Single QuickBooks File:
I can tell you "Please Don't Do This!"
Your Tax Accountant can tell you, "Please Don't Do This!"
Your Banker can tell you, "Please Don't Do This!"
The one person who won't tell you not to do this is the In-House Bookkeeper. Why? They want to keep their job!
The Construction Bookkeeper will try to keep your chaos straight and fight a losing battle with reality. What will not happen is good Financial Reports.

The "What About's" is just "White Noise" as The Contractor who insists on everything in a single QuickBooks file against all advice will benefit from "The Mess." (Notice I did not say benefit in a positive way)

QuickBooks Desktop is fantastic for Construction Contractors to get good reports. (Remember, Garbage In = Garbage Out)

Reports cannot be better than the information given. Think Lumber – Standard & Better or Stud Grade is much better than the grade that is commonly referred to as airplane propellers. Specialty Lumber Yards have a variety of quality lumber.

A single project may have multiple grades of lumber. It's a Science to use the right piece of lumber in the proper application to last the longest. Basics are that you can pound a nail in every kind of wood. Next Question – Which type of nail?
Everything about Accounting Especially Construction Accounting is the intertwined:
There is a proper setup for other Non-Construction related businesses
Do you really want all the customers to all of the other business mixed into the Contractor QuickBooks file?
Do you really want to be paying a higher liability insurance because it's easier for the insurance company?
Do you really want to try to add | subtract | tweak | remember What does count?
What doesn't count; when trying to figure out if you are Making Money or Losing Money.
And if so – Which business is the Good One, and you want to expand?
Which business are the Bad One and you need to let it go?
Are you trying to re-invent the Wheel?
Are you just trying to Be Cheap?
I would like to believe that you have a real desire to make changes that will make the lives around you easier and therefore you will get the financial and other job costing reports easily and efficiently.

Of course, if you hired an Admin Assistant who is expected to act as your Office Manager |In-House Bookkeeper and has No Bookkeeping or QuickBooks Skills than you pick the phrase that best suits you.

My suggestion:
Sometimes More Is Better!
Be open to Multiple Company QuickBooks files.
Each Company should have its own bank account and their own credit card accounts.
Rental Property: Use QuickBooks or specialized software for Rentals. Rentals have different needs.
With messy QuickBooks – each time money is moved between companies it usually Looks Like Income and by default treated as Income, and you could pay far more in taxes than you saved by mashing everything together.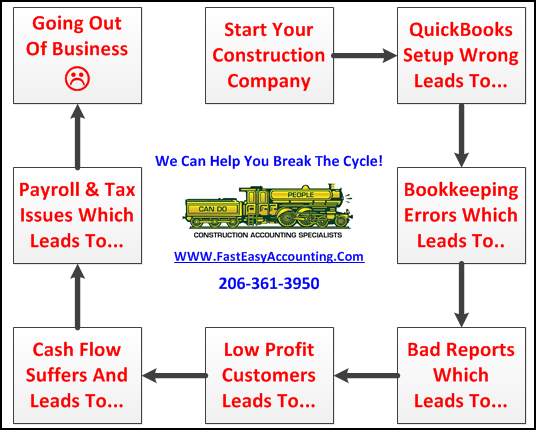 Government Agencies are always happy with messy books and over reporting of income and under-reporting of expenses.

Your checkbook may not be so happy when it comes time to pay the taxes.

Annual Federal Income Taxes

Self-Employment Taxes

State & Local Taxes

Licenses & Fees

Sales Tax
Looking forward to helping you make 2017 be a Better Year?

Thinking Happy Thoughts.

Sharie
---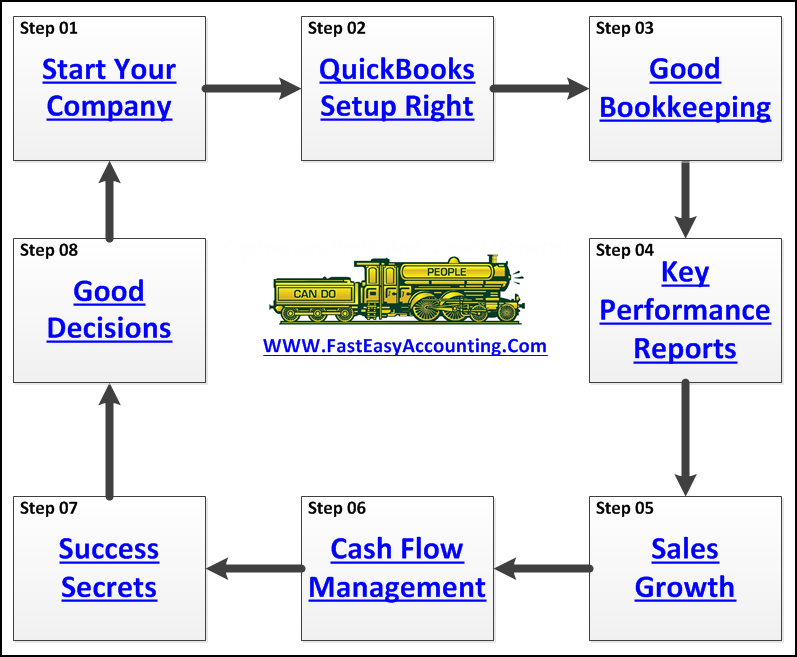 I trust this podcast helps you understand that outsourcing your contractor's bookkeeping services to us is about more than just "doing the bookkeeping"; it is about taking a holistic approach to your entire construction company and helping support you as a contractor and as a person.
We Remove Contractor's Unique Paperwork Frustrations
We understand the good, bad and the ugly about owning and operating construction companies because we have had several of them and we sincerely care about you and your construction company!
That is all I have for now, and if you have listened to this far please do me the honor of commenting and rating podcast www.FastEasyAccounting.com/podcast Tell me what you liked, did not like, tell it as you see it because your feedback is crucial and I thank you in advance.
You Deserve To Be Wealthy Because You Bring Value To Other People's Lives!
I trust this will be of value to you and your feedback is always welcome at www.FastEasyAccounting.com/podcast
One more example of how Fast Easy Accounting is helping construction company owners across the USA including Alaska and Hawaii put more money in the bank to operate and grow your construction company. Construction accounting is not rocket science; it is a lot harder than that, and a lot more valuable to construction contractors like you so stop missing out and call Sharie 206-361-3950 or email sharie@fasteasyaccounting.com
Contractor Bookkeeping Done For You!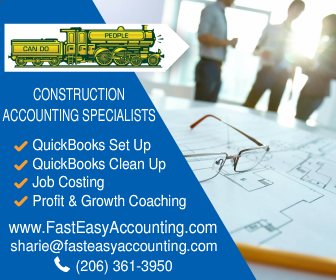 Thinking About Outsourcing Your Contractors Bookkeeping Services?
Click On The Link Below:
This guide will help you learn what to look for in outsourced construction accounting.
Need Help Now?
Call Sharie 206-361-3950
Thank you very much, and I hope you understand we do care about you and all contractors regardless of whether or not you ever hire our services.
Bye for now until our next episode here on the Contractors Success MAP Podcast.
Warm Regards,
Randal DeHart | The Contractors Accountant
For Contractors Who Prefer
To Do Your Bookkeeping
Most Contractors Setup QuickBooks Desktop Version In One Of Three Ways:
#1 EZ Step Interview inside QuickBooks Setup
#2 Asked Their Tax Accountant To Setup QuickBooks
#3 They Attended A How To Setup QuickBooks Class Or Seminar
And QuickBooks Does Not Work The Way They Want It Too!
The Answer: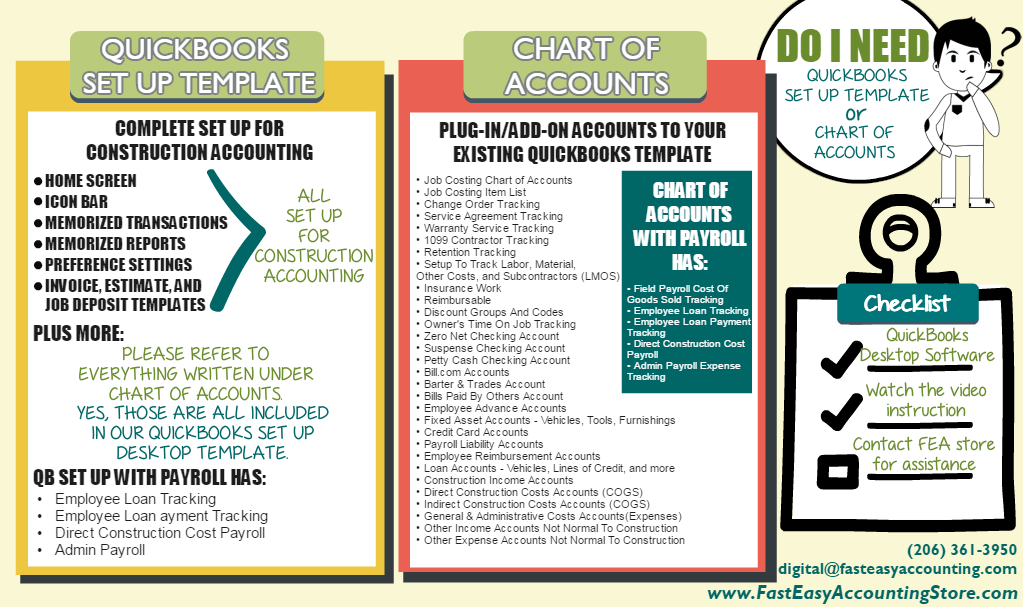 Short List Construction Contractors We Serve
Brand New Construction Company Handyman Company
Cabinet Installer HVAC Contractor
Carpentry Contractor Insulation Contractor
Carpet And Tile Contractor Interior Designer
Commercial Tenant Improvement Contractor Land Development Company
Concrete Contractor Landscape Contractor
Construction Company Masonry Contractor
Construction Manager Mold Remediation Company
Contracting Company Moss Removal Company
Contractor Painting Contractor
Custom Deck Builder Plumbing Contractor
Custom Home Builder Pressure Washing Company
Demolition Contractor Remodel Construction Company
Drywall Contractor Renovation Contractor
Electrical Contractor Restoration Contractor
Emerging Contractor Roofing Contractor
Excavation Contractor Spec Home Builder
Finish Millwork Contractor Specialty Contractor
Flipper House Contractor Subcontractor
Flooring Contractor Trade Contractor
Framing Contractor Underground Contractor
General Contractor Utility Contractor
Glass Installation Contractor Construction Employees
Gutter Installation Company Construction Support Specialist
Additional QuickBooks Templates, Resources, And Services
QuickBooks Set Up Templates Solopreneur

QuickBooks Chart Of Accounts Free Stuff

QuickBooks Item Lists Templates Consulting

We Serve Over 100 Types Of Contractors So If Your Type Of Company Is Not Listed
Please Do Not Be Concerned Because If You Are A Contractor
There Is A Good Chance We Can Help You!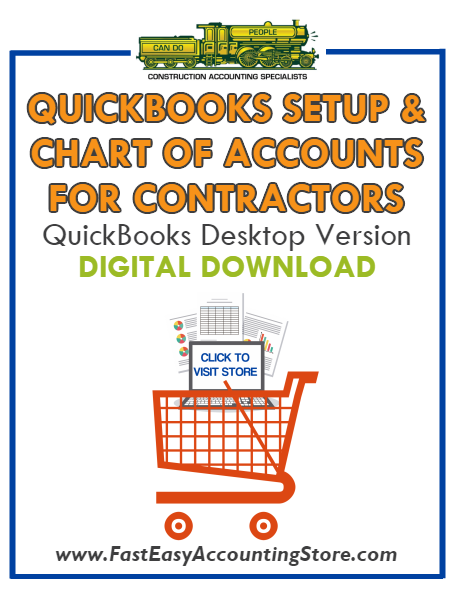 If you are a blogger, who writes about construction we would like to hear from you.
Contractors_Success_MAP, Contractors_Success_Marketing_Accounting_Production, Contractor_Bookkeeping_Services, QuickBooks_For_Contractors, QuickBooks_For_Contractors,Contractors_Success_Map_Multiple_Contracting_Companies_In_QuickBooks_Leads_To_Catastrophi