Oct 6, 2017
This Podcast Is Episode Number 0237 And It Will Be About
How to Write a Winning Contractor Resume
---
Today's Podcast Is From An Guest Article Is From Mary Walton
Mary Walton is one of PhD Thesis Writers, community for students who are in the process of dissertation writing. Mary has a blog - Simple Grad, where she shares her knowledge about college life. Also, she is an editor and proofreader at Research Paper Writing Service.
-----------------------------------------------------------------
The contracting industry is one of the most highly competitive business industries and you're going to need a winning resume on your side if you want to stand any chance of standing out among the rest of the people in the same position as you.
There's so many different aspects to consider and approaches you could take, but at the end of the day, all that matters is that your resume lands you your next job. Today, we'll explore a few ways you can create this resume for success.
Create a Profile
The first paragraph of your resume is the most important since it's the first thing your recruiter will read and first impressions count. In this section, you'll want to write a summary of yourself. In this, include a brief summary of your skills, any security clearances you have as well as any unusual skills or trades that you have.
Show Your Competence
Once you've drawn your employer into your resume, you'll want to share what skills you have and why you'd be the perfect contractor. You'll want to tailor this section, so it suits the job that you're applying for.
For example, if you're applying for a job which uses machinery, put your machinery-related skills first and then prioritise the rest of your skills with your least important at the bottom. This is why you need to edit every resume for every job you apply for.
Annie Grindstaff, a resume editor for EliteAssignmentHelp, continues;
"Within the competence section of your resume, it's important to include any licenses or formal qualifications that you have. If you're licensed to drive or operate a certain piece of machinery, include this information. The less questions your potential employer has to ask, the better your application will be received."
Share Your Experience
After your skills, you'll want to share what past experience you have. This is also your work history, so in chronological order, include your previous job titles, the dates which you worked these jobs, the company's name and any other relevant information you'd like to include about this role.
In most cases, you'll want to span this section back to a minimum of ten years. If you don't have the experience, make sure you share all your experience, whether it was projects you worked on during your time in education or personal projects. Feel free to include photo evidence of your projects.
Use Tools for Perfection
Once you've completed your resume, it's important to go through it and correct any silly mistakes that could cost you your job. Any spelling, grammar or punctuation mistakes show a lack of attention to detail, so it's important you get rid of them. To make this easier, here are some tools to help.
This is an online resume builder that can help you create a comprehensive resume in a professional format.
Use this free online resource to brush up on your grammar skills.
If you're struggling with what to write, use this online writing service for writing advice and a collection of writing-related services.
Use this free online blog to refresh your knowledge of grammar, punctuation and spelling.
Easy word count allows you to monitor and track your word count in real-time so you don't use too many words to bore your employer.
Use this online service as a writing guide when creating your resume. According to HuffingtonPost's Write My Essay article this academic writing service is becoming increasingly popular in the business world.
When adding references, quotes or citations to your resume, use this tool to add them in a professional format.
If you're really finding it hard to write your resume, use this writing service to have one created by a professional writer on your behalf.
Other Aspects to Consider
There are several other things you can add to your resume should you feel you need to. You may want to include references to employers in your previous roles. You could even include quotes about your performance from your manager.
You may even want to include information on your ability to travel short and long distances to jobs and a note on your flexibility when it comes to working hours. This is what you can end your resume with.
---
About The Author: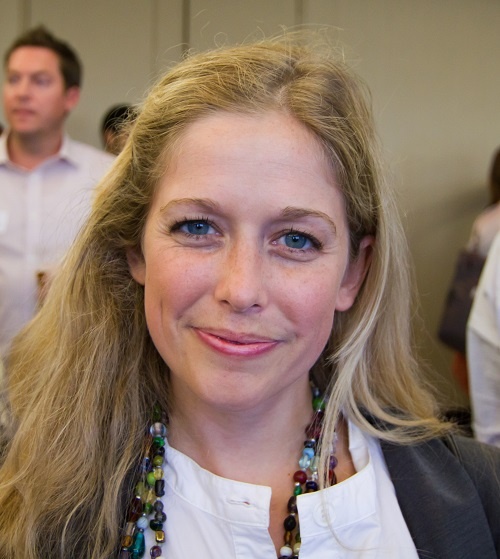 Mary Walton is one of PhD Thesis Writers, community for students who are in the process of dissertation writing. Mary has a blog - Simple Grad, where she shares her knowledge about college life. Also, she is an editor and proofreader at Research Paper Writing Service.
______________________________________________________
I trust this podcast helps you understand that outsourcing your contractor's bookkeeping services to us is about more than just "doing the bookkeeping"; it is about taking a holistic approach to your entire construction company and helping support you as a contractor and as a person.
We Remove Contractor's Unique Paperwork Frustrations
We understand the good, bad and the ugly about owning and operating construction companies because we have had several of them and we sincerely care about you and your construction company!
That is all I have for now, and if you have listened to this far please do me the honor of commenting and rating podcast www.FastEasyAccounting.com/podcast Tell me what you liked, did not like, tell it as you see it because your feedback is crucial and I thank you in advance.
u Deserve To Be Wealthy Because You Bring Value To Other People's Lives!
I trust this will be of value to you and your feedback is always welcome at www.FastEasyAccounting.com/podcast
One more example of how Fast Easy Accounting is helping construction company owners across the USA including Alaska and Hawaii put more money in the bank to operate and grow your construction company. Construction accounting is not rocket science; it is a lot harder than that, and a lot more valuable to construction contractors like you so stop missing out and call Sharie 206-361-3950 or email sharie@fasteasyaccounting.com
Contractor Bookkeeping Done For You!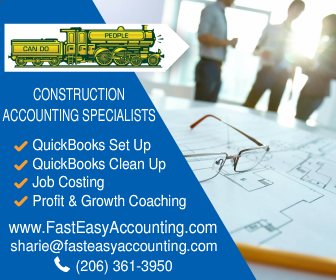 Thinking About Outsourcing Your Contractors Bookkeeping Services?
Click On The Link Below:
This guide will help you learn what to look for in outsourced construction accounting.
Need Help Now?
Call Sharie 206-361-3950
Thank you very much, and I hope you understand we do care about you and all contractors regardless of whether or not you ever hire our services.
Bye for now until our next episode here on the Contractors Success MAP Podcast.
Warm Regards,
Randal DeHart | The Contractors Accountant
For Contractors Who Prefer
To Do Your Bookkeeping
Most Contractors Setup QuickBooks Desktop Version In One Of Three Ways:
#1 EZ Step Interview inside QuickBooks Setup
#2 Asked Their Tax Accountant To Setup QuickBooks
#3 They Attended A How To Setup QuickBooks Class Or Seminar
And QuickBooks Does Not Work The Way They Want It Too!
The Answer: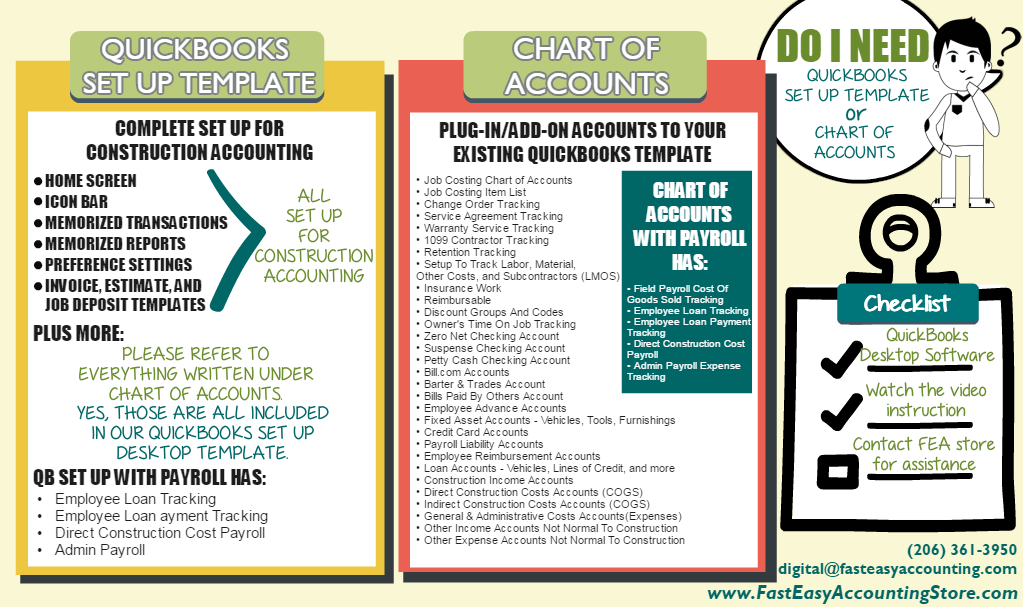 Short List Construction Contractors We Serve
Brand New Construction Company Handyman Company
Cabinet Installer HVAC Contractor
Carpentry Contractor Insulation Contractor
Carpet And Tile Contractor Interior Designer
Commercial Tenant Improvement Contractor Land Development Company
Concrete Contractor Landscape Contractor
Construction Company Masonry Contractor
Construction Manager Mold Remediation Company
Contracting Company Moss Removal Company
Contractor Painting Contractor
Custom Deck Builder Plumbing Contractor
Custom Home Builder Pressure Washing Company
Demolition Contractor Remodel Construction Company
Drywall Contractor Renovation Contractor
Electrical Contractor Restoration Contractor
Emerging Contractor Roofing Contractor
Excavation Contractor Spec Home Builder
Finish Millwork Contractor Specialty Contractor
Flipper House Contractor Subcontractor
Flooring Contractor Trade Contractor
Framing Contractor Underground Contractor
General Contractor Utility Contractor
Glass Installation Contractor Construction Employees
Gutter Installation Company Construction Support Specialist
Additional QuickBooks Templates, Resources, And Services
QuickBooks Set Up Templates Solopreneur

QuickBooks Chart Of Accounts Free Stuff

QuickBooks Item Lists Templates Consulting

We Serve Over 100 Types Of Contractors So If Your Type Of Company Is Not Listed
Please Do Not Be Concerned Because If You Are A Contractor
There Is A Good Chance We Can Help You!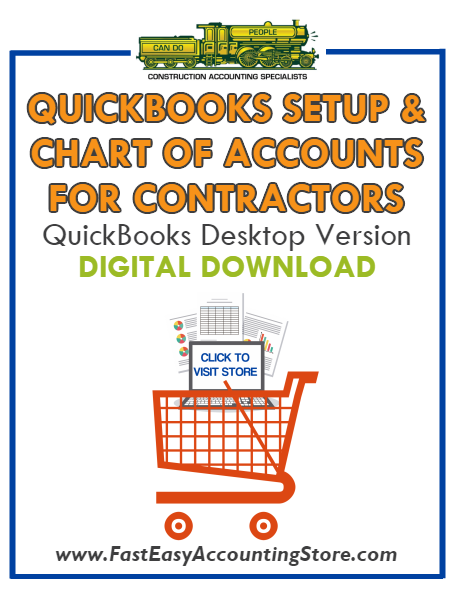 If you are a blogger, who writes about construction we would like to hear from you.
Contractors_Success_MAP, Contractors_Success_Marketing_Accounting_Production, Contractor_Bookkeeping_Services, QuickBooks_For_Contractors, QuickBooks_For_Contractors,Contractors_Success_Map_How_To_Write_A_Winning_Contractor_Resume