Oct 20, 2017
This Podcast Is Episode Number 0239 And It Will Be About

Essential SEO Tips For Contractors

Today's Guest Article Is From Chris Richardson
Are you a contractor that is looking to improve their SEO so that you can earn more clients? When it comes to SEO you can always find new ways of doing things in order to improve the quality of the end result, which is to gain higher results in the search engine results pages. This consequently leads to more customers hiring your services as a contractor.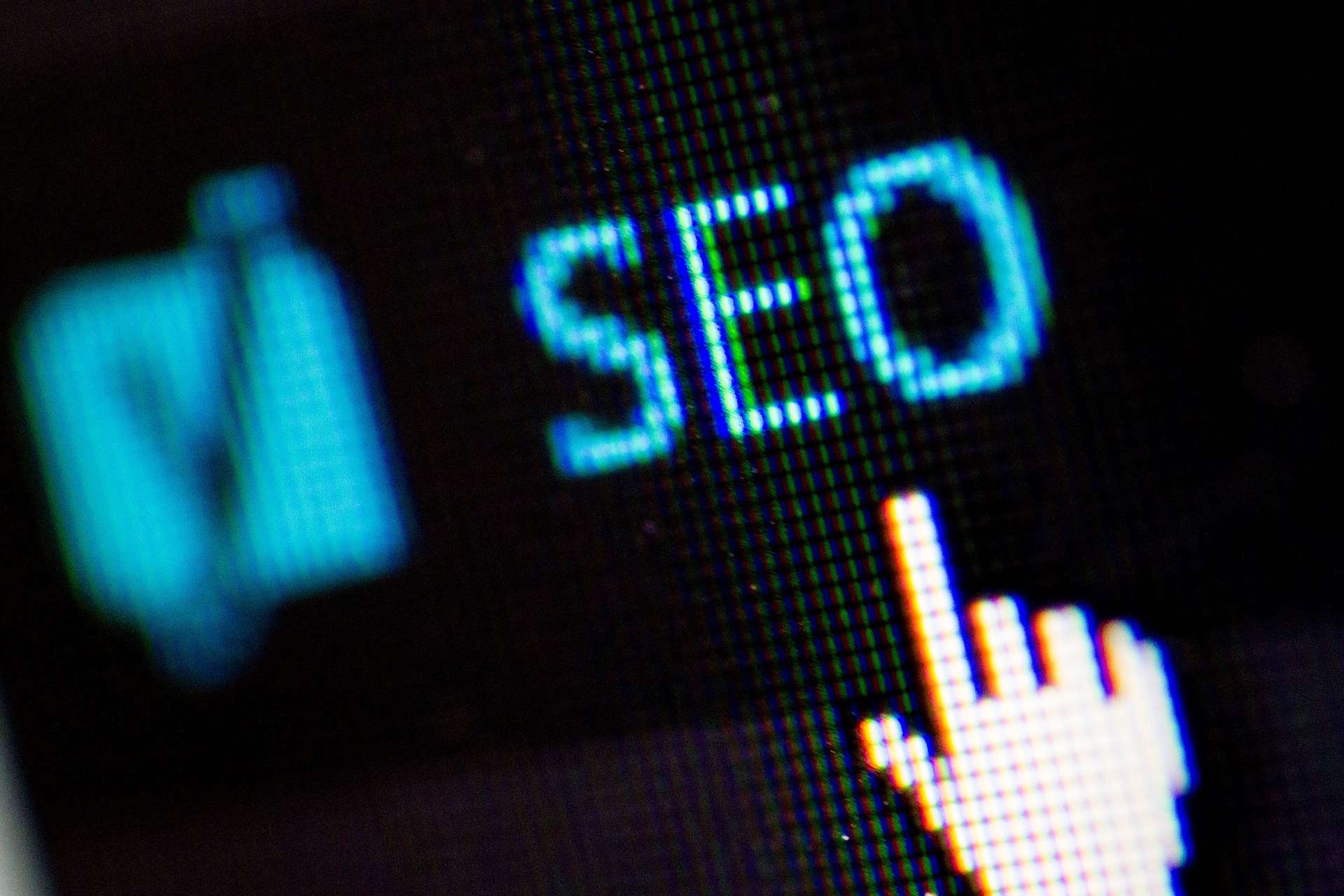 Nowadays contractors are responsible for things such as painting, roofing, plumbing and so on. They help homeowners complete the DIY projects that might be too hard for them to tackle on their own. However, getting visibility in the marketplace can be hard for some contractors if they have no idea how to go about advertising themselves.
The benefits of SEO for contractors
The biggest benefit of good quality SEO for contractors is that a higher number of people in the local area will be able to find out about the contractor. Let's say that as a contractor in the roofing industry you're competing with 10 other companies in your local area. If they have poor quality SEO and you don't then you can easily capture the search engine traffic without much hassle.
Nowadays there are a number of features that search engines have added to give businesses exposure for the right search terms. This includes showing where a business is located on the map and their contact details so that potential customers can easily locate them.
Top SEO tips for contractors
There are various general SEO tips that contractors should already know such as using header tags, alt images and keyword placement, however, as a local business more specific SEO tips are important.
First of all have an "About Us" page where information can be pulled by the search engine bot to show up in the results pages. Here information about your company should be entered and also the contact details: a phone number, e-mail address, physical address and so on.
On this page you should also include information about what your company does so that the target customer understands the services they'll hire. Make sure the contact details you enter do work as otherwise you'll annoy the customer with unreachable contact details.
Mobile search is another major thing you need to keep in mind whilst creating your website. A mobile-friendly version should be available so that those looking for your website via a mobile device are able to do so conveniently.
Try to get the seal of approval from the Better Business Bureau, as this certification not only gives peace of mind for the customer, but also improves your search rankings. It's not hard to get this certification if you have indeed setup your company in a legitimate manner.
Reviews and ratings will make it into the search result pages and that helps because people are more likely to be interested in a contractor that has a bunch of positive reviews. You can do a number of things to encourage people to leave reviews after they have bought your products.
As Martin Abington, from Essay Geeks says: "a local contractor business lives and dies by the nature of the reviews that are left, so ensure you do great work to get those 5 star reviews."
---
CONCLUSION:
Try to implement as many of the SEO tips mentioned in this article if you're a contractor that's trying to nail the SEO of their business. If you manage to incorporate these SEO tips correctly then soon enough, you might have more clients looking to hire your services than you can actually handle.
Finally, remember that SEO is a long-term on-going process that takes time to come to fruition. SEO constantly changes as the search engine algorithm gets updated regularly. So pay attention to what's going on in the world of SEO and adapt your strategy accordingly.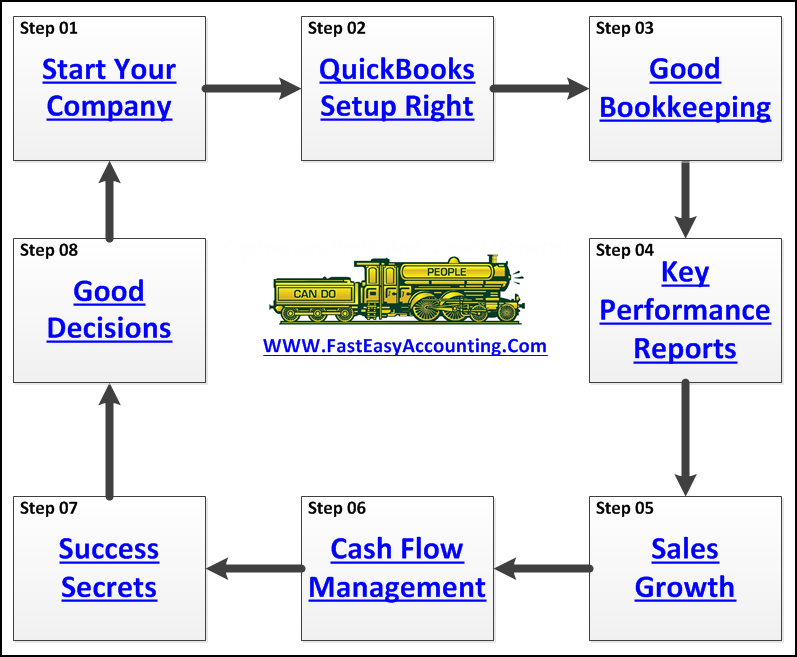 I trust this podcast helps you understand that outsourcing your contractor's bookkeeping services to us is about more than just "doing the bookkeeping"; it is about taking a holistic approach to your entire construction company and helping support you as a contractor and as a person.
We Remove Contractor's Unique Paperwork Frustrations
We understand the good, bad and the ugly about owning and operating construction companies because we have had several of them and we sincerely care about you and your construction company!
That is all I have for now, and if you have listened to this far please do me the honor of commenting and rating podcast www.FastEasyAccounting.com/podcast Tell me what you liked, did not like, tell it as you see it because your feedback is crucial and I thank you in advance.
You Deserve To Be Wealthy Because You Bring Value To Other People's Lives!
I trust this will be of value to you and your feedback is always welcome at www.FastEasyAccounting.com/podcast
One more example of how Fast Easy Accounting is helping construction company owners across the USA including Alaska and Hawaii put more money in the bank to operate and grow your construction company. Construction accounting is not rocket science; it is a lot harder than that, and a lot more valuable to construction contractors like you so stop missing out and call Sharie 206-361-3950 or email sharie@fasteasyaccounting.com
Contractor Bookkeeping Done For You!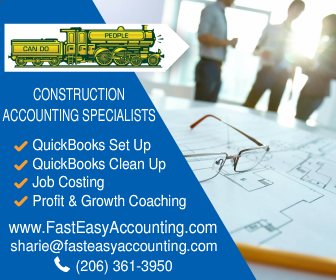 Thinking About Outsourcing Your Contractors Bookkeeping Services?
Click On The Link Below:
This guide will help you learn what to look for in outsourced construction accounting.
Need Help Now?
Call Sharie 206-361-3950
Thank you very much, and I hope you understand we do care about you and all contractors regardless of whether or not you ever hire our services.
Bye for now until our next episode here on the Contractors Success MAP Podcast.
Warm Regards,
Randal DeHart | The Contractors Accountant
For Contractors Who Prefer
To Do Your Bookkeeping
Most Contractors Setup QuickBooks Desktop Version In One Of Three Ways:
#1 EZ Step Interview inside QuickBooks Setup
#2 Asked Their Tax Accountant To Setup QuickBooks
#3 They Attended A How To Setup QuickBooks Class Or Seminar
And QuickBooks Does Not Work The Way They Want It Too!
The Answer: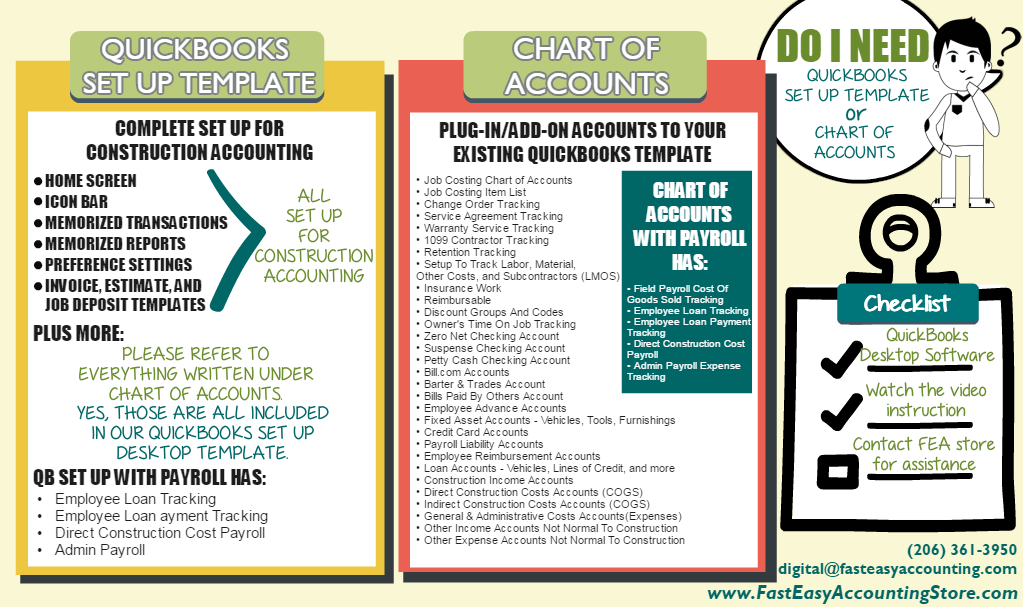 Short List Construction Contractors We Serve
Brand New Construction Company Handyman Company
Cabinet Installer HVAC Contractor
Carpentry Contractor Insulation Contractor
Carpet And Tile Contractor Interior Designer
Commercial Tenant Improvement Contractor Land Development Company
Concrete Contractor Landscape Contractor
Construction Company Masonry Contractor
Construction Manager Mold Remediation Company
Contracting Company Moss Removal Company
Contractor Painting Contractor
Custom Deck Builder Plumbing Contractor
Custom Home Builder Pressure Washing Company
Demolition Contractor Remodel Construction Company
Drywall Contractor Renovation Contractor
Electrical Contractor Restoration Contractor
Emerging Contractor Roofing Contractor
Excavation Contractor Spec Home Builder
Finish Millwork Contractor Specialty Contractor
Flipper House Contractor Subcontractor
Flooring Contractor Trade Contractor
Framing Contractor Underground Contractor
General Contractor Utility Contractor
Glass Installation Contractor Construction Employees
Gutter Installation Company Construction Support Specialist
Additional QuickBooks Templates, Resources, And Services
QuickBooks Set Up Templates Solopreneur

QuickBooks Chart Of Accounts Free Stuff

QuickBooks Item Lists Templates Consulting

We Serve Over 100 Types Of Contractors So If Your Type Of Company Is Not Listed
Please Do Not Be Concerned Because If You Are A Contractor
There Is A Good Chance We Can Help You!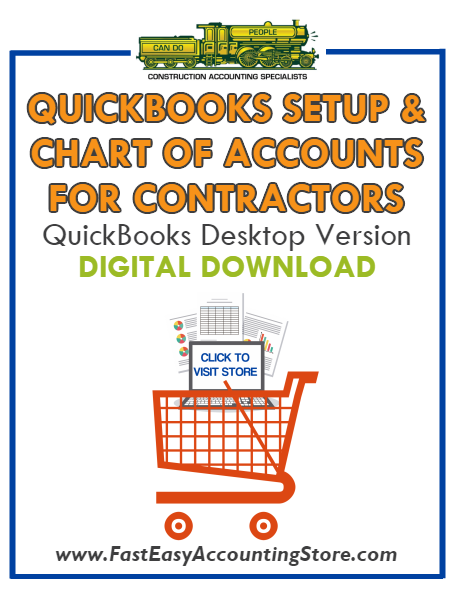 If you are a blogger, who writes about construction we would like to hear from you.
Contractors_Success_MAP, Contractors_Success_Marketing_Accounting_Production, Contractor_Bookkeeping_Services, QuickBooks_For_Contractors, QuickBooks_For_Contractors,Contractors_Success_Map_Essential_SEO_Tips_For_Contractors