Jan 12, 2018
This Podcast Is Episode Number 0251, And It Will Be About A Recent Interview With Tom Reber Of The Contractor Fight Part 2 Of 2

Today's Guest Article Is From Tom Reber Of The Contractor Fight

Trying Something New Part 2 Of 2
Get A Picture

The second approach I recommend is having them send you a picture.
Newsflash: We live in a time where people expect us to use the available technology in our businesses to be more efficient and make thing more convenient.
Sending a picture means the client doesn't need to schedule another hour or more of their time with some company that may or may not show up on time.

It means a woman can get a price without having to meet some stranger in her home while her husband is away.

Put a form on your website for them to upload pictures or at the very least have them text them to you.

99% of the prospects love this. If anyone has a problem with this it's the average contractor who has head trash around it.

Getting a photo is easy. It sounds like this:

Prospect: Hi, I'd like to get an estimate for painting a bedroom.

You: Thanks for calling! (Insert gathering their contact info here and find out where they heard of you, etc). Would it be ok if I share our process with you?

Prospect: Sure.

You: We have a free estimate and a paid consultation. The free one means you send a picture and I call you back and we talk about the job, what it could cost and see if it makes sense to take the next step. The paid is when we come out and provide a detailed report and scope of work that you can use to compare to others and shop around. That's $200. Which makes the most sense to you?

Then, shut up and let them talk. Most will send the picture. Most will say "That's a great idea. It's so easy."

Differentiate yourself and claim your spot as the expert in your industry. Slow things down and make sure they are on your system. Get a picture and make it all about it being convenient for them. You'll sell at higher rates and run around less, which will allow you to work more on your business.
---
About The Author: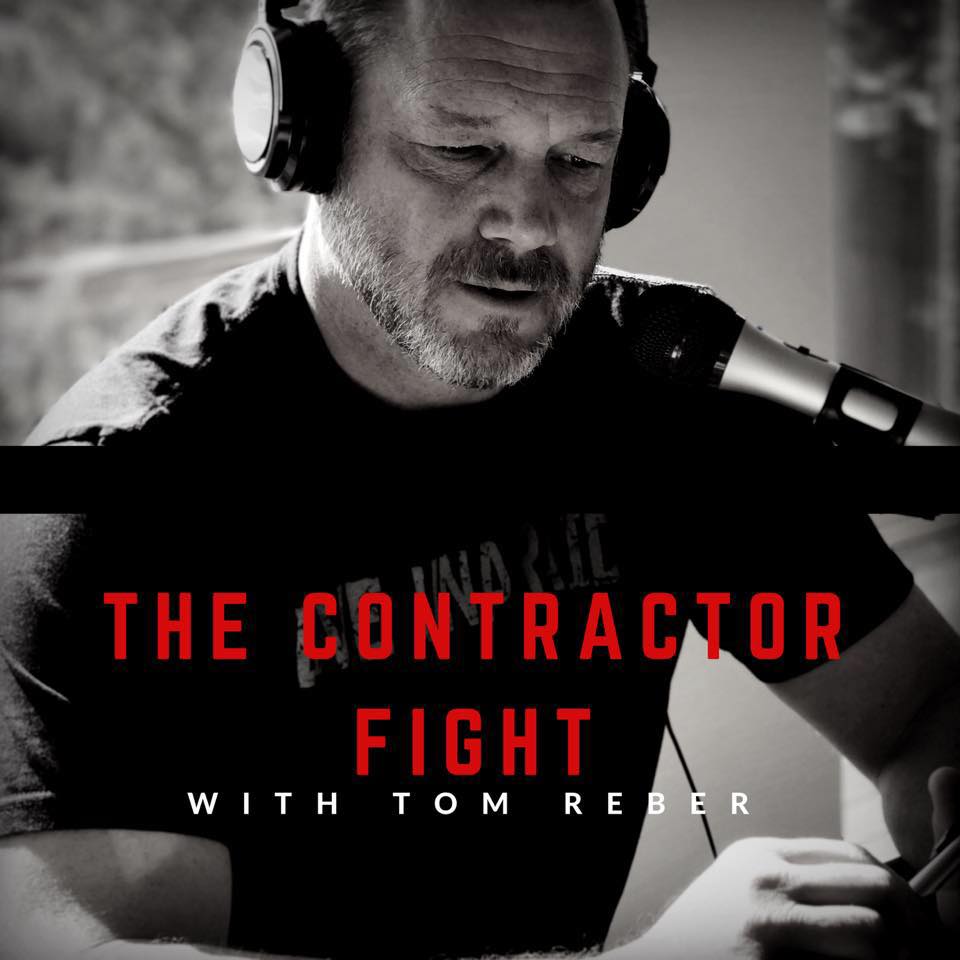 Tom Reber is the host of The Contractor Fight Podcast. He has helped numerous contractors around the world generate millions of dollars in sales and profits, become stronger leaders and build better teams. Hit up TheContractorFight.com for tips and strategies to help you kick ass in business and life.
Editor's Note: I have only known Tom Reber a short time and I trust him and find him to be very knowledgeable and capable on the subject operating and growing remodeling companies.
I Highly Recommend all contractors spend some time on his/her website and get to know him/her. He/she is a valuable resource to all contractors, not just remodel contractors. Please be sure to let him/her know Randal DeHart, The Contractors Accountant, recommended you.
-------------------------------------------------------------------
I trust this podcast helps you understand that outsourcing your contractor's bookkeeping services to us is about more than just "doing the bookkeeping"; it is about taking a holistic approach to your entire construction company and helping support you as a contractor and as a person.
We Remove Contractor's Unique Paperwork Frustrations
We understand the good, bad and the ugly about owning and operating construction companies because we have had several of them and we sincerely care about you and your construction company!
That is all I have for now, and if you have listened to this far please do me the honor of commenting and rating the Podcast www.FastEasyAccounting.com/podcast Tell me what you liked, did not like, tell it as you see it because your feedback is crucial and I thank you in advance.
You Deserve To Be Wealthy Because You Bring Value To Other People's Lives!
I trust this will be of value to you and your feedback is always welcome at www.FastEasyAccounting.com/podcast
This Is One more example of how Fast Easy Accounting is helping construction company owners across the USA including Alaska and Hawaii put more money in the bank to operate and grow your construction company. Construction accounting is not rocket science; it is a lot harder than that, and a lot more valuable to construction contractors like you so stop missing out and call Sharie 206-361-3950 or email sharie@fasteasyaccounting.com
Contractor Bookkeeping Done For You!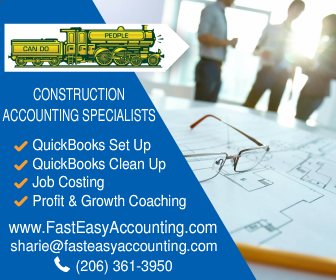 Thinking About Outsourcing Your Contractors Bookkeeping Services?
Click On The Link Below:
This guide will help you learn what to look for in outsourced construction accounting.
Need Help Now?
Call Sharie 206-361-3950
Thank you very much, and I hope you understand we do care about you and all contractors regardless of whether or not you ever hire our services.
Bye for now until our next episode here on the Contractors Success MAP Podcast.
For Contractors Who Prefer
To Do Your Bookkeeping
Most Contractors Setup QuickBooks Desktop Version In One Of Three Ways:
#1 EZ Step Interview inside QuickBooks Setup
#2 Asked Their Tax Accountant To Setup QuickBooks
#3 They Attended A How To Setup QuickBooks Class Or Seminar
And QuickBooks Does Not Work The Way They Want It Too!
The Answer: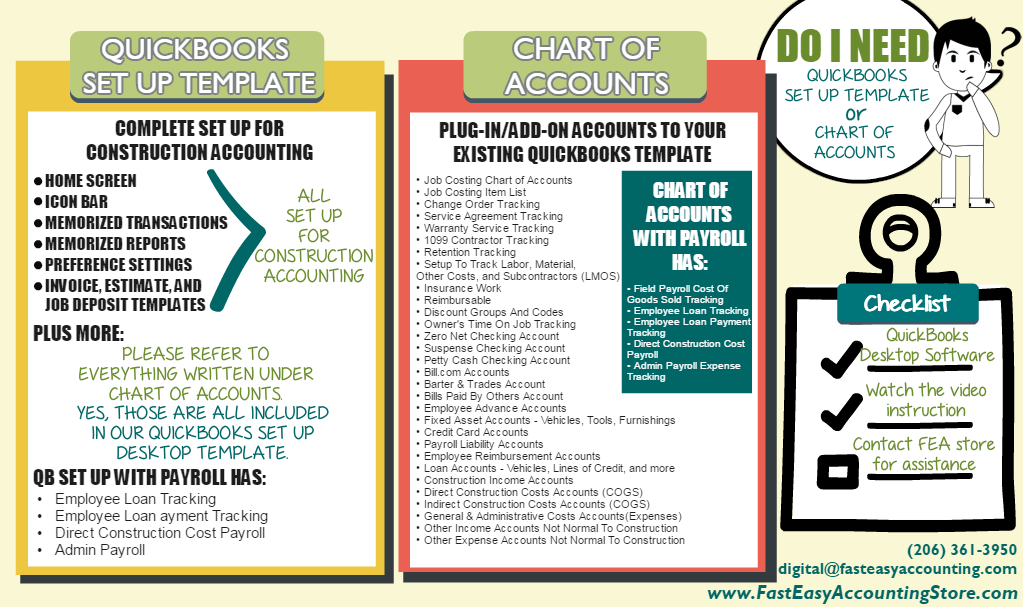 Short List Of Construction Contractors We Serve
Additional QuickBooks Templates, Resources, And Services
QuickBooks Set Up TemplatesSolopreneurQuickBooks Chart Of AccountsFree StuffQuickBooks Item Lists TemplatesConsulting

We Serve Over 100 Types Of Contractors So If Your Type Of Company Is Not Listed
Please Do Not Be Concerned Because If You Are A Contractor
There Is A Good Chance We Can Help You!
Additional QuickBooks Templates, Resources, And Services
QuickBooks Set Up Templates Solopreneur

QuickBooks Chart Of Accounts Free Stuff

QuickBooks Item Lists Templates Consulting

We Serve Over 100 Types Of Contractors So If Your Type Of Company Is Not Listed
Please Do Not Be Concerned Because If You Are A Contractor
There Is A Good Chance We Can Help You!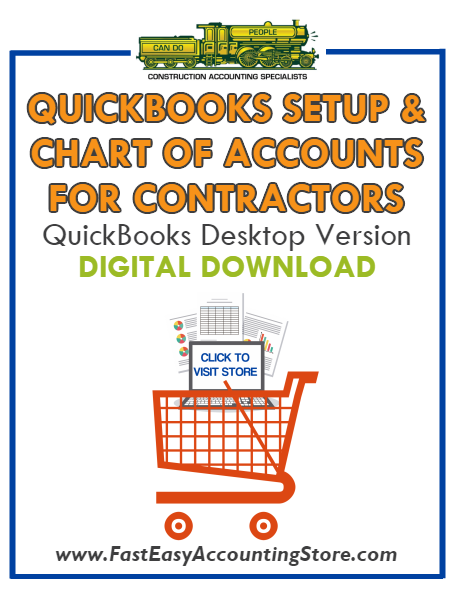 If you are a blogger, who writes about construction we would like to hear from you.
Contractors_Success_MAP, Contractors_Success_Marketing_Accounting_Production, Contractor_Bookkeeping_Services, QuickBooks_For_Contractors, QuickBooks_For_Contractors,Contractors_Success_Map_Interview_Tom_Reber_Of_The_Contractor_Fight_Part_2_of_2