Apr 19, 2019
This Podcast Is Episode Number 0311, And It Will Be About Five Common Security Questions Contractors Ask Before Hiring Our Service
Right now, if you are like most construction company owners, your construction accounting records are in an unlocked file cabinet, or worse, sitting on someone's desk. As an accounting firm, our client's privacy and security remain our top priorities and are continually looking at ways to develop and evaluate our system to prevent breach and network holes. We utilize 128-bit Secure Socket Layer encryption which ensures that all data passed between the web server and browsers remain private and integral. There are two levels of restrictions and passwords must be entered before you can get your data file.
At Fast Easy Accounting, Cloud Security is not an option- it is a fundamental requirement. We only use Intuit Approved Commercial Hosting Services. We have taken steps to select the best to ensure that your data is as secure as that found for online banking and financial institutions. Their Cloud Security rests on U.S. based servers, backups, data centers, and technical support. Not one aspect of our Cloud security relies on outsourced services or offshore locations.
Online Data Protection is critical to being able to provide you reliable and professional grade outsourced contractors bookkeeping services. With this in mind, let me assure you by answering the common questions contractors ask regarding cybersecurity, data, and financial concerns:
Where are the bookkeeping and accounting done?
Our headquarters is in Lynnwood, Washington, where everything's done. We have a team of qualified construction bookkeepers, construction accountants, and support staff. Everyone understands the importance of maintaining the integrity of your data and nothing is sent out.
Can other people access my data?
No one can have access to your data without your company's express permission; this includes your CPA, advisors and specific employees. We can also set up restrictions so that specific functions can be limited to those you do allow access.
Can I access the QuickBooks Desktop version securely in the cloud?
Yes, we outsource to an Intuit approved commercial hosting environment so we could offer our clients all of the benefits of the full desktop version of QuickBooks accessible online 24/7, and it has been a huge success!
Will you be managing our money?
The only money we touch is our Fees.
Auto receives for Monthly Outsourced Accounting and Bookkeeping Services on the 1st day of each month.
Auto receives for Weekly Outsourced Accounting and Bookkeeping Services on Monday of each week.
You sign all checks. We do not touch your money.
Will I lose control of my company by outsourcing my bookkeeping?
Absolutely not!
You maintain 100% control of all the decisions. You decide who gets paid, when, and how much they are paid. We provide you with the list of payables and record the transactions, but you approve all invoices for payment and sign all checks and control your credit cards.
The cost of good bookkeeping combined with secured cyber information is priceless. Having clean, up-to-date bookkeeping records, accurate financial reports, and protected data all make up for a good night's sleep. By eliminating all your paperwork frustrations and providing your business document security, you can focus more on doing what you love and being with the ones you love.
About The Author:

Randal DeHart, PMP, QPA is the co-founder of Business Consulting And Accounting in Lynnwood, Washington. He is the leading expert in outsourced construction bookkeeping and accounting services for small construction companies across the USA. He is experienced as a Contractor, Project Management Professional, Construction Accountant, Intuit ProAdvisor, QuickBooks For Contractors Expert and Xero Accounting Specialist. This combination of experience and skill sets provides a unique perspective which allows him to see the world through the eyes of a contractor, Project Manager, Accountant, and construction accountant. This quadruple understanding is what sets him apart from other Intuit ProAdvisors and Xero accountants to the benefit of all of the construction contractors he serves across the USA. Visit http://www.fasteasyaccounting.com/randal-dehart/ to learn more.
Our Co-Founder Randal DeHart - Is a Certified PMP (Project Management Professional) with several years of construction project management experience. His expertise is construction accounting systems engineering and process development. His exhaustive study of several leading experts including the work of Dr. W. Edward Deming, Michael Gerber, Walter A. Shewhart, James Lewis and dozens of others was the foundation upon which our Construction Bookkeeping System is based and continues to evolve and improve. Check out our Contractor Success Map Podcast on iTunes.
The Information Shown Below Is From Fast Easy Accounting
Download the Contractors APP today

from the App Store or Android Store
Access Code: FEAHEROS
Click here to download the App on Android:
Click here to download the App on iOS:
Simply scan the QR code or search for 'MyAccountants' in the App Store and enter the Access code: FEAHEROS to utilize the powerful App features and capabilities, and benefit from having our Construction Accounting App at your fingertips, 24/7."
PS: Even if you are not a Construction Contractor you will find a plenty of benefits in the app so we invite you to download it too! It's Free so why not?
---
When You Become A Client - Then we can tap into our resources of knowledge and strategy banks. We use the reports hidden in your QuickBooks in order to diagnose and understand your construction business and develop plans and help you implement a path to success for you and you alone because every contractor has unique Strengths, Weaknesses, Opportunities and Threats (S.W.O.T. Analysis) that when understood can lead to a Strategic Roadmap which cannot help but make a lot of money.
Need Help Now?
Call Sharie 206-361-3950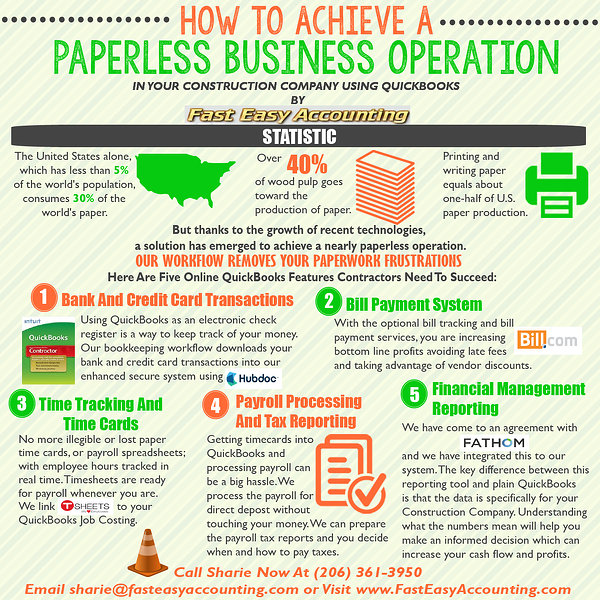 We Are Xero Accounting Experts Specializing In Construction Bookkeeping Services
---

Most Contractors Setup QuickBooks Desktop Version In One Of Three Ways:
#1 EZ Step Interview inside QuickBooks Setup
#2 Asked Their Tax Accountant To Setup QuickBooks
#3 They Attended A How To Setup QuickBooks Class Or Seminar
And QuickBooks Does Not Work The Way They Want It Too!
The Answer: