Jun 7, 2019
This Podcast Is Episode Number 0318, And It Will Be About Establishing Your General Contracting Business - T.I.P.S. On Starting It Right
Running a business for general contractors like you is an overwhelming yet fulfilling task because there are so many things only the company owner can and should do. In most cases, when the owner's spouse contacts us, it is because they are trying to help with the business, but they know they need outside assistance, so there is more quality time with the family.
Most contractors, and small business owners, in general, haven't realized that what you don't know can keep up at night. Instead of focusing your efforts in maintaining your relationship with your past clients and building a new one, you were up wondering whether you're making or losing money. Today more than ever, it is necessary to have a properly set-up accounting and bookkeeping file and maintain it. Someone with the knowledge and training combined with an understanding of construction to Set-Up, Clean-Up, Tidy-Up, and manage your bookkeeping system.
T.I.P.S. On How To Get Started Right
T – Taxes
The last thing we want to think about is TAXES when it should be the first thing we should think about. Our office is in Lynnwood, WA so this tax tip, in particular, is directed to Washington State residents.
Think/Research/Choose
Your business name: Who are you?
Is that your trade name? Are they the same?
What is your domain name?
First Stop: Secretary Of State
What is your ownership structure for the Federal/State agencies? This will determine what type of taxes you need to pay as part of your personal 1040 tax return. To prevent duplicate identification numbers (UBI), it is recommended to file your company identity to the Secretary of State.
Second Stop: Federal Employee Identification Number
Apply for a Federal Employer Identification Number (FEIN). Whenever you have employees, this number is required no matter what type of ownership structure. Many years ago, a personal security number was used. The government will request both the personal social security and FEIN on some forms.
Third Stop: State Of Washington Business License Application
Washington Business License Application (commonly known as the Master Business License) is what registers the business. Depending on your type of business, whether you need to collect sales tax, pay business and occupation tax to the state of Washington.

I – Income and Invoice
We are not business without clients. Our new clients become existing clients. Once the job is completed (last month/last year), they become our previous clients. As part of the bidding, estimating, scheduling, doing the work, and collecting the money, you need to understand a few basic rules.
It involves paperwork. Tax, certifications, liens, and permits depending on who you are as a business and what type of work you do.
New Construction – depends on the type of new construction
Commercial – depends on the type of commercial project, your individual trade, and location.
Residential – depends on the size of the project, the owner may be actively involved
Service and Repair – usually emergency driven and price shopped "after the work's done")
Invoicing is all about presenting the agreed upon amount in a format the customer can easily understand and be willing to pay promptly. It's all about getting a fair price for the work performed and payment in a timely fashion. The type of invoice presented varies from the size of Job and Job Type.

P – Payroll, Planning, Production, and Profit
Prospective applicants need to submit a formal employment application and complete the hiring process before going to work on the job.
Hiring an employee has added benefit to your overall production. The downside is there are additional costs for Labor/Taxes/Overhead that comes with hiring an employee.
As with any business, the goal is to make a profit. One way to do that is leveraging your time - understand the 80/20 Rule, hire employees as needed, and save time on your bookkeeping.

S – Success, System, Structure, and Security

Success is what we are all striving for. Each person picks their own goals and has their own definition of what success is. How do we know when we have arrived?
We learn systems as small children. Our parents develop what was commonly called "A Routine" for us. It's a way to schedule/manage our daily activities. As an adult, when working for someone else – some aspects are still the same as when we are children. The structure is determined by someone else, and we are following their System.
As business owners, we now have developed a Structure by implementing our Business Plan. Security comes from setting up the Structure and Systems in place that the business is running smoothly. Micro-managing should be optional and by choice, not by necessity. Why is this important? Because with security, there will be a peace of mind. Having peace of mind will create the environment to grow, which will generate the funds required and the time needed to be able to do the things you want to do for your family, your community, and for yourself.
Conclusion:
The roadmap on how we run our construction company is up to us – the business owner. The most detailed business plan means nothing if you are waiting for perfection. The timing will never be perfect. Get started now because the conditions will never be ideal, you only need to start it right.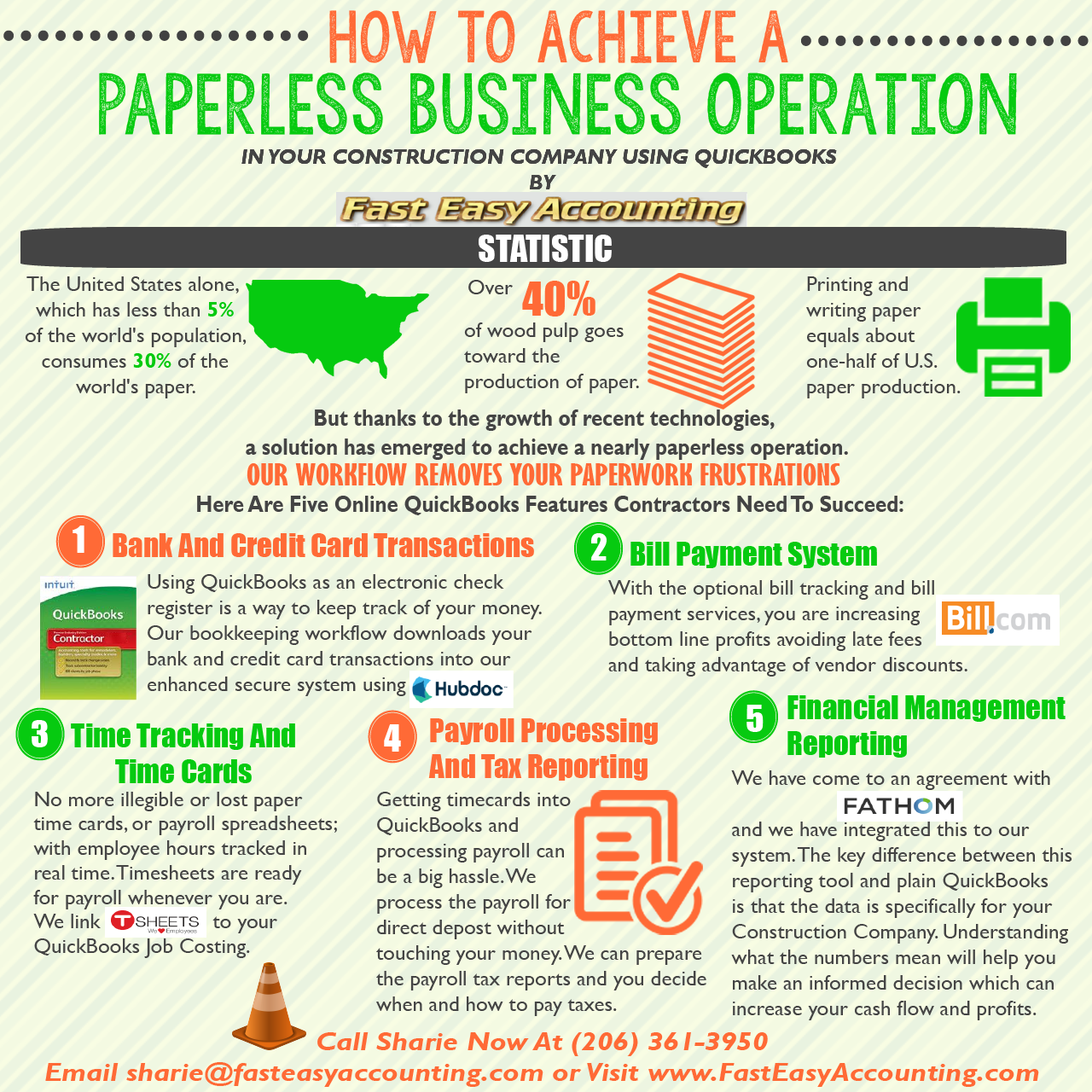 We help a little or a lot depending on your needs. I look forward to being able to assist you with any option that best fits your company.
Please feel free to download all the Free Forms and Resources that you find useful for your business.
About The Author:

Sharie DeHart, QPA is the co-founder of Business Consulting And Accounting in Lynnwood, Washington. She is the leading expert in managing outsourced construction bookkeeping and accounting services companies and cash management accounting for small construction companies across the USA. She encourages Contractors and Construction Company Owners to stay current on their tax obligations and offers insights on how to manage the remaining cash flow to operate and grow their construction company sales and profits so they can put more money in the bank. Call 206-361-3950 or sharie@fasteasyaccounting.com
---
Download the Contractors APP today

from the App Store or Android Store
Access Code: FEAHEROS
Click here to download the App on Android:
Click here to download the App on iOS:
Simply scan the QR code or search for 'MyAccountants' in the App Store and enter the Access code: FEAHEROS to utilize the powerful App features and capabilities, and benefit from having our Construction Accounting App at your fingertips, 24/7."
PS: Even if you are not a Construction Contractor you will find a plenty of benefits in the app so we invite you to download it too! It's Free so why not?
---
When You Become A Client - Then we can tap into our resources of knowledge and strategy banks. We use the reports hidden in your QuickBooks in order to diagnose and understand your construction business and develop plans and help you implement a path to success for you and you alone because every contractor has unique Strengths, Weaknesses, Opportunities and Threats (S.W.O.T. Analysis) that when understood can lead to a Strategic Roadmap which cannot help but make a lot of money.
We Remove Contractor's Unique Paperwork Frustrations