Jul 6, 2018
This Podcast Is Episode Number 0276, And It Will Be About Interview With Brian Javeline Of MyOnlineToolBox.com
Today's Article Is From Brian Javeline Of My Online Toolbox
While the title of this story mentions website leads, planning also can incorporate many other forms of leads. However, we decided to focus on website leads since so many contractors simply do not have a great online presence designed to capture more quality business opportunities.
Go open your last version of your Marketing Plan. You will then not believe how fast time flies by. It will feel like just the other day where many of you were making all sorts of plans to change things, then time went by, then you got busy so the plans went in the to-do pile. Unfortunately that implies that you are not doing anything specific to attract better customers.
Many people have never had a Marketing Plan at all, which is even worse than not following through on your plans. It is kind of like constantly building something without any measurements or schematics whatsoever.
The most common situation we run into is hearing contractors updating their websites and making changes without any concrete planning. Most companies rely on their website company for their marketing strategy which is a mistake, unless that website company clearly has a strong foothold in this particular industry.
Always remember, just because someone has mastered Google Docs or Microsoft Word doesn't necessarily mean they know how to write a concise story. It is the same thing with many website programmers who have first focused on websites and SEO without first having a strong background in marketing.
Want better customers in the future? Then start planning for them today. It will take some time to methodically organize yourself to market correctly. That begins with a Marketing Plan or an update to your existing Marketing Plan. And many do not want to embrace this fact, but it will take months for these efforts to all come together after you are done. This includes making the correct updates to your website, Facebook and YouTube for Social Sharing, Google Reviews for consumer rankings, etc. So start today, then take a few months to organize yourself slowly, and then start to reap the rewards sometime in the next quarter with momentum picking up around two quarters out. It is amazing how one's business can change for life once you actually do something about it.
Don't use the excuse you are busy and waiting for things to slow down. Guess what? That is the same thing the majority of your peers are saying. Ever wonder what the top companies do differently than you to be overly successful? Much of it is not magic. Much of it is business practices and continuity with no excuses.
I hear all the time "you do not know how lucky you are to get so many quality leads". And I respond the same way, "No, luck has nothing to do with it." It took planning, execution and persistence to build the momentum of image and results we produce. In fact, that is why I like to focus on the words More Quality Leads as opposed to just saying More Leads. I used to get too many leads that it was actually a distraction. Now our business has vastly reduced the time dealing with tire kickers which gives us more time to focus on good customers and quality leads. These quality leads turn into quality customers who in turn give us some quality referrals. And the merry-go-round spins. Sure, bad leads continue to come, but at a much slower pace and they are easy to let go.
Perhaps you are doing well with your marketing and leads. That is great. Then at least make sure to not rest on your laurels and keep it up. But maybe you are wondering why are you so busy and not making as much profit as you thought. Or maybe you are getting leads and not closing as many as you thought. Or perhaps you really do not get as much referral business as you hoped for with your existing clients. You can change so much by identifying a problem and planning to change it.
Remember that marketing is different than sales and should be treated as distinct topics. Many contractors are so much better at sales since they are accustomed to bragging about what they do, and that is fine. But many really have not positioned themselves to be clearly aware of how a consumer researches for their services. And many more do not position themselves to differentiate from the competition.
Consider taking a step back and creating a Marketing Plan that captures your specific services, your specific territory and positions you against your competition. Many times you will discover weaknesses in your marketing that you were clearly unaware of. Many times you will also discover strengths in your business that you are not properly using in your marketing. And then you can make great implementation decisions when you see what your competitors are bad at as well as good at.
A Marketing Plan is an absolute game changer when it comes to focusing on your objectives to Get More Quality Leads.
And maybe a Marketing Plan is too much to take on right now. Then at least consider learning the Basics of Marketing & Website SEO Strategies. You would be amazed how better you can critique yourself, or perhaps work so much better with your existing website company simply because you embrace the topics better. Most programmers do not have the time to explain to you what they do, and at the same time most owners do not really know what is going on with their sites. It doesn't have to just be a leap of faith when it comes to this critical part of your business.
---
CONCLUSION:
The future of having better customers is achievable if you have a road map to change the direction. Your planning to go into that direction should start today.

---
I Highly Recommend all contractors spend some time on his website MyOnlineToolbox.com and get to know Brian. He is a valuable resource to all contractors, not just remodel contractors. Please be sure to let Brian know Randal DeHart, The Contractors Accountant, recommended you.
About The Author:
Brian Javeline is President & Co-founder of MyOnlineToolbox.com. MyOnlineToolbox is the #1 Online Marketing & Website Education Series – Just for Construction Contractors, Remodelers and Service Providers! The company also specializes in Marketing Planning for a Website Strategy to dominate inbound lead generation efforts for a new or existing website.
The Information Shown Below Is From Fast Easy Accounting
Download The Contractors APP Now!
Access code: FEAHEROS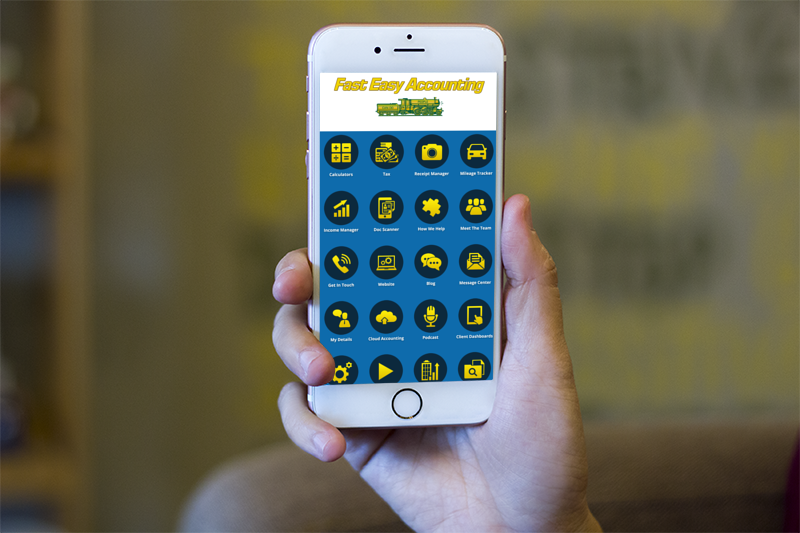 The QR Code Below Will Go
Apple Or Android Store
Whichever One
You Need
Simply scan the QR code below or search for 'MyAccountants' in the App Store and enter the Access code: FEAHEROS to utilize the powerful App features and capabilities, and benefit from having our Construction Accounting App at your fingertips, 24/7.

Access code: FEAHEROS
Or click to download the Contractors APP now from the App or Android store
Click here to download the App on iOS:
Click here to download the App on Android: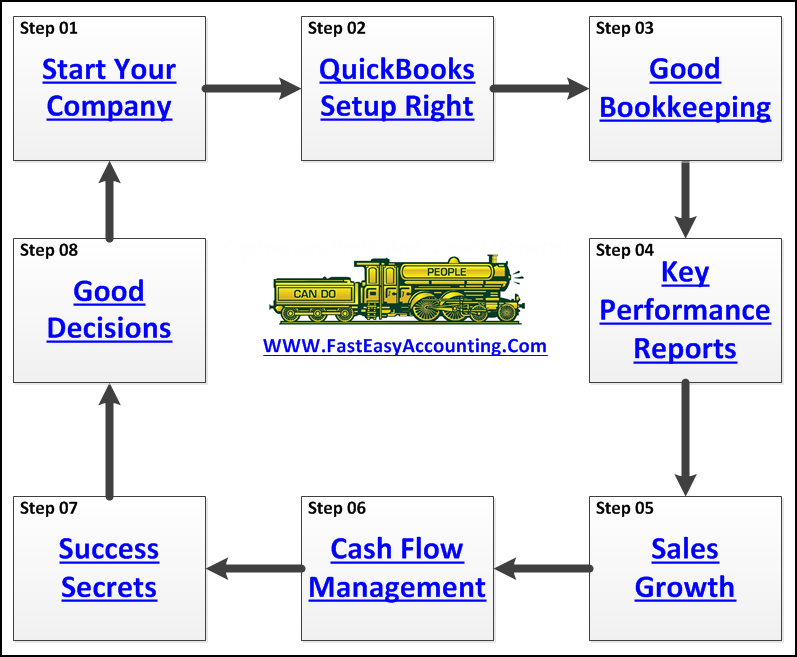 I trust this podcast helps you understand that outsourcing your contractor's bookkeeping services to us is about more than just "doing the bookkeeping"; it is about taking a holistic approach to your entire construction company and helping support you as a contractor and as a person.
We Remove Contractor's Unique Paperwork Frustrations
We understand the good, bad and the ugly about owning and operating construction companies because we have had several of them and we sincerely care about you and your construction company!
That is all I have for now, and if you have listened to this far please do me the honor of commenting and rating the Podcast www.FastEasyAccounting.com/podcast Tell me what you liked, did not like, tell it as you see it because your feedback is crucial and I thank you in advance.
You Deserve To Be Wealthy Because You Bring Value To Other People's Lives!
I trust this will be of value to you and your feedback is always welcome at www.FastEasyAccounting.com/podcast
This Is One more example of how Fast Easy Accounting is helping construction company owners across the USA including Alaska and Hawaii put more money in the bank to operate and grow your construction company. Construction accounting is not rocket science; it is a lot harder than that, and a lot more valuable to construction contractors like you so stop missing out and call Sharie 206-361-3950 or email sharie@fasteasyaccounting.com
Contractor Bookkeeping Done For You!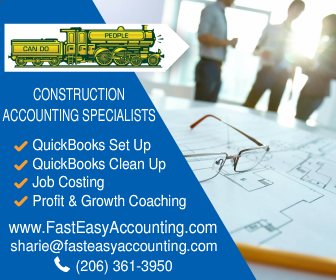 Thinking About Outsourcing Your Contractors Bookkeeping Services?
Click On The Link Below:
This guide will help you learn what to look for in outsourced construction accounting.
Need Help Now?
Call Sharie 206-361-3950
Thank you very much, and I hope you understand we do care about you and all contractors regardless of whether or not you ever hire our services.
Bye for now until our next episode here on the Contractors Success MAP Podcast.
About The Author:

For Contractors Who Prefer
To Do Your Bookkeeping
Most Contractors Setup QuickBooks Desktop Version In One Of Three Ways:
#1 EZ Step Interview inside QuickBooks Setup
#2 Asked Their Tax Accountant To Setup QuickBooks
#3 They Attended A How To Setup QuickBooks Class Or Seminar
And QuickBooks Does Not Work The Way They Want It Too!
The Answer: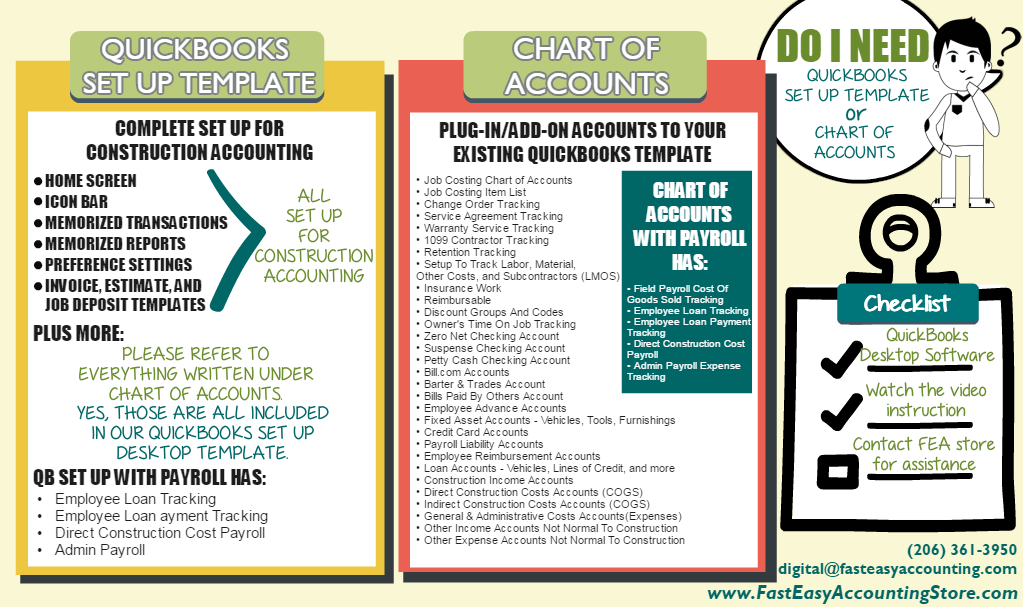 Short List Of Construction Contractors We Serve
Additional QuickBooks Templates, Resources, And Services
QuickBooks Set Up TemplatesSolopreneurQuickBooks Chart Of AccountsFree StuffQuickBooks Item Lists TemplatesConsulting

We Serve Over 100 Types Of Contractors So If Your Type Of Company Is Not Listed
Please Do Not Be Concerned Because If You Are A Contractor
There Is A Good Chance We Can Help You!
Additional QuickBooks Templates, Resources, And Services
QuickBooks Set Up Templates Solopreneur

QuickBooks Chart Of Accounts Free Stuff

QuickBooks Item Lists Templates Consulting

We Serve Over 100 Types Of Contractors So If Your Type Of Company Is Not Listed
Please Do Not Be Concerned Because If You Are A Contractor
There Is A Good Chance We Can Help You!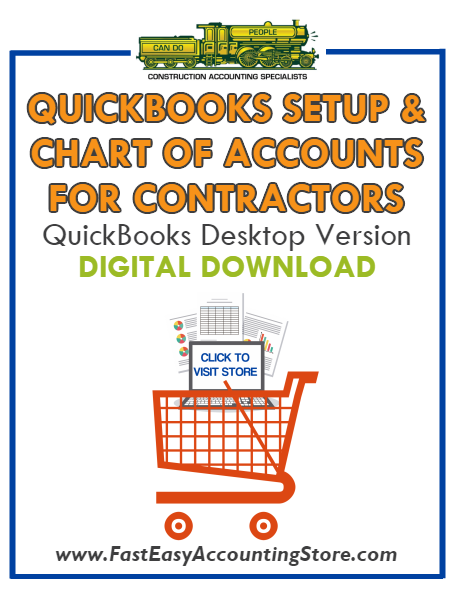 If you are a blogger, who writes about construction we would like to hear from you.
Contractors_Success_MAP, Contractors_Success_Marketing_Accounting_Production, Contractor_Bookkeeping_Services, QuickBooks_For_Contractors, QuickBooks_For_Contractors,Contractors_Success_Map_Interview_Brian_Javeline_MyOnlineToolbox