May 5, 2017
This Podcast Is Episode Number 0215 And It Will Be About How To Show Clients Every Model and Upgrade From Your Office
Today's Podcast is based upon a guest article from Kim Smith Of Render 3D Quickly
Check out Render 3D Quickly!
Render 3D Quickly is a company that takes appreciation of architectural aesthetics to a whole new level. The company does this through high-end 3D architectural rendering. They use the latest in 3D rendering software, competitive pricing, quick turn-around times, and a team of professionals that are highly trained experts in their field.
Bring it to life through animation
The 3D rendering is a program that allows interior designers, architects, builders, contractors, and developers to see, using 3D models and animations, what a project will look like before delving into it. The company has satisfied customers not only in the United States and Canada but China and Europe as well.
The 3D rendering program allows for flexibility in the design and specifications with least of effort. It also takes care of exploring the possibilities limitlessly as well as pushing the envelope at the seams.
Taking care of fixations
The kind of possibilities the program opens is making a virtual presentation via video conferencing to a client who is thousands of miles away. It also allows the buyer to discuss their preferences in real time and perhaps go back on some of the expectations they have had before the presentation. Unreasonable or unnecessary fixations are taken care of as the client extends the horizon of imagination.
Customer satisfaction
To ensure that customer satisfaction is adequately addressed, the team at the company has a strong focus on customer service and can quickly give a free quote either by phone or e-mail with minimal wait times.
The company does 3D renderings for floor plans, interiors and exteriors, house and home, and 3D aerial. A client can request that renderings be animated instead of just pictures, taking projects into a new outlook. Animation provides getting an idea of what a layout and the overall future project will look like before making large financial investments. This allows a client to feel they are walking through the project, a bit more interactive than just the pictures
Flat drawings are out, and 3D is in
Flat drawings, files, and binders are no longer the in-thing when it comes to viewing and assessing a property. You are looking at a model where, in any case, you need to get an alternative opinion, the person you are sharing with has a clear view of your proposal, especially where the property involves a couple or more than one person.
It is one thing to make a decision to acquire a property and a totally different cup of tea to find the satisfaction of owning that property. A fitting price is one, and then comes the location, interiors as well as the immediate surroundings, the shape and design of the exterior, the colours, the layout of spaces and openings. Without viewing the property it is quite difficult to make a decision, and that is where 3D rendering come in.
'Walking' through the design
In addition to animation and pictures, clients may want a 3D mock-up and architectural models. Often clients will combine 3D animation with a model for a more exciting presentation. It allows buyers to get a good look at what a building can be both inside and outside. Not only can a client request a 3D model of a building, but also where landscape would be set; The company offers Virtual Design (VD) tours.
Savings on cost
A client can not only see pictures, models, and animation of a project but be a part of the experience by walking through the project. Some use virtual reality with a pre-existing building using a virtual reality camera which can cost upwards of $4500 each. The company's Virtual Design requires no pre-existing buildings and is much more cost effective; $1000 for the average home VR creation.
User-friendly Website
The website for the company is both easy to use and informative. The site shows examples of projects that were completed and the dedication to the client. For someone that is a beginner to 3D rendering, Render 3D Quickly.com makes future clients feel they are in good hands with a staff that knows their business and does it well. Clients do not need to leave their office or home to use the company's service. By using e-mail and phone, a client can get several ideas on how to best complete their project. Updates that are needed to a project can also be done from the office without inconveniencing the client.
One of the key elements of technology is to provide convenience. The desired property may be found thousands of miles away. The 3D rendering costs are minimal considering the convenience, savings on airfares as well as time.
Qualified upgrades
The most difficult thing is making upgrades from what was considered to have been what the client wanted only for the client to turn around and want something totally different. That presents a headache of untold magnitude the costs notwithstanding.
To mitigate such incidents that may lead to client dissatisfaction, 3D virtual tours enable both the proprietor and clients to go through the motions in real time and actually try out the options that are available.
You are able to work through the lighting options, the wall and floor colours as well as settings; in this way, the final decision can be firmed up well before sinking funds into such an upgrade.
Getting the real feel
There are certain aspects that can only be addressed through 3D rendering which include management of space, safety, lighting and the aesthetic feel. This is usually a way long shot when presenting this using flat drawings as the proprietor presents an abstract to a client who has little or no understanding of the architectural dynamics and is unable to interpret this information into the 3D of their mind's eye.
Some of the main reason a proprietor undertakes an upgrade is to sell, however, for a client to seek an upgrade, they are seeking to satisfy a certain visual hunger within them. Even before the physical comfort, it is the visual satisfaction that will inform the decision. 3D rendering program addresses this angle quite adequately. The proprietor knows what it will cost them and the client is sure that they got the right thing going.
Cutting out human exasperation
Going back and forth in the specifications for a property is no limitation where technology is concerned, in a one on one, exasperation can set in, and a good deal can easily slide on such an account. 3D technology allows you to go back and forth for as many times as you would like without inconveniencing either party.
House design and décor has seen a big revolution in recent times. Tiles, wood, and slates come in a myriad of colors and designs. The client can be spoilt for choice and not sure how these aspects impact on the overall outlook of the property; 3D rendering via video allows for this.
The other possibility it opens is that the client can track the recommended changes and in this way approve of the work in progress or make amendment before the work goes too deep to an extent where reversing is near impossible or way too costly.
Being in many places at the same time
A 3D rendering service allows a proprietor to present a 'buffet' of the property variety at his or her disposal. Different spaces and models in varied presentations give a varied feel, and it is this feel that determines whether the buyer makes the decision to buy or not.
As human beings, decisions are made within a certain given window, and if this widow is not utilized within a certain timeframe, it may adversely affect the decision-making process where a business loses out.
3D rendering services enable the proprietor to serve a whole compendium of properties as a package and in this way allowing the client to make a good choice within the shortest timeframe.
Speedy quotations
The integrated 3D rendering program allows for speedy processing of the pricing bands and providing of a quotation within minutes of the client's inquiry. In this way, the client is able to make quick comparisons based on the preferences and extras that they have made in their VR conference discussion.
The client is also able to sample properties from other companies and make a more informed choice on the property they would like to purchase.
Selling a good idea
One of the biggest challenges in life is selling a new idea. Something people may not have a background about. There is a myriad of innovative architectural designs that do not go too far because their essence was never fully appreciated or embraced. 3D rendering through animations, models and VR's shifts the dynamics on all fronts when it comes to selling a new concept.
Through 3D rendering, the proprietor can give the client an opportunity to sample and appreciate a new concept complete with the extras that come with it. It allows for depth that would not be possible with ordinary flat presentations on paper.
Editor's Comments:
If you are a blogger, who writes about construction we would like to hear from you. https://www.fasteasyaccounting.com/guestblogger
I trust this podcast helps you understand that outsourcing your contractor's bookkeeping services to us is about more than just "doing the bookkeeping"; it is about taking a holistic approach to your entire construction company and helping support you as a contractor and as a person.
We Remove Contractor's Unique Paperwork Frustrations
We understand the good, bad and the ugly about owning and operating construction companies because we have had several of them and we sincerely care about you and your construction company!
That is all I have for now, and if you have listened to this far please do me the honor of commenting and rating podcast www.FastEasyAccounting.com/podcast Tell me what you liked, did not like, tell it as you see it because your feedback is crucial and I thank you in advance.
You Deserve To Be Wealthy Because You Bring Value To Other People's Lives!
I trust this will be of value to you and your feedback is always welcome at www.FastEasyAccounting.com/podcast
One more example of how Fast Easy Accounting is helping construction company owners across the USA including Alaska and Hawaii put more money in the bank to operate and grow your construction company. Construction accounting is not rocket science; it is a lot harder than that, and a lot more valuable to construction contractors like you so stop missing out and call Sharie 206-361-3950 or email sharie@fasteasyaccounting.com
Contractor Bookkeeping Done For You!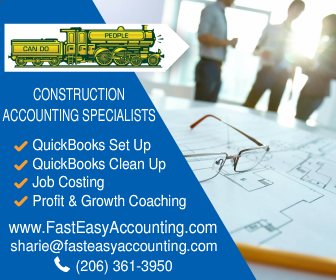 Thinking About Outsourcing Your Contractors Bookkeeping Services?
Click On The Link Below:
This guide will help you learn what to look for in outsourced construction accounting.
Need Help Now?
Call Sharie 206-361-3950
Thank you very much, and I hope you understand we do care about you and all contractors regardless of whether or not you ever hire our services.
Bye for now until our next episode here on the Contractors Success MAP Podcast.
Warm Regards,
Randal DeHart | The Contractors Accountant
For Contractors Who Prefer
To Do Your Bookkeeping
Most Contractors Setup QuickBooks Desktop Version In One Of Three Ways:
#1 EZ Step Interview inside QuickBooks Setup
#2 Asked Their Tax Accountant To Setup QuickBooks
#3 They Attended A How To Setup QuickBooks Class Or Seminar
And QuickBooks Does Not Work The Way They Want It Too!
The Answer: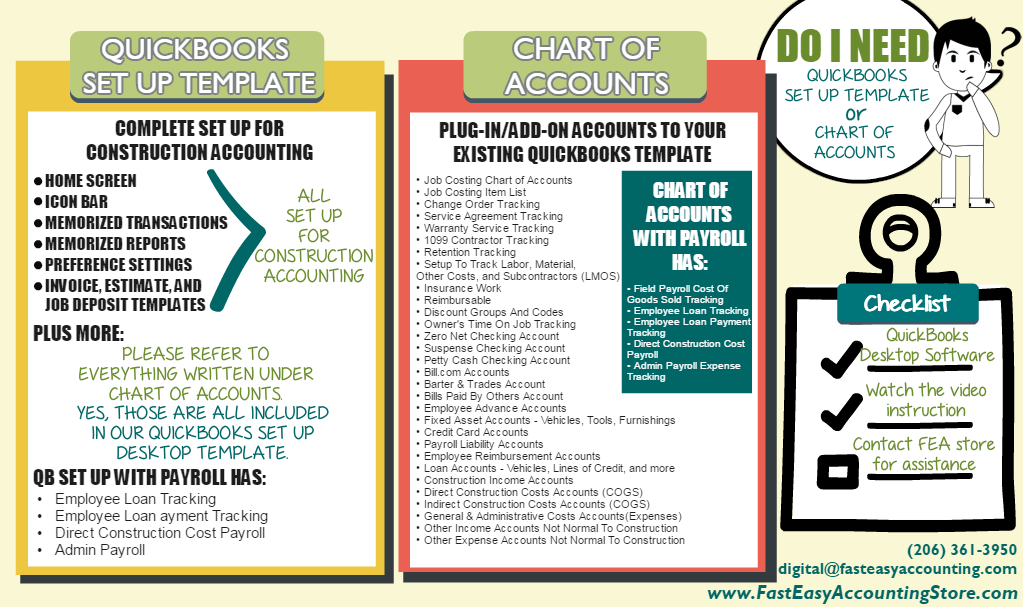 Short List Construction Contractors We Serve
Brand New Construction Company Handyman Company
Cabinet Installer HVAC Contractor
Carpentry Contractor Insulation Contractor
Carpet And Tile Contractor Interior Designer
Commercial Tenant Improvement Contractor Land Development Company
Concrete Contractor Landscape Contractor
Construction Company Masonry Contractor
Construction Manager Mold Remediation Company
Contracting Company Moss Removal Company
Contractor Painting Contractor
Custom Deck Builder Plumbing Contractor
Custom Home Builder Pressure Washing Company
Demolition Contractor Remodel Construction Company
Drywall Contractor Renovation Contractor
Electrical Contractor Restoration Contractor
Emerging Contractor Roofing Contractor
Excavation Contractor Spec Home Builder
Finish Millwork Contractor Specialty Contractor
Flipper House Contractor Subcontractor
Flooring Contractor Trade Contractor
Framing Contractor Underground Contractor
General Contractor Utility Contractor
Glass Installation Contractor Construction Employees
Gutter Installation Company Construction Support Specialist
Additional QuickBooks Templates, Resources, And Services
QuickBooks Set Up Templates Solopreneur

QuickBooks Chart Of Accounts Free Stuff

QuickBooks Item Lists Templates Consulting

We Serve Over 100 Types Of Contractors So If Your Type Of Company Is Not Listed
Please Do Not Be Concerned Because If You Are A Contractor
There Is A Good Chance We Can Help You!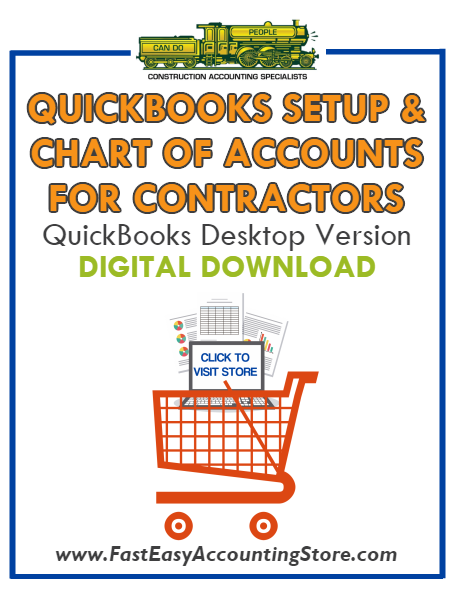 If you are a blogger, who writes about construction we would like to hear from you.
Contractors_Success_MAP, Contractors_Success_Marketing_Accounting_Production, Contractor_Bookkeeping_Services, QuickBooks_For_Contractors, QuickBooks_For_Contractors,Contractors_Success_Map_How_To_Show_Clients_Every_Model_and_Upgrade_From_Your_Office