Jul 28, 2017
This Podcast Is Episode Number 0227 And It Will Be About
Contractors Need These Key Reports To Operate And Grow Your Company
As A Contractor You Want Reports To Effectively And Efficiently Run Your Business
You are not trying to make decisions by looking in the rear view mirror. You want to get a sense that there is "light at the end of the tunnel and know it is not an oncoming train" (author unknown)

The question is How Much Detail is too much detail? If you are trying to track a job down to the number of 2x4's, boxes of nails, joist hangers then I would politely suggest that is too much detail. Think in terms of a more broader scope.
Common cost codes (commonly known as item codes, schedule of value, NAHB codes, CSI codes).
These are all very important is a larger job or if the job is tying back to a Pay Application for the bank. This type of accounting will provide very detailed reports.
The question is will you actually use these detailed reports.
When you start an estimate are you thinking in that much detail? If yes, then I suggest that counting of 2x4's is a function of the estimating program. In the estimate, the phase is where you are starting to develop the scope of work for the job.
QuickBooks Premier Desktop has lots of reports for a $400.00 accounting program.
QuickBooks is good at tracking Labor, Material, Other, Subcontractors. It is more work to track each of these as it relates to the individual Cost Codes (Plumbing, Heating, Electrical, Framing, Underground, Rough-in, Top Out). Many contractors will give a Flat Rate number for services.
The initial meeting of your prospective client is usually looking at a project with a more broader scope.
Most customers think of their project as it relates to the areas of their home.
Example: Kitchen, Bath, Master Bedroom, Family Room, Sun Room, Addition, Deck, Patio.
Based on this doesn't your mind immediately go to previous jobs and you begin thinking the same way?
This project is like:
Sam's Family Room plus a little more of [fill in the blank]
Pete's Kitchen take a little of that [fill in the blank]
Sarah's Master Bath and [fill in the blank]
Move this to there and move that upstairs
Move something else downstairs.
The laundry area in any house is almost never in the perfect place for the new owner and probably only tolerated by the previous owner. Plumbing, Heating, and Electrical are always the items that are subject to change. Plumbers are always willing to upgrade; Electricians hate to see a working fixture replaced.
Hello To All Contractors, speaking for wives the world over; if we despise the light (for whatever the reason), the faucet is hard to turn on, 2 handles instead of a single handle; time will not make it be better. Please Say Yes I Can Fix That: You really don't want our help with a 3# sledge hammer or bolt cutters.
Always Give Your Clients What They Want, Not What You Want
Everybody picks one or the other to a degree because nobody can do both for very long. Pick one on purpose or the other by default. The more important it is to be right the less you will be rich, and the reverse is true.
I Have Asked Thousands of homeowners, commercial property owners, landlords, commercial space tenants and even a few car buyers, computer buyers, ship buyers and consumers about their overall buying experiences and one common thread appears over and over; they got what they wanted and were happy repeat customers and clients who refer their friends and family, or they didn't get what they wanted and made the contractors life hell.
My Script Book - Has a list of questions that are continually honed, polished, updated and replaced from which I pick and choose the ones to use depending on the situation.
Develop Your Own Script Book - And record the questions and answers that you find encourage people to open up and get to the fourth level of truth because when you do the service, you will render will be far in excess of the money you earn.
Questions For - Social gatherings are more casual; business meetings are more focused, network events somewhere in the middle, focus group events very intense and tightly focused.
The Two Most Powerful Questions:
What are your most important criteria in making a purchase decision?

What is the one thing you remembered about your purchase?
Question #1 Most Common Answer - "Price" because for most people it is a conditioned response they learned early in life. It is similar to ringing a bell; it gets people's attention; Stimulus & Response. If you ever get mugged, and I hope you never do; yell "FIRE" because everybody wants to see a fire, but very few people will respond to cry for "HELP."
Question #2 Most Common Answer - "I could or could not get what I wanted!" There is a lot of money making power in this answer, and it does not come fast or easy. In fact, in most cases, it takes a while to get to it...because:
Truth Is Four Levels Deep:
What people want to hear

What people want to believe

Everything else out in the world

The Truth of what they really believe

Construction Business Owners - With an annual sales volume of less than $5,000,000 if you want to double, triple and quadruple your cash flow and net profit pay attention to this one thing:
Give Your Customer Or Client What They Want Not What You Think Is Best!
If I Had A Dime - For every time a contractor ignored what their customer or client was asking for because they were thinking of what they were going to say, which related to what they thought was best for their customer or client I would buy a brand new sports car to take my girlfriend, wife, sweetheart, Sharie on another sightseeing road trip across America.
Listening - With empathy and understanding is one of the most valuable gifts one person can give to another person is to listen and let someone speak until they are finished. Great speakers who make deep noises from the chest sound like important messages from the brain have a captive audience, and it is 180 degrees opposite of truly listening.
Questioning - When your construction customer or client makes a point about something that could be important wait until an appropriate break in the conversation and ask for clarification. For example, the new deck needs to be really strong...could be an important point...perhaps they entertain a lot of sumo wrestlers or professional football stars...show you care by asking. The preceding examples could save you a lot of money by not under-building something and in fact, could make you a lot of money with add on sales.
Observing - Private detectives make a lot of money, and the best ones have a keen eye for observation. Much can be said about this, and I recommend you read the book "The Millionaire Next Door" by Thomas J. Stanley and William D. Danko.
We Had Several Repeat, And Referring Clients in our Construction Companies and one, in particular, lived in the Magnolia neighborhood of Seattle. A sweet little old lady on a "Fixed Income" that we did a substantial amount of work on her house.
Every Time, Like Clockwork when one of our Plumbing Service Professionals would quote a price for a new project she would almost break down in tears. Her voice would crack, and her face would take on the saddest look you have ever seen while she talked about how she may have to do without something special in order to have the work done. The funny thing is whenever I would see her at a social event I would ask how she was able to survive on a "Fixed Income" of more than $8,000,000 a year. Her response as always, "It is not easy but thank goodness the house and car are paid for, and I have no other debts."
We Did A Lot Of work - For her and her friends and neighbors in the area and they were all raving fans! Why? Because of Listening, Questioning and Observing and always, always, always giving a little more in value than we took in dollars. The key is always give a fair price that ensures your company will earn a handsome profit and hire professionals to do excellent work.
If You Own A Small - Construction Company, brand new or been in business a while, we have a special consulting offer that you may be interested in...Click Here To Learn More
QuickBooks Needs To Know A Lot Of Things To Produce Reports You Need
How much detail is Too Much or Too Little is a lot like "Goldilocks and the Three Bears." It all depends on the Contractor involved. Unreasonable to expect bookkeeper to magically know item codes for a job.
My suggestion is that you and all your employees use an electronic time card.
We recommend T-Sheets. Simple to use, economical, and has a group of reports. One of those reports is a project report. I like this because it is a different view of time spent on the job than from inside QuickBooks. T-sheets imports to multiple payroll services.

How do you bill out your employees time?
Is it on a "Cost+" where it is their actual pay rate or is it a rate for specific labor types (supervisor, lead, apprentice, labor) regardless of their individual pay rate?
In T-sheets where I think a Contractor should think in terms of Kitchen, Bath, Master Bedroom, Family Room, Sun Room, Addition, Deck, Patio. Why? Because outside forces cause material prices to go up or down. Job by Job controlling labor and change orders is an achievable goal.
Quick and easy way to see on your phone "Hours On The Job" by the project. This will help determine you labor hours on specific jobs or all labor for the specific time period. Other features are employees clock in via their phone and if they are using a Smart Phone GPS tracking is enabled.
Realizing you don't know and want to know more about your business is the first step.
With our QuickBooks Customized Setup (Desktop) and additional built-in reports in QuickBooks will answer many of your questions. After a properly setup QuickBooks file, then it is the question of How Much Detail do you want?
I suggest, starting small with basic job costing reports for all jobs. You can always expand job types.
Do not try to super detailed job costing for a tiny "in and out" job versus a project that has more time and labor. Job costing takes the effort to get the level of detailed reports a Contractor wants.
Who does the data entry, bookkeeping, accounting, annual taxes – that is another whole topic.
Looking forward to being of assistance.
Call Me Let's Chat.
Sharie
206-361-3950
I trust this podcast helps you understand that outsourcing your contractor's bookkeeping services to us is about more than just "doing the bookkeeping"; it is about taking a holistic approach to your entire construction company and helping support you as a contractor and as a person.
We Remove Contractor's Unique Paperwork Frustrations
We understand the good, bad and the ugly about owning and operating construction companies because we have had several of them and we sincerely care about you and your construction company!
That is all I have for now, and if you have listened to this far please do me the honor of commenting and rating podcast www.FastEasyAccounting.com/podcast Tell me what you liked, did not like, tell it as you see it because your feedback is crucial and I thank you in advance.
You Deserve To Be Wealthy Because You Bring Value To Other People's Lives!
I trust this will be of value to you and your feedback is always welcome at www.FastEasyAccounting.com/podcast
This Is One more example of how Fast Easy Accounting is helping construction company owners across the USA including Alaska and Hawaii put more money in the bank to operate and grow your construction company. Construction accounting is not rocket science; it is a lot harder than that, and a lot more valuable to construction contractors like you so stop missing out and call Sharie 206-361-3950 or email sharie@fasteasyaccounting.com
Contractor Bookkeeping Done For You!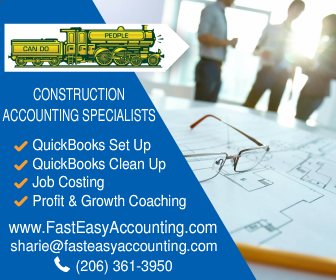 Thinking About Outsourcing Your Contractors Bookkeeping Services?
Click On The Link Below:
This guide will help you learn what to look for in outsourced construction accounting.
Need Help Now?
Call Sharie 206-361-3950
Thank you very much, and I hope you understand we do care about you and all contractors regardless of whether or not you ever hire our services.
Bye for now until our next episode here on the Contractors Success MAP Podcast.

Enjoy your day.

Sharie
About The Author:


https://www.fasteasyaccounting.com/free-one-hour-consultation-bookkeeping
Sharie DeHart, QPA is the co-founder of Business Consulting And Accounting in Lynnwood Washington. She is the leading expert in managing outsourced construction bookkeeping and accounting services companies and cash management accounting for small construction companies across the USA. She encourages Contractors and Construction Company Owners to stay current on their tax obligations and offers insights on how to manage the remaining cash flow to operate and grow their construction company sales and profits so they can put more money in the bank. http://www.fasteasyaccounting.com/sharie-dehart/ 206-361-3950 or sharie@fasteasyaccounting.com
For Contractors Who Prefer
To Do Your Bookkeeping
Most Contractors Setup QuickBooks Desktop Version In One Of Three Ways:
#1 EZ Step Interview inside QuickBooks Setup
#2 Asked Their Tax Accountant To Setup QuickBooks
#3 They Attended A How To Setup QuickBooks Class Or Seminar
And QuickBooks Does Not Work The Way They Want It Too!
The Answer: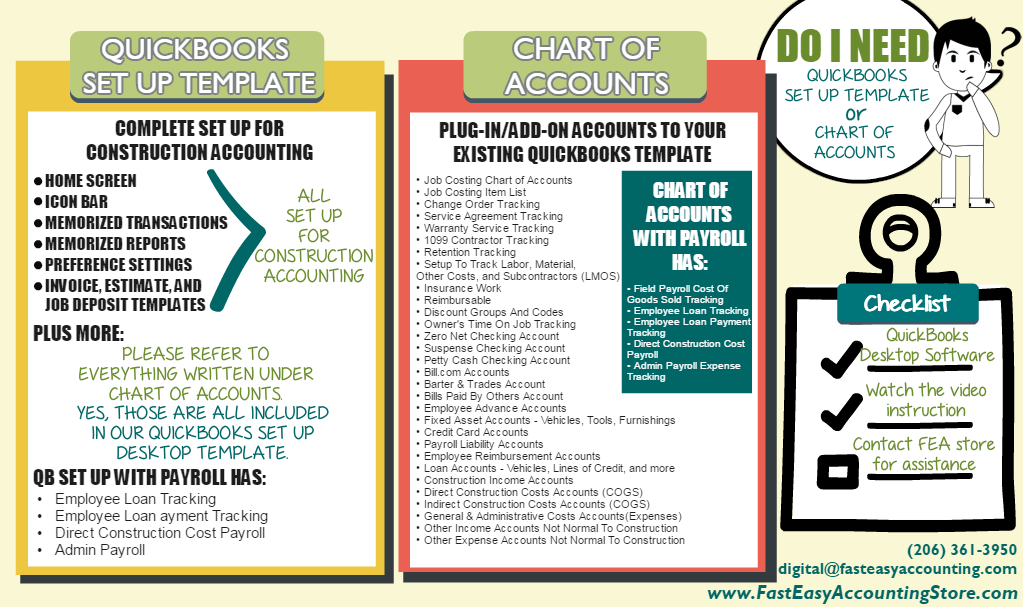 Short List Of Construction Contractors We Serve
Additional QuickBooks Templates, Resources, And Services
QuickBooks Set Up TemplatesSolopreneurQuickBooks Chart Of AccountsFree StuffQuickBooks Item Lists TemplatesConsulting

We Serve Over 100 Types Of Contractors So If Your Type Of Company Is Not Listed
Please Do Not Be Concerned Because If You Are A Contractor
There Is A Good Chance We Can Help You!
Additional QuickBooks Templates, Resources, And Services
QuickBooks Set Up Templates Solopreneur

QuickBooks Chart Of Accounts Free Stuff

QuickBooks Item Lists Templates Consulting

We Serve Over 100 Types Of Contractors So If Your Type Of Company Is Not Listed
Please Do Not Be Concerned Because If You Are A Contractor
There Is A Good Chance We Can Help You!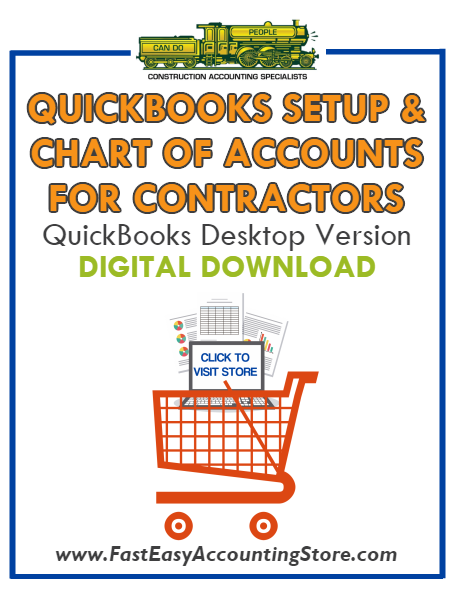 If you are a blogger, who writes about construction we would like to hear from you.
Contractors_Success_MAP, Contractors_Success_Marketing_Accounting_Production, Contractor_Bookkeeping_Services, QuickBooks_For_Contractors, QuickBooks_For_Contractors,Contractors_Success_Map_Contractors_Need_These_Key_Reports_To_Operate_And_Grow_Their_Comp