Jan 26, 2018
This Podcast Is Episode Number 0253, And It Will Be About Improve Your SEO Using Google Trends
Today's Podcast Is Based On A Guest Article Is From Jennifer Scott -----------------------------------------------------------------------------------------------
There's a lot of tools online that you can use to help improve your SEO. When you're picking which ones to use, make sure that Google Trends is in there. It's one of the best tools you can use, as it gives you so much information on what you can to do to improve your SEO. Here's how you can use it to give your site a boost.
What Is Google Trends?
First of all, you'll need to know what Google Trends is before you can use it. It's a tool that shows you what the world is searching for at any given moment. Not only that, it'll show you exactly where these searches are located, too. If you really want to sharpen your SEO and bring in more readers, you can use this information to punch up your keywords and improve your visitor rates.
The Top Three Trends
When you log into Google Trends, you'll see the most popular searches overall on the front page. This can be helpful, but it's not where you'll find the good stuff. Webmaster Lisa N. Hawkins at BestAustralianWriters says, "Check out the three tabs that Google Trends offers. These are The Hot Search, Top Charts, and Explore. These give you all the relevant information to your industry."
The Hot Search: This tab shows you what terms people are looking for right now. If you use a term from this search, you can get a good boost in traffic.
Top Charts: This tab shows you what's popular in certain sectors. This is incredibly handy as you can look for your industry, and find keywords that are resonating with your audience.
Explore: Finally, this tab helps you find the right keywords for your piece. Enter any search term in, and you'll get related terms that will boost your traffic.
How To Use Google Trends
SEO manager Conrad A. Jimenez at Best British Essays and Top Canadian Writers says, "If you know how to use Google Trends, you can write much more effective blogs." Here are his tips for using Google Trends.
Use the filters Google Trends provides so you can find what you want. For example, you can filter out Youtube videos, images, and more.
Use the country selection menu if you're looking to hone in on readers in a certain area. It's amazing how much popular terms can vary from place to place.
Try using 'Explore' if you've already done your research and you have some search terms in place. This can help you beef them up and make them more exciting.
Look at the Hot Trends to see if you can use a name to boost your post's popularity. For example, if you see Katy Perry trending, you can use her in a post about recording music.
Writing Your Blog Posts
Now that you have your search terms, you can start writing up your blog posts. There's an art to writing your posts to get the most out of the keywords. Ensure your hard work doesn't go to waste!
Write for humans, not search engines. Remember, you want to keep readers coming back, so write a post they can actually use.
As Huffington Post in Write Your Essay have recommended, you can get help in writing blog content if you need it.
Fit keywords naturally into your text, so they're not noticeable.
---
CONCLUSION:
There you have it. When you know how to use it, Google Trends is a powerful tool. Put it to good use, and you can give your SEO a serious boost. It's all about finding the right keywords for your audience.
---
About The Author:
Jennifer is the business developer that works in different areas of education, technology, security and various types of online marketing. Prior to business developing Jennifer was consultant at Deloitte, and managed security services provider and developer of a wide range of security solutions.
https://twitter.com/jenniscott1390
jenniferscott1390@gmail.com
---------------------------------------------------------------
Helping Contractors around the world is one of the reasons we added the FastEasyAccountingStore.com
Follow our blogs, listen to Contractor Success M.A.P. Podcast. We Appreciate Our Visitors, Listeners, and Subscribers. – Thank You!!
Please feel free to download all the Free Forms and Resources that you find useful for your business.

We are here to Help "A Little or A Lot" depending on your needs.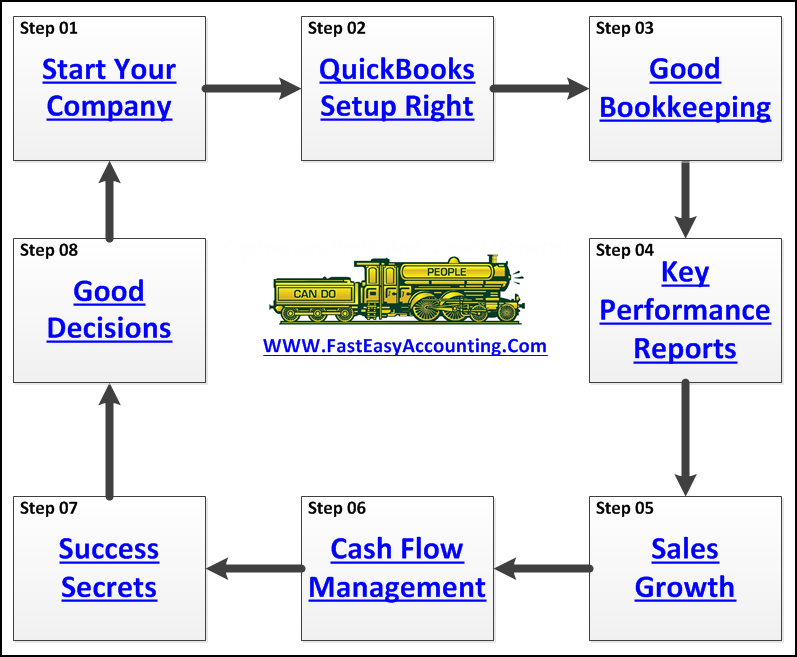 I trust this podcast helps you understand that outsourcing your contractor's bookkeeping services to us is about more than just "doing the bookkeeping"; it is about taking a holistic approach to your entire construction company and helping support you as a contractor and as a person.
We Remove Contractor's Unique Paperwork Frustrations
We understand the good, bad and the ugly about owning and operating construction companies because we have had several of them and we sincerely care about you and your construction company!
That is all I have for now, and if you have listened to this far please do me the honor of commenting and rating the Podcast www.FastEasyAccounting.com/podcast Tell me what you liked, did not like, tell it as you see it because your feedback is crucial and I thank you in advance.
You Deserve To Be Wealthy Because You Bring Value To Other People's Lives!
I trust this will be of value to you and your feedback is always welcome at www.FastEasyAccounting.com/podcast
This Is One more example of how Fast Easy Accounting is helping construction company owners across the USA including Alaska and Hawaii put more money in the bank to operate and grow your construction company. Construction accounting is not rocket science; it is a lot harder than that, and a lot more valuable to construction contractors like you so stop missing out and call Sharie 206-361-3950 or email sharie@fasteasyaccounting.com
Contractor Bookkeeping Done For You!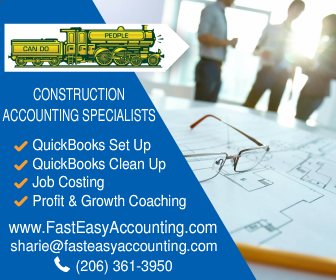 Thinking About Outsourcing Your Contractors Bookkeeping Services?
Click On The Link Below:
This guide will help you learn what to look for in outsourced construction accounting.
Need Help Now?
Call Sharie 206-361-3950
Thank you very much, and I hope you understand we do care about you and all contractors regardless of whether or not you ever hire our services.
Bye for now until our next episode here on the Contractors Success MAP Podcast.
For Contractors Who Prefer
To Do Your Bookkeeping
Most Contractors Setup QuickBooks Desktop Version In One Of Three Ways:
#1 EZ Step Interview inside QuickBooks Setup
#2 Asked Their Tax Accountant To Setup QuickBooks
#3 They Attended A How To Setup QuickBooks Class Or Seminar
And QuickBooks Does Not Work The Way They Want It Too!
The Answer: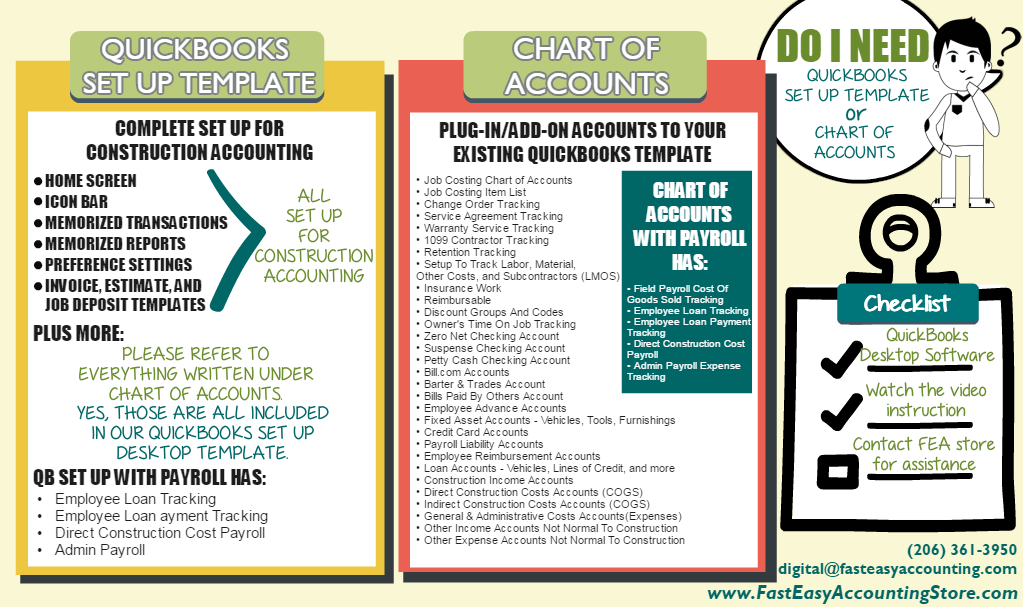 Short List Of Construction Contractors We Serve
Additional QuickBooks Templates, Resources, And Services
QuickBooks Set Up TemplatesSolopreneurQuickBooks Chart Of AccountsFree StuffQuickBooks Item Lists TemplatesConsulting

We Serve Over 100 Types Of Contractors So If Your Type Of Company Is Not Listed
Please Do Not Be Concerned Because If You Are A Contractor
There Is A Good Chance We Can Help You!
Additional QuickBooks Templates, Resources, And Services
QuickBooks Set Up Templates Solopreneur

QuickBooks Chart Of Accounts Free Stuff

QuickBooks Item Lists Templates Consulting

We Serve Over 100 Types Of Contractors So If Your Type Of Company Is Not Listed
Please Do Not Be Concerned Because If You Are A Contractor
There Is A Good Chance We Can Help You!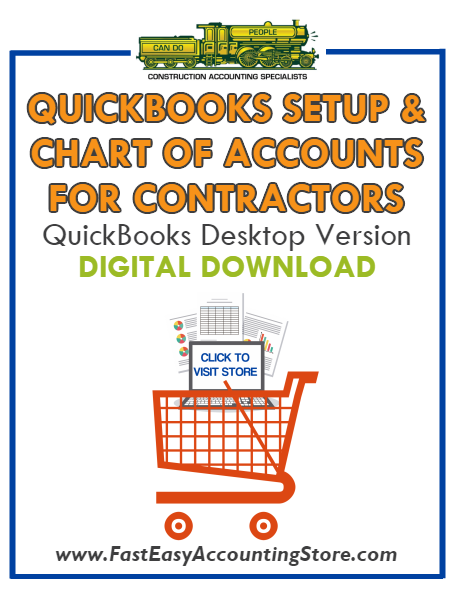 If you are a blogger, who writes about construction we would like to hear from you.
Contractors_Success_MAP, Contractors_Success_Marketing_Accounting_Production, Contractor_Bookkeeping_Services, QuickBooks_For_Contractors, QuickBooks_For_Contractors,Contractors_Success_Map_Improve_Your_SEO_Using_Google_Trends