Feb 23, 2018
This Podcast Is Episode Number 0257, And It Will Be About Tips To Keep Your Construction Business Finances In Order
If you're like most small construction business owners, you spend the majority of your time managing daily operations, keeping clients happy, and looking for new ways to grow. Spreadsheets, cash flow analysis, and financial projections are probably not your first passion.
However, measuring profitability, creating realistic budgets, and planning for the future is crucial to your professional success.
Follow these three tips to get a handle on the numbers, and take control of your business finances.
Move to the cloud
How much of your time do you spend hunting down financial documents, poring over spreadsheets, and tracking expenses?
Always searching for and trying to integrate scattered data makes it nearly impossible to close out the monthly books quickly and efficiently. Plus, reliance on spreadsheets is a proven liability. Research shows that over 88% of all financial spreadsheets contain errors.
Manage your business finances faster and more accurately by moving them to the cloud.
Cloud-based financial management systems have several benefits, including:
Integration with all your other construction operational systems for the quick retrieval of the most current data;

Automation of daily financial processes so you can step away from spreadsheets;

Efficient expense tracking that improves accuracy and reduces revenue leakage; and

Secure collaboration with team members and stakeholders.
Conduct regular financial reviews
Experts agree that vigilance is key to effective business financial management. Each month, set aside time to review your balance sheet, profit, and loss statement, and cash flow statement.
Regular monthly check-ups will give you actionable insights into your business performance and growth potential. This information is crucial for:
Projecting future revenue, cash flow, and expenses

Validating major purchasing decisions

Anticipating and mitigating risk
You'll need this critical data, too, if you ever want to apply for a loan to expand and grow your business.
Bring a professional on board
On the surface, hiring an experienced bookkeeper or accountant may seem pricey, but their expertise could mean considerable long-term gains for your business.
A technical, financial expert can optimize the efficiency and accuracy of your business management, granting you peace of mind and added time to pursue growth opportunities.
Plus, most small businesses don't need full-time professional help. Outsource accounting services are typically enough to help you manage crucial processes, plus a few extras, including applying for a business loan or overdraft, articulating and adapting your business plan and managing sudden growth – for example, hiring new staff, acquiring office space, or determining when to introduce a new product or service.
In conclusion
Consider consulting with a construction accountant for basic construction bookkeeping or accounting insights so you can better understand the fundamentals of business financial management. The knowledge you gain will feel empowering and can help clarify discussions with your accountant.
Self-education is also vital when it comes to investing in financial technology. Be sure to do your research and again, consult an expert before investing in any new accounting solutions for your construction business.
Your knowledge, combined with professional support, is the best route to sustainable, effective business financial management.
---
About The Author:

Sharie DeHart, QPAis the co-founder of Business Consulting And Accounting in Lynnwood, Washington. She is the leading expert in managing outsourced construction bookkeeping and accounting services companies and cash management accounting for small construction companies across the USA. She encourages Contractors and Construction Company Owners to stay current on their tax obligations and offers insights on how to manage the remaining cash flow to operate and grow their construction company sales and profits so they can put more money in the bank. Call 1-800-361-1770 or sharie@fasteasyaccounting.com
____________________________________________________
Editor Comments: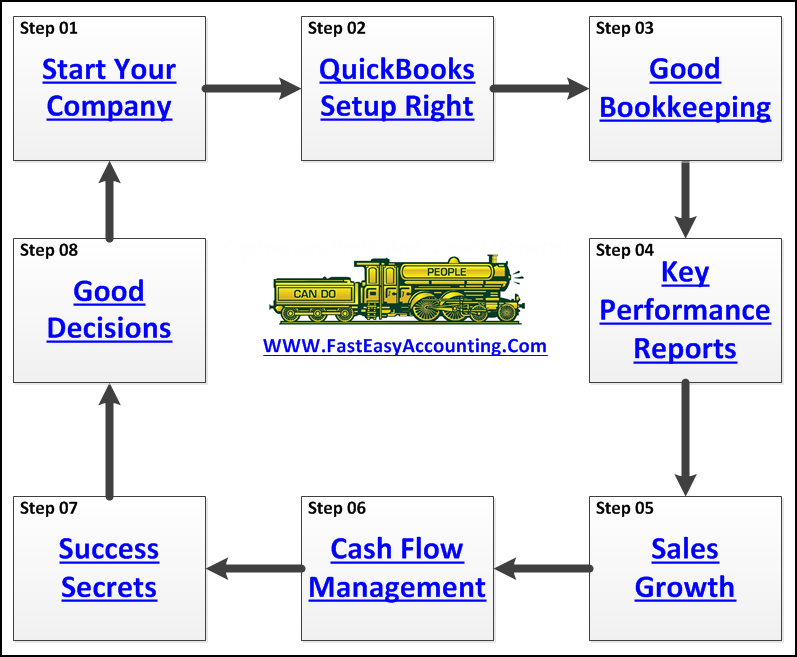 I trust this podcast helps you understand that outsourcing your contractor's bookkeeping services to us is about more than just "doing the bookkeeping"; it is about taking a holistic approach to your entire construction company and helping support you as a contractor and as a person.
We Remove Contractor's Unique Paperwork Frustrations
We understand the good, bad and the ugly about owning and operating construction companies because we have had several of them and we sincerely care about you and your construction company!
That is all I have for now, and if you have listened to this far please do me the honor of commenting and rating the Podcast www.FastEasyAccounting.com/podcast Tell me what you liked, did not like, tell it as you see it because your feedback is crucial and I thank you in advance.
You Deserve To Be Wealthy Because You Bring Value To Other People's Lives!
I trust this will be of value to you and your feedback is always welcome at www.FastEasyAccounting.com/podcast
This Is One more example of how Fast Easy Accounting is helping construction company owners across the USA including Alaska and Hawaii put more money in the bank to operate and grow your construction company. Construction accounting is not rocket science; it is a lot harder than that, and a lot more valuable to construction contractors like you so stop missing out and call Sharie 206-361-3950 or email sharie@fasteasyaccounting.com
Contractor Bookkeeping Done For You!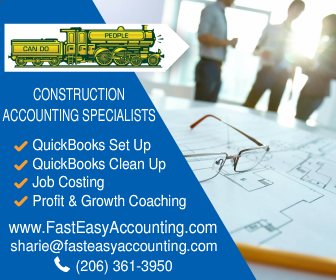 Thinking About Outsourcing Your Contractors Bookkeeping Services?
Click On The Link Below:
This guide will help you learn what to look for in outsourced construction accounting.
Need Help Now?
Call Sharie 206-361-3950
Thank you very much, and I hope you understand we do care about you and all contractors regardless of whether or not you ever hire our services.
Bye for now until our next episode here on the Contractors Success MAP Podcast.
For Contractors Who Prefer
To Do Your Bookkeeping
Most Contractors Setup QuickBooks Desktop Version In One Of Three Ways:
#1 EZ Step Interview inside QuickBooks Setup
#2 Asked Their Tax Accountant To Setup QuickBooks
#3 They Attended A How To Setup QuickBooks Class Or Seminar
And QuickBooks Does Not Work The Way They Want It Too!
The Answer: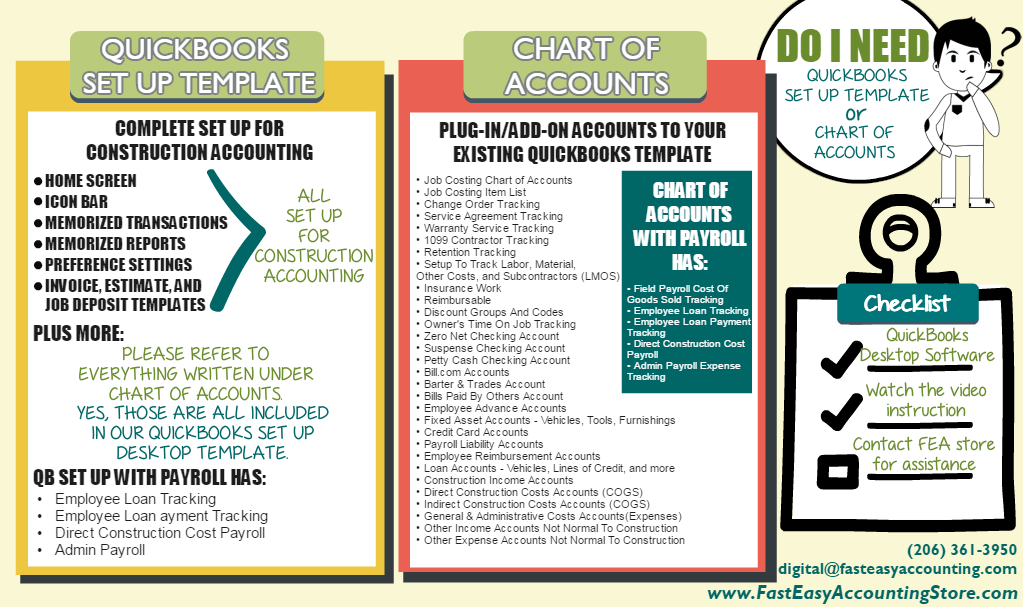 Short List Of Construction Contractors We Serve
Additional QuickBooks Templates, Resources, And Services
QuickBooks Set Up TemplatesSolopreneurQuickBooks Chart Of AccountsFree StuffQuickBooks Item Lists TemplatesConsulting

We Serve Over 100 Types Of Contractors So If Your Type Of Company Is Not Listed
Please Do Not Be Concerned Because If You Are A Contractor
There Is A Good Chance We Can Help You!
Additional QuickBooks Templates, Resources, And Services
QuickBooks Set Up Templates Solopreneur

QuickBooks Chart Of Accounts Free Stuff

QuickBooks Item Lists Templates Consulting

We Serve Over 100 Types Of Contractors So If Your Type Of Company Is Not Listed
Please Do Not Be Concerned Because If You Are A Contractor
There Is A Good Chance We Can Help You!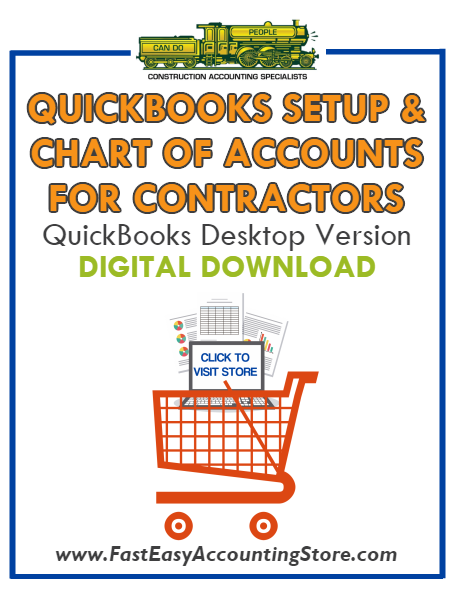 If you are a blogger, who writes about construction we would like to hear from you.
Contractors_Success_MAP, Contractors_Success_Marketing_Accounting_Production, Contractor_Bookkeeping_Services, QuickBooks_For_Contractors, QuickBooks_For_Contractors,Contractors_Success_Map_8_Easy_Ways_Sales_Can_Improve_Their_Marketing_Skills