Jun 29, 2018
This Podcast Is Episode Number 0275, And It Will Be About

Construction Contractor Embezzlement Detective - Kelly Paxton Part 1 Of 2

Kelly Paxton specializes in finding and helping Construction Contractors, other businesses, and government agencies root out Pink-Collar Crime in their companies. The term Pink-Collar Crime was made popular Dr. Kathleen Daly in the 1980s to describe a type of embezzlement crime committed by female employees who may have limited opportunity.
It is thought women in this situation may have a history of committing low level crimes such as check kiting and bookkeeping fraud. Part of the reasoning is women tend to be in less powerful positions compared to men who had a history of engaging white-collar crime.
During our Podcast interview which you can listen to Part 1 by clicking the play button above I asked Kelly why she became interested in Pink Collar Crime.
She replied "...When I started working at the Sheriff's Office I became intimately involved in seeing the devastation caused by small business embezzlement. What I did not know was the perpetrator committing these crimes. When I was a federal agent most of my targets were typical White Collar Criminals—in other words men.
Kelly goes on to say she was seeing women who had violated the trust of their employers. Out of all the cases she worked at the Sheriff's Office there was only one male embezzler they came across. The rest were women, all kinds of women: old, young and middle aged. Some had gambling habits, some of them wanted to buy stuff they didn't need, with money they didn't have to impress people. They appeared to share two things in common— they had earned their supervisor's trust and they had the opportunity to embezzle.
Stealing from nuns for lingerie and leasing a sports car
An Orange County real estate consultant who stole $285,000 from Roman Catholic nuns and used it to buy lingerie and lease a sports car was convicted Tuesday of three counts of wire fraud.

After a three-day trial, a federal jury in Santa Ana convicted Linda Rose Gagnon, also known as Linda Gualtieri-Gagnon, 59, of defrauding the U.S. Province of the Religious of Jesus and Mary.

Asst. U.S. Atty. Robert Keenan said Gagnon told the nuns in 2008 that she was an expert in handling short-sale and foreclosure transactions and offered to help them buy a small home in San Diego they were renting for retired sisters in the religious order.

But Gagnon did not use the order's funds to purchase the retirement home. Instead, she used it to buy lingerie, lease an Audi and pay off debts for her real estate finance company, Rose Enterprise, Inc. according to Keenan.

After only 64 days, Gagnon spent the entire sum -- $285,000, he said.

"She paid off $42,000 she borrowed. There was $448 at Chadwick's of London, an intimate apparel store in San Francisco. Then she went shopping at Nordstroms, visited the nail salon and of course a pet-sitting service.... She also leased an Audi TT sports car," Keenan said. "She was living nicely on the nuns' money."

The nuns, after initially accepting Gagnon's explanations for delays in the home purchase, realized they had been defrauded when she did not respond to their messages. The order specializes in charitable and educational work.

At one point, Gagnon told the nuns she needed another $285,000 to buy the San Diego residence, saying the original $285,000 was tied up in a "triple escrow" on another property.

Throughout the trial, Gagnon's lawyer portrayed her as operating a bad business and accidentally comingling the funds. Gagnon did not testify, but two Catholic priests took the witness stand to attest to her character, Keenan said. They assured the court "she is really quite honest," he added.

At sentencing next February, Gagnon could receive up to 20 years in prison for each of the three counts. Keenan said a more realistic sentence would be about four years total.

Keenan said the nuns eventually had to come up with another $255,000 to buy the home, which is about three miles from the U.S.-Mexico border.
Stay Tuned For Part 2 Podcast Interview With
It Will Be Released The Week Following Part 1
Editor's Note: I have only known Kelly Paxton a short time and I trust her and find she is very knowledgeable and capable on the subject of embezzlement and fraud.
I Highly Recommend all contractors spend some time on her website Pink-Collar Crime and get to know her. Kelly is a valuable resource to all contractors. Please let her know Randal DeHart, The Contractors Accountant, recommended you.
About The Author:
Ms. Paxton started her career in law enforcement as a Special Agent for US Customs Office of Investigations in 1993. Ms. Paxton was recruited by US Customs for her expertise in finance. She worked white collar fraud, money laundering and narcotics cases. She also was responsible for the district's undercover operations and financial reporting of these operations. Kelly worked as a contract investigator doing over 1000 security background investigations for the Office of Personnel Management and Department of Homeland Security.
Kelly has worked in the public and private sector. Her most recent position was an investigator at Nike. Her investigations include embezzlement, conflict of interest, intellectual property, Open Source Intelligence and fraud. Kelly is also the proud owner of
pinkcollarcrime.com
, a passion of hers about women embezzlers in the workplace. She tweets regularly at pdxcfe and has
kellypaxton.com
also.
The Information Shown Below Is From Fast Easy Accounting
Download The Contractors APP Now!
Access code: FEAHEROS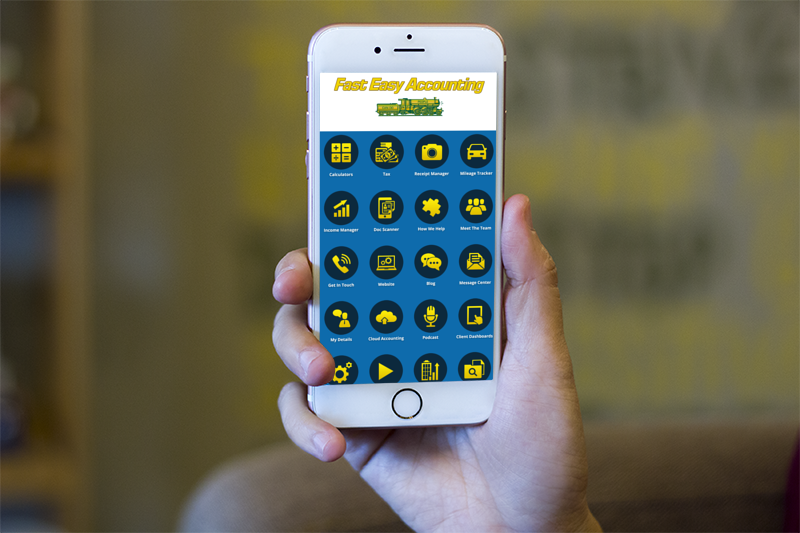 The QR Code Below Will Go
Apple Or Android Store
Whichever One
You Need
Simply scan the QR code below or search for 'MyAccountants' in the App Store and enter the Access code: FEAHEROS to utilize the powerful App features and capabilities, and benefit from having our Construction Accounting App at your fingertips, 24/7.

Access code: FEAHEROS
Or click to download the Contractors APP now from the App or Android store
Click here to download the App on iOS:
Click here to download the App on Android: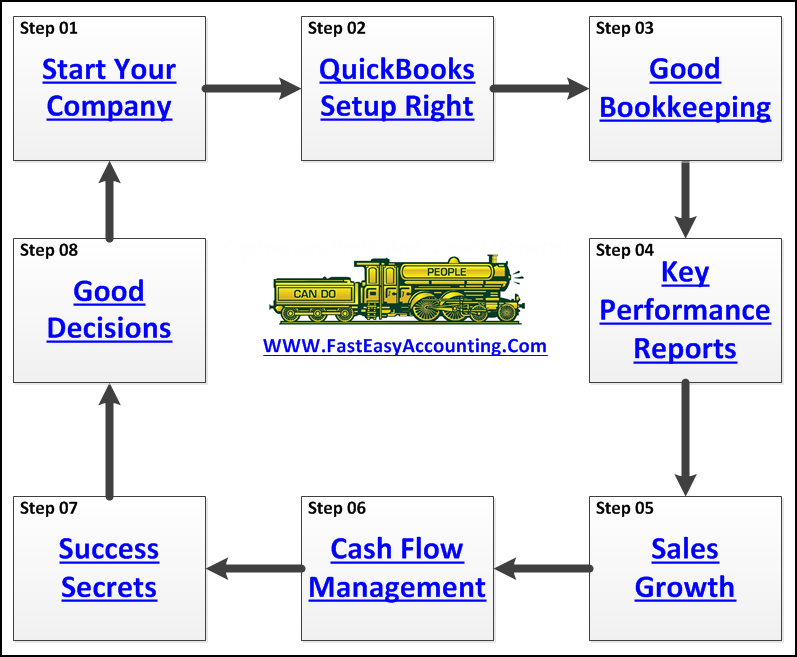 I trust this podcast helps you understand that outsourcing your contractor's bookkeeping services to us is about more than just "doing the bookkeeping"; it is about taking a holistic approach to your entire construction company and helping support you as a contractor and as a person.
We Remove Contractor's Unique Paperwork Frustrations
We understand the good, bad and the ugly about owning and operating construction companies because we have had several of them and we sincerely care about you and your construction company!
That is all I have for now, and if you have listened to this far please do me the honor of commenting and rating the Podcast www.FastEasyAccounting.com/podcast Tell me what you liked, did not like, tell it as you see it because your feedback is crucial and I thank you in advance.
You Deserve To Be Wealthy Because You Bring Value To Other People's Lives!
I trust this will be of value to you and your feedback is always welcome at www.FastEasyAccounting.com/podcast
This Is One more example of how Fast Easy Accounting is helping construction company owners across the USA including Alaska and Hawaii put more money in the bank to operate and grow your construction company. Construction accounting is not rocket science; it is a lot harder than that, and a lot more valuable to construction contractors like you so stop missing out and call Sharie 206-361-3950 or email sharie@fasteasyaccounting.com
Contractor Bookkeeping Done For You!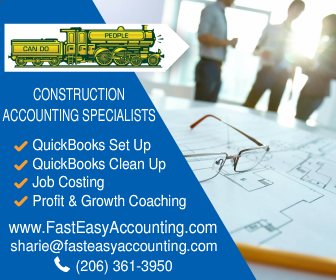 Thinking About Outsourcing Your Contractors Bookkeeping Services?
Click On The Link Below:
This guide will help you learn what to look for in outsourced construction accounting.
Need Help Now?
Call Sharie 206-361-3950
Thank you very much, and I hope you understand we do care about you and all contractors regardless of whether or not you ever hire our services.
Bye for now until our next episode here on the Contractors Success MAP Podcast.
For Contractors Who Prefer
To Do Your Bookkeeping
Most Contractors Setup QuickBooks Desktop Version In One Of Three Ways:
#1 EZ Step Interview inside QuickBooks Setup
#2 Asked Their Tax Accountant To Setup QuickBooks
#3 They Attended A How To Setup QuickBooks Class Or Seminar
And QuickBooks Does Not Work The Way They Want It Too!
The Answer: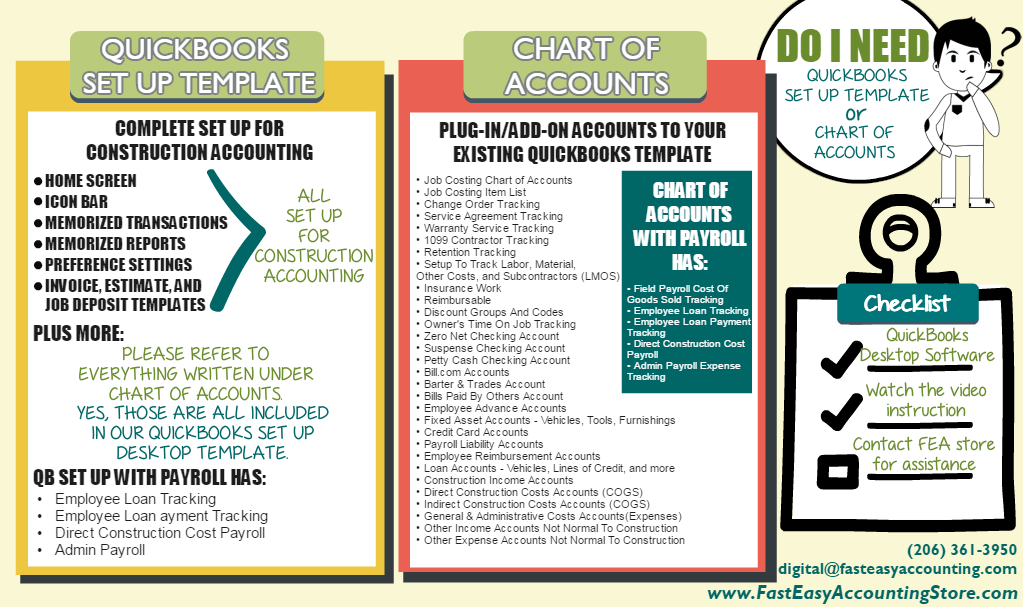 Short List Of Construction Contractors We Serve
Additional QuickBooks Templates, Resources, And Services
QuickBooks Set Up TemplatesSolopreneurQuickBooks Chart Of AccountsFree StuffQuickBooks Item Lists TemplatesConsulting

We Serve Over 100 Types Of Contractors So If Your Type Of Company Is Not Listed
Please Do Not Be Concerned Because If You Are A Contractor
There Is A Good Chance We Can Help You!
Additional QuickBooks Templates, Resources, And Services
QuickBooks Set Up Templates Solopreneur

QuickBooks Chart Of Accounts Free Stuff

QuickBooks Item Lists Templates Consulting

We Serve Over 100 Types Of Contractors So If Your Type Of Company Is Not Listed
Please Do Not Be Concerned Because If You Are A Contractor
There Is A Good Chance We Can Help You!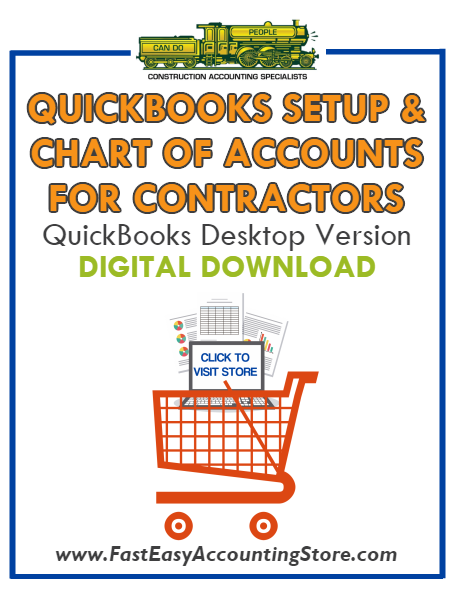 If you are a blogger, who writes about construction we would like to hear from you.
Contractors_Success_MAP, Contractors_Success_Marketing_Accounting_Production, Contractor_Bookkeeping_Services, QuickBooks_For_Contractors, QuickBooks_For_Contractors,Contractors_Success_Map_Construction_Contractor_Embezzlement_Detective_-_Kelly_Paxton_Par