Oct 19, 2018
This Podcast Is Episode Number 0291, And It Will Be About New
Tools 2018 that I Discovered and Want to Share With You
Today's Podcast Is Based On A Guest Article From Sandra Hayward

The technological progress is moving too fast. Life has changed tremendously in the past few years and there are amazing tools that can make life easier. Whether you are studying, managing your business or simply enjoying your life, there are a lot of apps that you can use to realize your goals. I have tried a lot of apps and tools and some have actually changed my life. Here are some of the best new tools that I want to share with you:
---
This is one of the best content curation tools that every marketer should use. Content curation is the process of going through a lot of information and content in order to publish meaningful and valuable posts.
Organizing and sharing existing content is extremely important because it helps you improve the status of your brand and increase your customers' loyalty.
This app is amazing because it allows you to save all your images, files, videos and articles in one place. Instead of sending yourself multiple emails with links that you should go through later or going through your bookmarks, this tool will help you save time and effort. It also integrates with other tools and apps for maximum convenience. You can also use it for personal purposes because it is so versatile.
Gathering and collecting news from several sources can help you create your own online magazine. This app is a news aggregator that is used to collect the best online content that has already been shared on the internet. Focusing on the niches that are relevant to your business, you will be able to gain access to news that will keep your readers interested. You also get news published on different social media platforms.
People trust a website that offers valuable information. You should always try to create informative articles, videos, and infographics that your target clients will find useful. Presenting news from various sources is definitely a plus.
This app is used to gather all the information that might interest you on a personal level as well. A lot of students prefer to hire a professional service that offers different types of papers written in college. But if you prefer to write your own assignments, this app can be used to gain access to different relevant resources that you can read while studying.
This is one of the most important apps that you can use to organize your data, tasks, time and goals. Evernote is a versatile tool that you should use to manage your personal and professional life at the same time.
It can be synchronized across multiple devices and is compatible with every operating system. This is why it is considered to be one of the most widely used. You can use it to write your everyday to-do lists, shopping list or check the progress of your tasks against a checklist. Everything you write can be shared with other people to make sure that you are communicating with your employees, friends and family members in the most efficient way.
The best thing about Evernote is that you can use it even when you don't have an internet connection. Whether you are going through a list or simply checking some of the links you saved before, you can access everything while you are offline.
Creating informative content improves your SEO, increases engagement and generates more leads to your website. All of these reasons will boost your sales and increase your brand's loyalty. Reddit is an excellent content sharing platform that you can use to share your online content. It has an enormous amount of traffic and this means that you can gain access to a big number of leads who might be interested in your products or services.
Users are organized in groups that are interested in certain themes or niches and this means that you get to identify your target customers easily. You will have to be careful about following the rules though, as the platform has some strict laws considering sales.
Nevertheless, you can still present your content to people who will be most likely interested in what you offer. Moreover, this is an app that you can use to read about topics that interest you on the personal level. You are going to be among people who share the same interests.
Your leads and target customers are using social media all the time. You need a good tool that will allow you to manage your social media content to make it accessible and easy to share.
Buffer is one of the most trustworthy social media marketing tools because you can use it to schedule your posts on different platforms. You can easily manage the frequency of publishing your posts, analyze which ones were more efficient and why they were successful.
---
CONCLUSION:
These amazing tools are very easy to use. You can access them wherever you are to improve the quality of your life. Give them a try to see how they work.
---
About The Author:
Sandra Hayward is an author, a journalist and a single mother of two. She enjoys pottery, reading as well as spending a quiet quality time when her two twins are up to some mysterious project in their room.
The Information Shown Below Is From Fast Easy Accounting
The Information Shown Below Is From Fast Easy Accounting


Download The Contractors APP Now!
Access code: FEAHEROS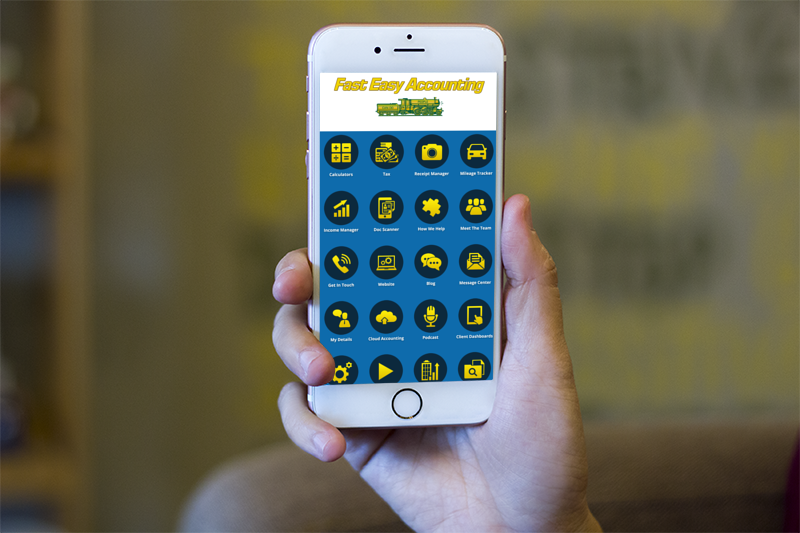 The QR Code Below Will Go
Apple Or Android Store
Whichever One
You Need
Simply scan the QR code below or search for 'MyAccountants' in the App Store and enter the Access code: FEAHEROS to utilize the powerful App features and capabilities, and benefit from having our Construction Accounting App at your fingertips, 24/7.

Access code: FEAHEROS
Or click to download the Contractors APP now from the App or Android store
Click here to download the App on iOS:
Click here to download the App on Android: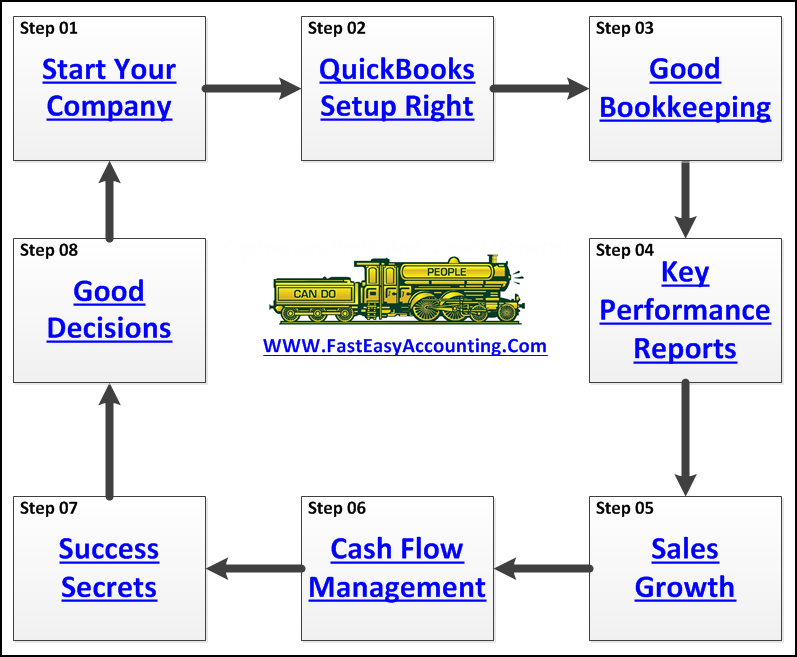 I trust this podcast helps you understand that outsourcing your contractor's bookkeeping services to us is about more than just "doing the bookkeeping"; it is about taking a holistic approach to your entire construction company and helping support you as a contractor and as a person.
We Remove Contractor's Unique Paperwork Frustrations
We understand the good, bad and the ugly about owning and operating construction companies because we have had several of them and we sincerely care about you and your construction company!
That is all I have for now, and if you have listened to this far please do me the honor of commenting and rating the Podcast www.FastEasyAccounting.com/podcast Tell me what you liked, did not like, tell it as you see it because your feedback is crucial and I thank you in advance.
You Deserve To Be Wealthy Because You Bring Value To Other People's Lives!
I trust this will be of value to you and your feedback is always welcome at www.FastEasyAccounting.com/podcast
This Is One more example of how Fast Easy Accounting is helping construction company owners across the USA including Alaska and Hawaii put more money in the bank to operate and grow your construction company. Construction accounting is not rocket science; it is a lot harder than that, and a lot more valuable to construction contractors like you so stop missing out and call Sharie 206-361-3950 or email sharie@fasteasyaccounting.com
Contractor Bookkeeping Done For You!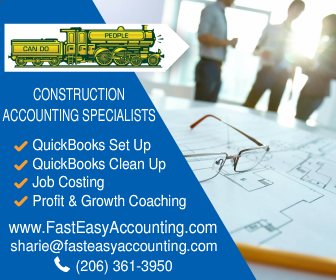 Thinking About Outsourcing Your Contractors Bookkeeping Services?
Click On The Link Below:
This guide will help you learn what to look for in outsourced construction accounting.
Need Help Now?
Call Sharie 206-361-3950
Thank you very much, and I hope you understand we do care about you and all contractors regardless of whether or not you ever hire our services.
Bye for now until our next episode here on the Contractors Success MAP Podcast.
About The Author:

For Contractors Who Prefer
To Do Your Bookkeeping
Most Contractors Setup QuickBooks Or Xero Online Accounting Using:
#1 EZ Step Interview inside QuickBooks Setup
#2 Asked Their Tax Accountant To Setup QuickBooks
#3 They Attended A How To Setup QuickBooks Class Or Seminar
And QuickBooks Does Not Work The Way They Want It Too!
The Answer: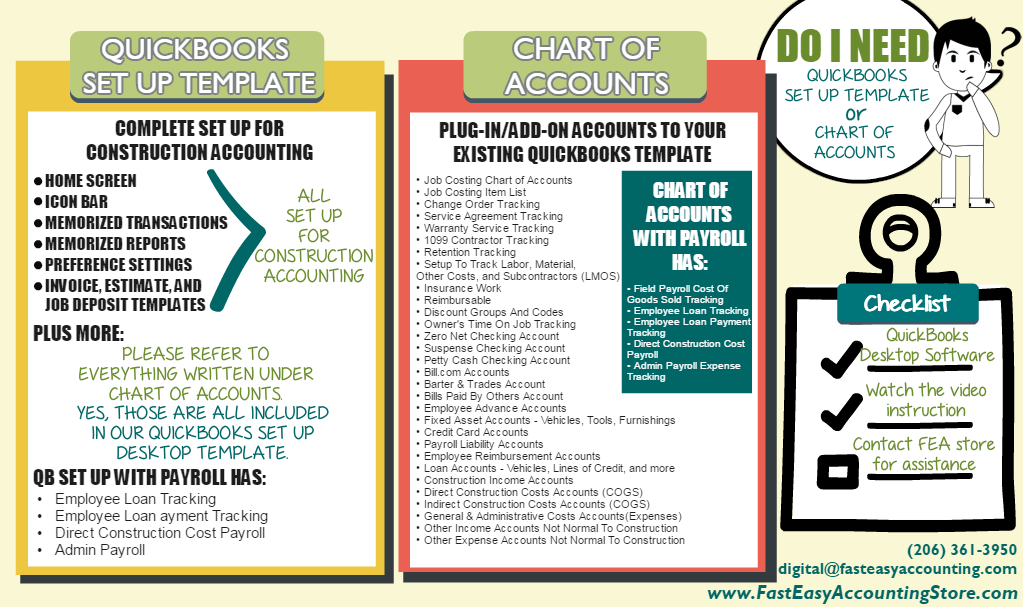 Short List Of Construction Contractors We Serve
Additional QuickBooks Templates, Resources, And Services
QuickBooks Set Up TemplatesSolopreneurQuickBooks Chart Of AccountsFree StuffQuickBooks Item Lists TemplatesConsulting

We Serve Over 100 Types Of Contractors So If Your Type Of Company Is Not Listed
Please Do Not Be Concerned Because If You Are A Contractor
There Is A Good Chance We Can Help You!
Additional QuickBooks Templates, Resources, And Services
QuickBooks Set Up Templates Solopreneur

QuickBooks Chart Of Accounts Free Stuff

QuickBooks Item Lists Templates Consulting

We Serve Over 100 Types Of Contractors So If Your Type Of Company Is Not Listed
Please Do Not Be Concerned Because If You Are A Contractor
There Is A Good Chance We Can Help You!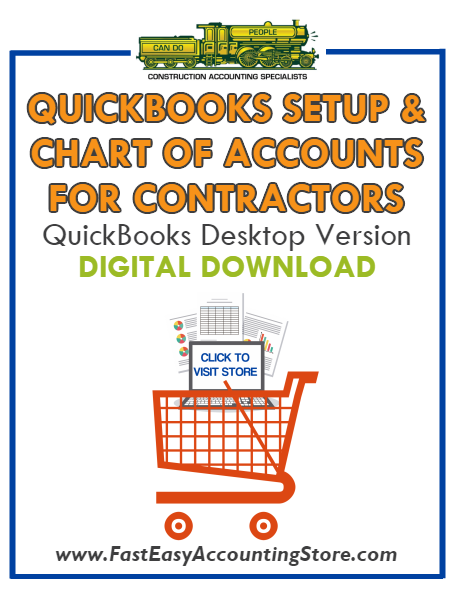 If you are a blogger, who writes about construction we would like to hear from you.
Contractors_Success_MAP, Contractors_Success_Marketing_Accounting_Production, Contractor_Bookkeeping_Services, QuickBooks_For_Contractors, QuickBooks_For_Contractors,Contractors_Success_Map_New_Tools_2018_that_I_Discovered_and_Want_to_Share_With_You