Mar 15, 2019
This Podcast Is Episode Number 0306, And It Will Be About How To Manage Late Payments For Builders, An Expert Guide
One major headache for builders are the late payments of invoices. Builders seldom get the payment for their completed construction work at the right time and date. Professionals have recorded multiple payment cases and the slow paying issues are at the top of it. The unacceptable idea is that contractors seem like the last person to receive the reward for their hard work. Can you imagine finishing a building work without receiving a penny? Disappointing, isn't it?
Cash flow is king! Numerous startup builder companies are depending on paid invoices of clients. These payments are the bloodline of the entire business. Therefore, unpaid invoices can affect the production of work.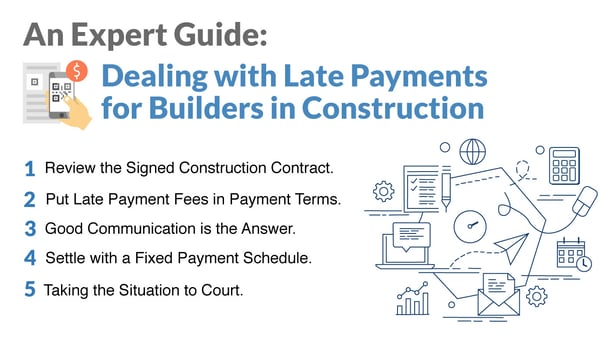 If you feel like your client is giving you a hard time with obtaining the payment, check out the following ways to secure the deal.
1. Review the signed construction contract
First, always remember not to settle with a simple handshake. Reviewing your signed construction contracts keeps you on track. With all the construction statements and clauses, you can be aware of where to stand in terms of payment. A contract makes your legal rights secured. It also helps you in various ways especially dealing with slow-paying clients.
In addition, it is better to discuss your concerns with the client. This is the easiest and effective way to deal with late issues for contractors. Asked the reasons why you are still not receiving the paid invoices in a proper manner. Payment can be an awkward topic but you should speak up.
2. Put late payment fees in payment terms
Having a construction contract that sealed the oral agreement is important because this can guarantee efficient payment terms and project management. One way to secure the payment for your work is to add a late payment fee in your contract.
Stating the fees in payment terms is a must. At your meeting and planning stages, it is better to mention the fee because it can avoid building disputes. Several builders add at least 2% penalty if one fails to pay within 30 calendar days. Some add 3% for 60 days.
But you can always make your own terms at the special conditions part. All is depending on your negotiation with the client.
3. Good communication is the answer
Construction is a temporary endeavor. You will have to work with the people you just have met for days. Having a clear and open communication is always the best way to deal with it since this can lead to a harmonious client-builder relationship. Always be vocal with contractors whenever you see something you don't like or different from the plans.
4. Settle with a fixed payment schedule
Construction is a complex process as it demands patience, hard work and investment. The client and builder themselves have other things to be mindful of, hence establishing a fixed payment schedule can lessen the stress. A payment schedule is an actual date for claiming and releasing the payment.
5. Taking the situation to court
Taking legal action is your last resort. If you think your client is ripping you off, it is time to take the situation to court. This is not just a waste of money and time. You just need to consider the idea that you could get the payment plus the compensation. The compensation is for all the troubles that have caused you for not paying on time.
The effects of late payments in construction projects
The small-scale construction businesses have a huge part in the industry as a whole. They occupy a massive chunk in the field. And if, for instance, most of these businesses have gone bankrupt, then, the construction world will suffer a significant loss. Planning your business growth can be easy if you are on top of your cash flow problems because you can put your attention to expansion and variations in revenues.
Similarly, issues with payments can affect the work deadline. It can impede the productivity of work and the contractors' ability to perform and accomplish work on a schedule. The project success can be at risk too. Therefore, we can all say that payment is a joint responsibility of the client and builder. For instance, if a builder fails to notify the client and gives the billing statement, there is no actual reason to pay up. However, if a client neglects and refuses to pay, he/she is probably not satisfied with the work result.
Focusing on your cash flow
Therefore, the main focus of builders should be on establishing a stable cash flow. Late payments are sometimes unpreventable. Make sure that the payments from clients are not the only amount running your business. Learn how to market your building services and implementing good project management. By doing this you can identify the factors affecting your business and prevent possible future failures.
---
About The Author:

John Dela Cruz is the Principal Construction Lawyer of Contracts Specialist, Founder, and CEO of Small Builders Construction Software based in Sydney, Australia, and an industry influencer. He has been helping multiple homeowners, builders, and other tradesmen across the field for almost 10 years. He holds several industry management roles including Divisional President and Councillor at Master Builders Association NSW.