In an attempt to save money, the cheap contractor ends up spending the most money and earning a tiny profit because they believe in maximizing than optimizing. In the short run, maximizing can payoff; however, in the long term, it never does. Here are four ways you can spend more now and save money in the long-term:
Vehicle
If you stock your truck with every tool you think you may need, and load it to the sky with all the parts and inventory you think you may need, and drive hard and fast you are maximizing that resource, and that is not a good thing.
Benefit - Hopefully, fewer trips to the supply house, Lowe's, Home Depot, or other places which will save you a little bit of time and money.
Costs - You will end up spending more money for each mile you drive because you use more fuel, your brakes will wear out faster from having to stop with more weight. Your tires will wear down quicker, and your vehicle suspension parts will need to be replaced sooner rather than later. You will have money that is tied up in tools, equipment, and inventory that could be invested elsewhere and make more money for you. Even worse, if you have any credit card debt or loans that money could be used to pay them down and reduce your interest expense.
Risks - If you're involved in a traffic collision and the investigation reveals that you have exceeded the
Gross Vehicle Weight Rating (GVWR)
of your truck or van then it is likely your insurance may not cover the damages. Besides, you may be liable for negligence charges. We recommend you contact your insurance agent and your attorney for their advice.
Spend the money and choose the right vehicle for your needs. It should match the needs of your company without putting yourself and your business at risk.
Tools And Equipment
Construction workers who take pride in their work produce better results with fewer repairs if they have quality tools and equipment. Cheap tools and equipment cost a lot of time and money that you cannot see - out-of-sight means out-of-mind. Invest in the best that you can afford taking into account the Total Cost Of Ownership instead of the price.
Make more money with productivity gains. See the chart below: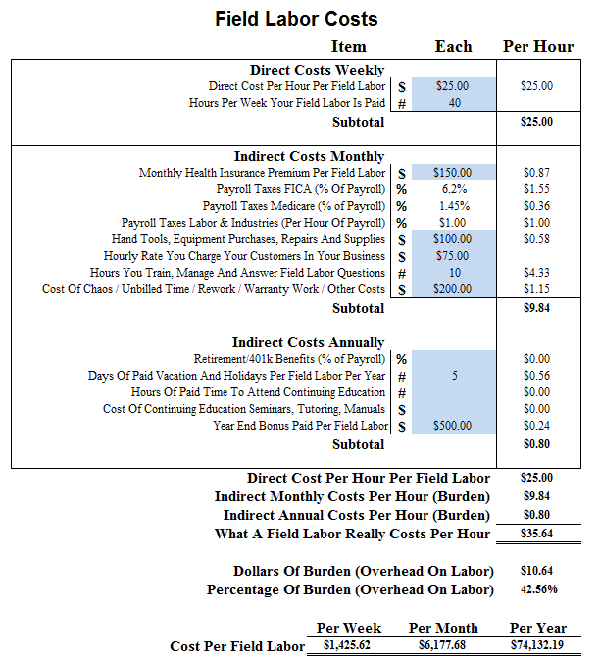 For Example - Your best construction worker asks for a tool:
It costs $1,200.00

It will save ten minutes a day in labor

It will last 3 years

The standard response is the company can't afford it!
QuickBooks Desktop
Most contractors try to make QuickBooks Online work - that is a recipe for disaster. QuickBooks Online is an excellent product for many companies, but not for construction. The primary reason is that contractors are one of the few companies that pack their entire company into trucks and vans and drive it to their customer's location. Then they put together a custom-built product which means the margin for error is enormous, and break-even calculations are a moving target and can only be done in a properly Setup QuickBooks File Designed Specifically For Construction Accounting.
QuickBooks Desktop Version has been around since 1991, and it has improved at a stable pace that contractors and accountants can keep up with. For the past several years our contractor clients have enjoyed having access to the tried and true QuickBooks Desktop version in a Cloud environment.
QuickBooks Online is a great program for small companies including some non-profit organizations, but it is not suited for a serious construction contractor with more than two projects a month and generating more than $500 a year in sales.
Most construction companies started using QuickBooks Online, so they could get to their QuickBooks Pro or QuickBooks For Contractors file anywhere they have internet access 24/7. We can move your QuickBooks Online file into our private cloud server and provide you with the full power of QuickBooks Desktop version in the cloud.
Bookkeeper
Don't hire the cheapest bookkeeper you can find. Almost anyone can indeed do bookkeeping because 95% of it is boring and only 5% is sheer terror. However, when the regular bookkeeper attempts to do construction accounting that is like watching a naked person, covered in honey getting into a fight with a grizzly bear in the woods; it never ends well.
Until your construction company reaches at least $5 million in annual sales you cannot afford to hire a qualified bookkeeper or construction accountant full-time to put on your accounting staff because there is no such thing as a part-time qualified bookkeeper or construction accountant.
For Example - You Hire someone with bad habits, which is a Cheap Bookkeeper part-time at $15.00 an hour for 10 hours a week thinking you will save money. The problem with that is you may not understand the actual cost to have them on your payroll, including overhead, is closer to $25.29 per hour. See the chart below: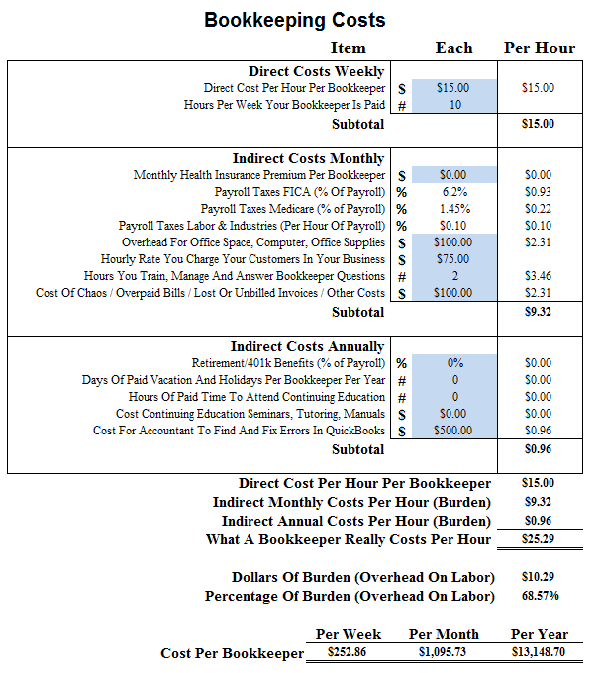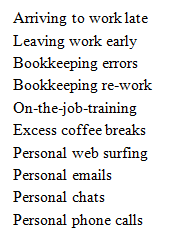 Every Ten Minutes Your Bookkeeper Wastes Costs You Money!
Could Cost Your Company $273.93 Every Year
At 10% Profit You Need $2,739.30 More Sales To Maintain Profit Margin
It may seem harsh to survive and thrive as a contractor, you must make sure your employees are focused on their job during the time you are PAYING THEM TO WORK! You must do whatever it takes to enforce the rules of engagement for producing results at your contracting company or be prepared to work for some other contractor and live under their rules.
In some cases we can do more work for less money by providing you with real construction bookkeeping and accounting + payroll processing + monthly and quarterly tax reports + year-end W-2, W-3 + profit and growth management consulting + financial and job costing reports + paperless data storage and more at a lower overall cost and as a bonus show you how to make more money than you are making now!