So, how much is your construction contracting company worth?
Accounting Value:
Equity Which Is [Assets or What You Own] (Cash, Tools, Material, Loans The Company Made) - [Liabilities or What You Owe] (Payables, Credit Card Balances) = [Equity or what is left Over].
These numbers are found on your construction company Balance Sheet. See the example below and notice the highlighted line "Total Equity," which is $305,616.56.
This means as far as the accounting records are concerned:
#1 If the owner collected all of the money owed to them [Accounts Receivable] and got the security deposit back.
#2 Sold all vehicles, computers, office equipment, machinery, and equipment [Fixed Assets] for the amount shown.
#3 Paid all of the bills [Accounts Payable], [Credit Cards], [Other Current Liabilities], [Long Term Liabilities].
#4 There would be $305,616.56 in cash for the owner.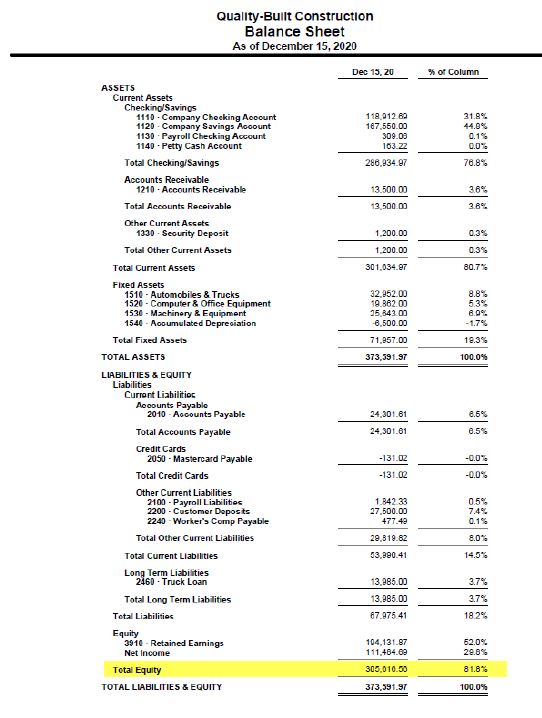 The Real World:
The actual net worth of your construction contracting company is what someone else will pay you for it. There are 100's of factors that affect how much your construction company is worth, and I have listed nine of them below:
#1 Length of Time In Business - In general, the longer your business has been around, the better. Just know that everything changes rapidly, so what occurred more than three years ago may not be as relevant in most cases.
#2 Standard Financial Statements - There are several ways to set up QuickBooks for Contractors. It depends on what you want from them.
Internal Financial Statements are what most bookkeepers set up, which means they may add a lot of fluff and try to capture Work-In-Process (W.I.P.) and Job Costing in the Chart of Accounts, which is acceptable for your internal use next to worthless for anyone outside your company.
Tax Preparer Financial Statements are what most C.P.A.'s and Tax Preparers setup which means they keep the Chart of Accounts small as possible and mirror the annual tax return as close as possible. This helps them get the tax return done in the least amount of time and effort possible. It is next to worthless for you, the contractor, and anyone else.
Standard Financial Statements are what most bankers and investors like to see because the Chart of Accounts is set up to make it possible for them to understand the financial health and well-being of your Construction Company. Most banks subscribe to a service like The Risk Management Association (R.M.A.) that allows them to input key data from your Financial Statements and returns an in-depth analysis of your construction company. This means when a contractor gives their banker, investor, or potential buyer anything but Standard Financial Statements; they are "Shooting Themselves In The Foot With A Nail Gun." Our Contractor Bookkeeping System can provide you with Standard Financial Statements; unless you or your bookkeeper makes adjustments in the Chart of Accounts. You and your bookkeeper can make any adjustments in the Item lists, and as long as they are linked to the correct account in the Chart of Accounts, it will be O.K.
#3 Net Income - Is your construction company earning enough money to pay you a decent salary? Which should be at least twice your highest-paid employee and at least 10% net profit after all costs, including Income Taxes.
#4 Cash Flow - Is there enough cash in the bank or money market accounts to keep your company running for at least 60 days? And is your cash balance growing every year by at least 5%?
#5 Number of Customers or Clients - Which do you have Customers or Clients? Having the right mix of quality customers or clients that provide a lot of top-line sales and revenue. Quantity is not as important as quality.
#6 New Customer or Client Acquisition Strategy - A simple documented strategy outlining your best customer demographics and psychographics profile, so you know who they are, where they are, and how to attract them.
#7 Existing Customer or Client Retention Strategy - A simple documented strategy outlining the changing needs of your customers and clients based upon the profile of your best customer demographics and psychographics, so you know what they are going to want before they do and continually innovate your services to those wants, wishes, and desires.
#8 Documented Operations Manuals - Don't get trapped by the lazy way of training people by paying people to learn by experience or by sitting around the "Camp Fire," "Water Cooler," "Break-Room," or "Job site." In the end, you will have chaos because everybody will have a different way of doing everything, and no amount of yelling, screaming, threats, punishment will be adequate. In the end, you will waste a lot of money that should have gone to bottom line profits. This can be avoided with documented operations manuals.
#9 Unique Selling Proposition - the one thing you do best that makes you the most money is your Unique Selling Proposition. One of our Plumbing companies in the 1990s was maintenance contracts for fast food restaurants. We made a lot of money by cleaning their drains and side sewers during their slow times instead of waiting until it was an emergency and fixing and replacing leaking faucets because we could schedule the work to be done by our crews during our slow time.