Surprises were great when you were a child because you were conditioned to believe that surprises meant you would get something good! As adults, you have been conditioned that surprises are not always pleasant. Highly profitable remodel contractors understand this and have processes in place to deal with it.
Fear on both sides
Contractors without financial reporting systems they can trust to generate accurate Key Performance Indicators and Reliable Job Cost Reports do not know if they are making or losing money from day to day, which leads to doubt, which leads to stress, and the result is they tend to work faster and harder. Their frantic behavior raises everyone's stress level.
Contractors in this situation tend to feel like they are driving down the freeway at midnight, wearing a blindfold hoping for the best, and fearing the worst.
A Comprehensive Bookkeeping and financial reporting system can reduce or remove the feeling of being out of control.
A Simple Easy To Understand - Remodel Invoicing System to keep track of the following:
Original Contract Price

Change Orders

Job Deposits

Advance Payments

Each Progress Payment

Running Balances Showing What Is Done

Running Balance For What Is Still Unbilled

Percentage Of Completion On Each Major Section
Invoicing Residential Remodel System
Fast Easy Accounting Sample Pay Application We Prepare For Our Clients Using QuickBooks Reports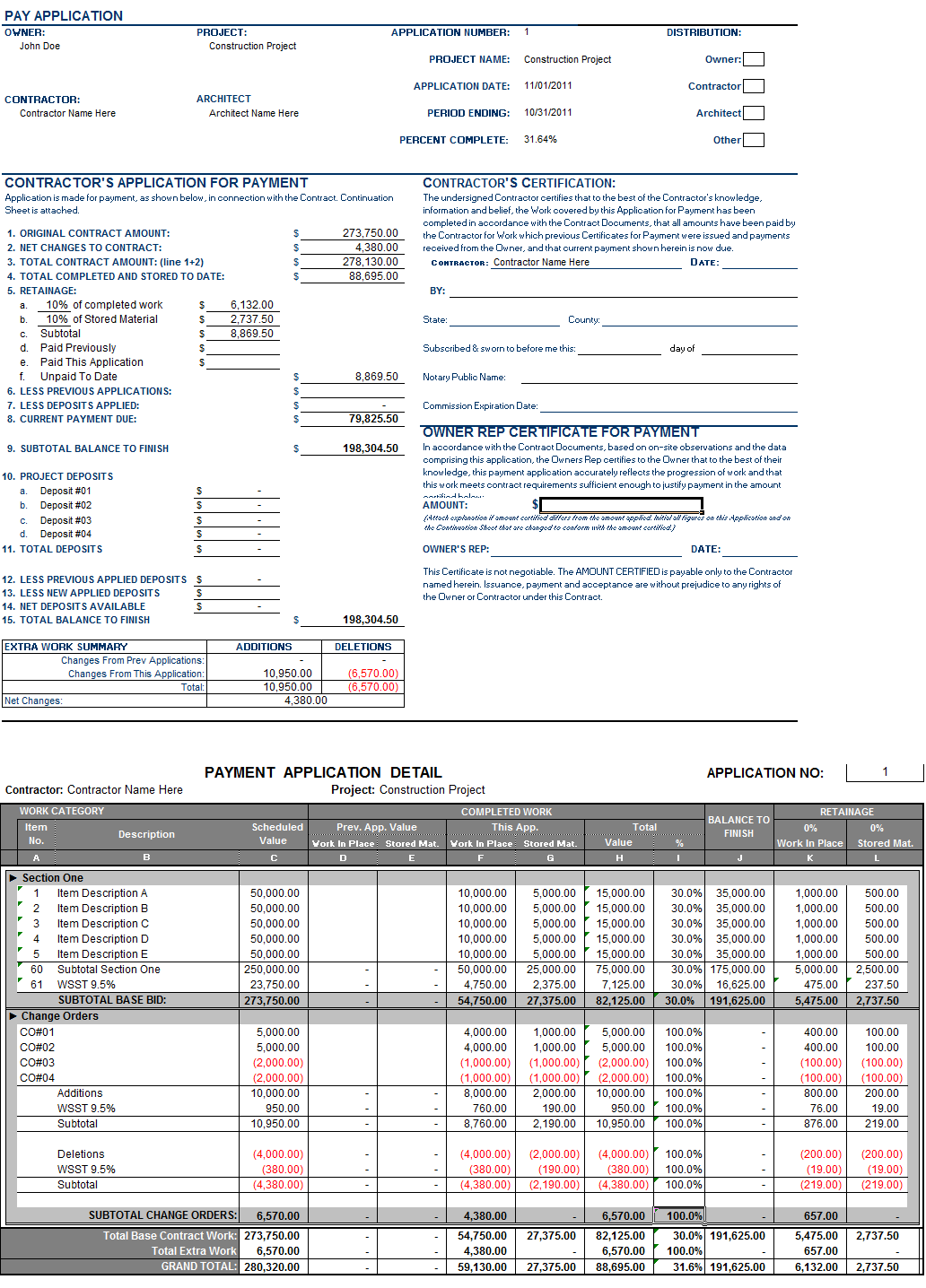 It needs to be in place before starting any remodeling project. It will save you and your remodel client much grief, and your cash flow and profits will soar. We work with contractors like you to develop strategies to deal with these issues and more.
Homeowners expecting their house to be improved suddenly find themselves under siege from a group of cavemen who are ripping and tearing their living quarters apart, and they panic. Some homeowners will tell you they are miserable; some will say nothing, having decided to get even with you once the job is done by withholding final payment! Some consider calling 9-1-1, but they don't because they would be laughed at and perhaps irritate the contractor.
Under-promise and over-deliver
At some point, your remodeling business will be so busy that customers will be stuck waiting for service. In those cases, under promise and overdeliver. If you know something will take five days, tell the customer it will take a week. Customers are happier if something takes less time than expected than if it takes more.
This tactic also buys you time in case of unexpected delays. The worst thing in this situation is that you have to tell customers their wait will be longer repeatedly. That frustrates them and makes them less likely to come back.
Final thoughts
Line-ups and wait times are inevitable, but they don't necessarily mean you need to hire more employees. There are solutions available to you that enhance the customer experience without you hiring more people.
It is your responsibility as a contractor to understand the fears and concerns of your client and have a communication plan in place as part of the overall project plan.
About The Author: