Construction business owners know that to find a loyal client base, they must stand out from their competitors. One of the best and easiest ways to do that is to have outstanding customer service. How you treat your customers reflects your entire business. People think positively about companies that treat their customers and clients well.
Unfortunately, many small construction business owners focus much on their products and services, with customer service remaining an afterthought.
Take time to learn more about your customers.
Do they mention family members? Ask about their loved ones. Do they have particular concerns? For instance - too many cable cords around the house, and they have small children. Keep track of their issues and be attentive to their needs. Recommend solutions that address their specific problems. Go the extra mile to show your customers they're important to you.
Ask for their input, as well. They'll get to know your products and services and offer insights into what's working and what could be improved. If you engage them--and make changes based on their feedback--you'll develop a loyal customer base.
Happier, high-profit clients are encouraged to return because they'll appreciate your thoughtfulness and value your service. The more special your clients feel, the more likely they will hire you again.
The Value of Happy Clients
Happy Clients Are Returning Clients
Returning clients are fantastic for business. It's less expensive to bring back a happy customer than to attract a new person to your business, and existing customers are more likely to purchase or do business with you than new ones. Some reports suggest loyal clients can be worth as much as ten times their initial investment. So by keeping your existing customers satisfied, you not only save on marketing costs, you increase your chances of making money in the future.
Excellent customer service makes your customers feel important. You can have a fantastic product or service, which will go a long way to building your business, but your customers will also remember how you treat them. If you treat them well, they're more likely to be satisfied with their experience, which will keep them coming back. Even better, exceptional customer service can smooth things over and convince them to continue doing business with you if someone has an issue with your product or service.
Happy Clients Tell Their Friends
It's not just that a happy customer returns; your happy client will tell their friends, and their friends could also become satisfied customers loyal to your business. They, in turn, will say to their friends about you. The pattern will repeat itself over and over.
Marketing costs money. Word-of-mouth is free, and it's far more valuable than advertising. People trust their friends when they recommend a product or service much more than they believe in an advertisement. Offering exceptional customer service is one way to build loyal customers who will tell their friends and colleagues about you.
Happy Clients Write Positive Reviews
Happy clients don't just tell their friends how happy they are; they say it to the world through online reviews. Whether posting a review on Yelp or Google, thanking you on your Facebook or Instagram page, or gushing about your fantastic customer service on Twitter, customers can reach their friends and friends of their friends and, in some cases, strangers. If they talk publicly about how happy they are with how you treated them, others will see that and come to your business.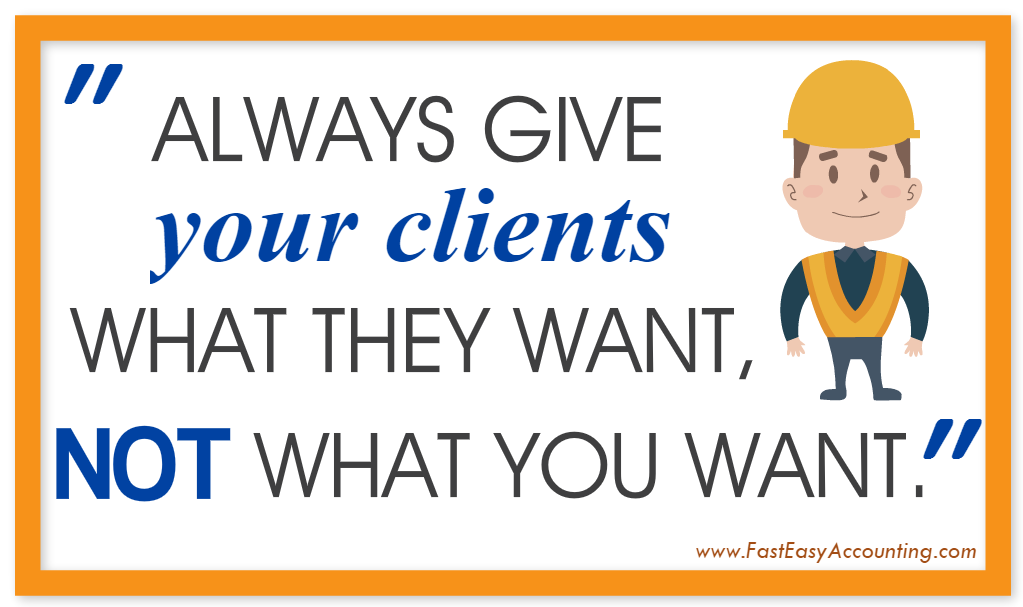 Final thoughts
Asking questions is vital to get important information from buyers by helping you understand their needs, priorities, and problems. By showing prospective clients you can listen to and understand their needs, you build an essential connection that will help you provide them with solutions. That connection may also be what keeps them coming back to your business.
Encouraging repeat customers makes solid business sense. To be successful, you need a balance of new and long-term clients. This means building relationships with people, personalizing your attention, sharing relevant information, and remembering your loyal customers.
A great product or service at a reasonable price might bring your customers in, but outstanding construction customer service that gives them a positive, memorable experience will keep them returning.
About The Author:

Sharie DeHart, QPA is the co-founder of Business Consulting And Accounting in Lynnwood, Washington. She is the leading expert in managing outsourced construction bookkeeping and accounting services companies and cash management accounting for small construction companies across the USA. She encourages Contractors and Construction Company Owners to stay current on their tax obligations and offers insights on how to manage the remaining cash flow to operate and grow their construction company sales and profits so they can put more money in the bank. Call 1-800-361-1770 or sharie@fasteasyaccounting.com