Jan 11, 2019
This Podcast Is Episode Number 0297, And It Will Be About Contractor Loans: An Expert's Guide On How To Finance Your Business
Running a contractor operation takes a pretty special individual, especially since there are going to be so many different moving parts with each and every project your contracting outfit takes on.
Hammering out bids, winning jobs, managing a crew, knocking out material lists and – most importantly – making sure that you stay on top of your cash flow are all big pieces of the contracting business puzzle. Because of the size and scale of these projects (even the smallest of contracting jobs), things get pretty expensive, and the odds are pretty good you're going to need to tap into business loans every now and again.
But contractors, particularly those just getting started in the business with their own outfit, usually find unsecured business loans to be a headache and hassle to get a hold of. These kinds of loans usually aren't given out to folks without a track record under their belts. And on top of that these kinds of loans usually don't come with the kind of financing contractors need to get projects from start to finish.
Here are a couple of options you want to consider when you're looking to get financing for your business.
Consider traditional bank/credit union and SBA loans specifically for contractors
Traditional banks, credit unions, and the Small Business Administration all offer specific loan packages for the contracting industry that you may be able to take full advantage of. You'll obviously have to meet with local bank representatives (or fill out the government paperwork with the SBA) to figure out the specifics of these offers, and it's not a bad idea to go to a bank that you have a bit of a history with as a "retail" customer.
At the same time, these kinds of loans can take a long time to go through the approval process – particularly if you're asking for hundreds of thousands of dollars that you might need to knock out a couple of construction projects you're looking to undertake.
Most suppliers will offer some kind of leasing and financing package for local contractors
Thankfully, the overwhelming majority of suppliers in your local area are likely to offer some kind of leasing and financing package for contractors that do – or anticipate – a lot of business with them.
You'll need to create an account with your local hardware stores, your local building supply stores, and your local home department stores to take advantage of these financing packages. On top of that, you want to make sure that you read the fine print of each agreement, as they are almost always going to have unique terms from one another, and you'll want to understand every detail of each of these financial packages before you sign on the dotted line.
Major chains (like Home Depot and Lowe's, for example) also offer their own financing package for professional contractors that are well worth looking into.
How to make working capital loans work for your contracting outfit?
At the end of the day, you might want to go the more nontraditional route of getting financing for your contracting outfit and start looking into working capital loans from these kinds of lenders.
Working capital loans essentially keep you flush with all the funding you need to keep your cash flow positive, helping you secure materials, payout your payroll, and cover any minor blips in the road along the way until the profits from your jobs start coming in.
Again, you'll need to look into the specifics of each working capital offer before you decide to take the plunge. Some nontraditional lending packages will be more advantageous to leverage compared to others, and you want to make sure that you are always making a smart move with this kind of nontraditional financing rather than saddling yourself with a financial burden later down the line for a short-term fix.
All in all, you'll find that there are plenty of opportunities out there for you to get your hands on the financing you need to not only run your contracting outfit but to also grow and expand your base of operations. It's never a bad idea to shoot for being able to "self-fund" your business right from the profits of your job, but that's only ever going to be possible after using years of taking advantage of the kinds of financing packages we highlighted above.
About The Author:

Chad Otar is the CEO at Excel Capital Management, a pioneer in the Fintech and alternative lending space. He has assisted thousands of business owners to receive funding over the last 5 years and is focused on helping one small business at a time achieve access to capital.
In Conclusion:
Helping Contractors around the world is one of the reasons we added the FastEasyAccountingStore.com
Follow our blogs, listen to Contractor Success M.A.P. Podcast. We Appreciate Our Visitors, Listeners, and Subscribers. – Thank You!!
Please feel free to download all the Free Forms and Resources that you find useful for your business.
The Information Shown Below Is From Fast Easy Accounting


Download The Contractors APP Now!
Access code: FEAHEROS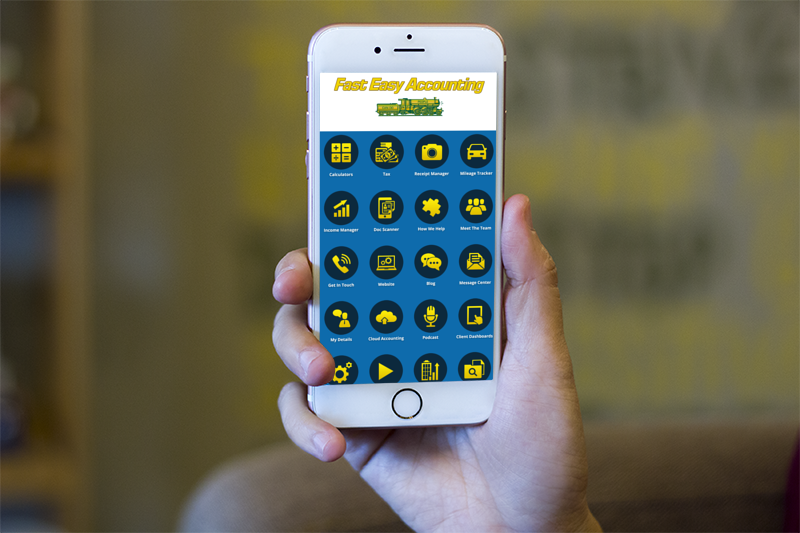 The QR Code Below Will Go
Apple Or Android Store
Whichever One
You Need
Simply scan the QR code below or search for 'MyAccountants' in the App Store and enter the Access code: FEAHEROS to utilize the powerful App features and capabilities, and benefit from having our Construction Accounting App at your fingertips, 24/7.

Access code: FEAHEROS
Or click to download the Contractors APP now

from the App or Android store
Click here to download the App on iOS:
Click here to download the App on Android:
About The Author: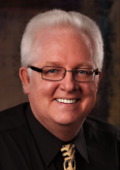 Randal DeHart, PMP, QPA is the co-founder of Business Consulting And Accounting in Lynnwood Washington. He is the leading expert in outsourced construction bookkeeping and accounting services for small construction companies across the USA. He is experienced as a Contractor, Project Management Professional, Construction Accountant, Intuit ProAdvisor, QuickBooks For Contractors Expert and Xero Accounting Specialist. This combination of experience and skill sets provides a unique perspective which allows him to see the world through the eyes of a contractor, Project Manager, Accountant, and construction accountant. This quadruple understanding is what sets him apart from other Intuit ProAdvisors and Xero accountants to the benefit of all of the construction contractors he serves across the USA. Visit http://www.fasteasyaccounting.com/randal-dehart/ to learn more.
Our Co-Founder Randal DeHart - Is a Certified PMP (Project Management Professional) with several years of construction project management experience. His expertise is construction accounting systems engineering and process development. His exhaustive study of several leading experts including the work of Dr. W. Edward Deming, Michael Gerber, Walter A. Shewhart, James Lewis and dozens of others was the foundation upon which our Construction Bookkeeping System is based and continues to evolve and improve. Check out our Contractor Success Map Podcast on iTunes and Follow Randal on Google+

We are here to Help "A Little or A Lot" depending on your needs.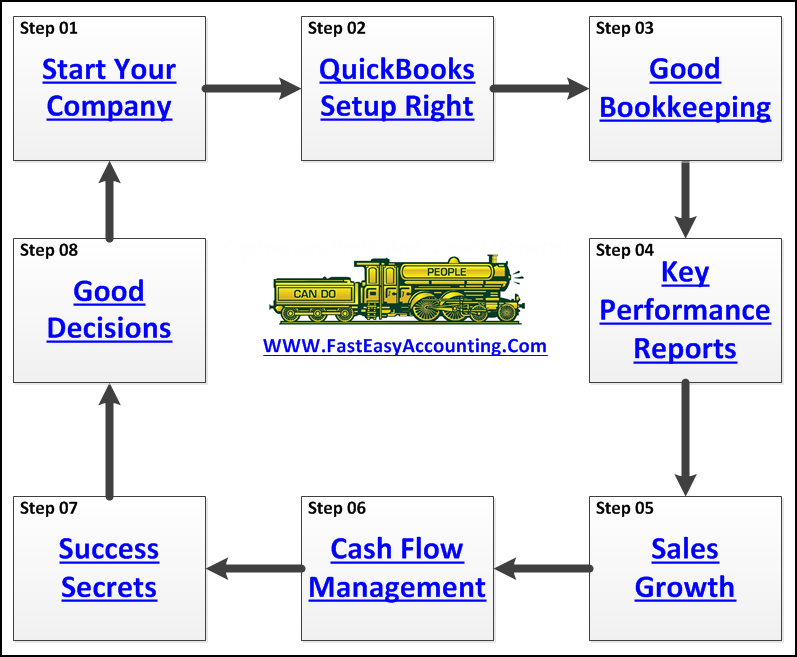 I trust this podcast helps you understand that outsourcing your contractor's bookkeeping services to us is about more than just "doing the bookkeeping"; it is about taking a holistic approach to your entire construction company and helping support you as a contractor and as a person.
We Remove Contractor's Unique Paperwork Frustrations
We understand the good, bad and the ugly about owning and operating construction companies because we have had several of them and we sincerely care about you and your construction company!
That is all I have for now, and if you have listened to this far please do me the honor of commenting and rating the Podcast www.FastEasyAccounting.com/podcast Tell me what you liked, did not like, tell it as you see it because your feedback is crucial and I thank you in advance.
You Deserve To Be Wealthy Because You Bring Value To Other People's Lives!
I trust this will be of value to you and your feedback is always welcome at www.FastEasyAccounting.com/podcast
This Is One more example of how Fast Easy Accounting is helping construction company owners across the USA including Alaska and Hawaii put more money in the bank to operate and grow your construction company. Construction accounting is not rocket science; it is a lot harder than that, and a lot more valuable to construction contractors like you so stop missing out and call Sharie 206-361-3950 or email sharie@fasteasyaccounting.com
Contractor Bookkeeping Done For You!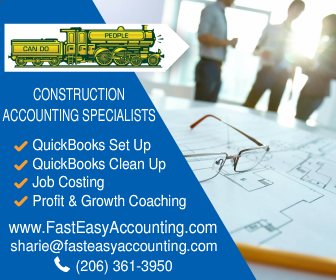 Thinking About Outsourcing Your Contractors Bookkeeping Services?
Click On The Link Below:
This guide will help you learn what to look for in outsourced construction accounting.
Need Help Now?
Call Sharie 206-361-3950
Thank you very much, and I hope you understand we do care about you and all contractors regardless of whether or not you ever hire our services.
Bye for now until our next episode here on the Contractors Success MAP Podcast.

Our Workflow Removes Your Paperwork Frustrations
For Contractors Who Prefer
To Do Your Bookkeeping
Most Contractors Setup QuickBooks Or Xero Online Accounting Using:
#1 EZ Step Interview inside QuickBooks Setup
#2 Asked Their Tax Accountant To Setup QuickBooks
#3 They Attended A How To Setup QuickBooks Class Or Seminar
And QuickBooks Does Not Work The Way They Want It Too!
The Answer: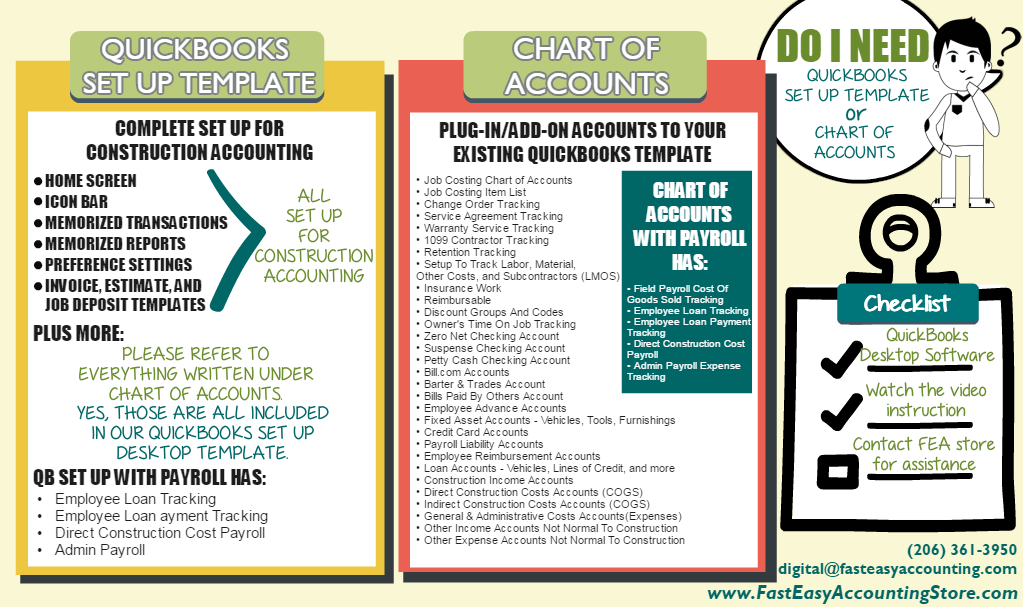 Short List Of Construction Contractors We Serve
Additional QuickBooks Templates, Resources, And Services
QuickBooks Set Up TemplatesSolopreneurQuickBooks Chart Of AccountsFree StuffQuickBooks Item Lists TemplatesConsulting

We Serve Over 100 Types Of Contractors So If Your Type Of Company Is Not Listed
Please Do Not Be Concerned Because If You Are A Contractor
There Is A Good Chance We Can Help You!
Additional QuickBooks Templates, Resources, And Services
QuickBooks Set Up Templates Solopreneur

QuickBooks Chart Of Accounts Free Stuff

QuickBooks Item Lists Templates Consulting

We Serve Over 100 Types Of Contractors So If Your Type Of Company Is Not Listed
Please Do Not Be Concerned Because If You Are A Contractor
There Is A Good Chance We Can Help You!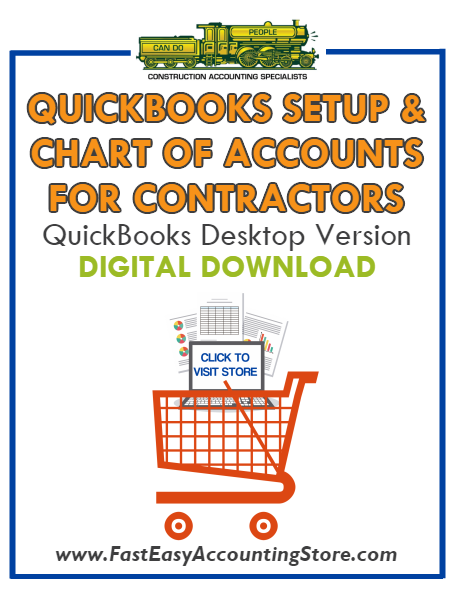 If you are a blogger, who writes about construction we would like to hear from you.