Here Are Some Important Questions To Consider:
What if there was a way to have useful Financial and Job Costing Reports on demand 24/7 from a secure web portal that provides the information you and your construction company actually need rather than adapting the way you work to a tool that only partially addresses your construction company's needs?
What if these tools and processes not only worked well within your construction company but allowed you to invite your Board of Advisors to participate and collaborate with you?
What if these tools and processes could be customized for your particular construction company without having to go to multiple sources to get it done?
What if these tools and processes required little or no technology investment?
Please read objectively and assess your strengths and weaknesses in each area. You will be a better contractor for it. We do not ask you to change who you are but rather encourage you to do what you do best and outsource the rest. Some of you will experience a paradigm shift which is something deep inside yourself, recognizing there may be another way to do something you are already doing. Others will experience nothing. Whatever is in your best interest will occur.
The Process-Dependent Approach:
1. Work for clients instead of customers
20% of your customers usually generate 80% of your net profit.
20% of the goods or services you sell contribute 80% of your revenue.
20% or 2 out of 10 of your staff create 80% of the value for your customers.
The most critical value proper bookkeeping brings to a business is an understanding of where your 20% is hidden.
By generating daily reports that uncover the best customers, jobs, services, or products, you will soon see how you can refocus your internal efforts on doing more good work.
2. Use Change Orders
The purpose of the construction
change order
form is to help you make a prisoner on paper any conversations between your customer and you, the contractor, your project manager, superintendent, foreman, construction worker or anyone else who has communications with your client.
Your customers and clients may try to push you a little just to see if you will give them something for free so don't take it personally, it is just a game to them. Stand your ground, and in most cases, reasonable people will pay you a fair price for your services. Which means, in the end, your construction company will earn more money, pay better wages to your employees and you will generally enjoy a fuller and richly rewarding life.
3. Client and Document Management System
With the rapid changes in technology, finding the right system that works best for you and your company might seem a bit of a challenge but well worth the time invested. Improper document management results in overpaying taxes and poor scheduling affect production and cash flow. Clients trust your company to solve their problem, which relies on your performance and operation.
Marketing is the foundation because nothing happens until somebody hires your services. Focus on what you're good at. What jobs have you done that did a positive difference in peoples lives? What projects did you have so much fun doing that time seemed to fly by? Consider your answers and write a story to describe the people you enjoy working for because they are your "Prime Customers" and they are your target market.
Accounting is the scorecard - what gets measured, gets managed. It tells you what is working and what you should do more of to make more money.
Production is the final stage because this is where all the planning and support structure pays off.
5. Construction Accounting And Bookkeeping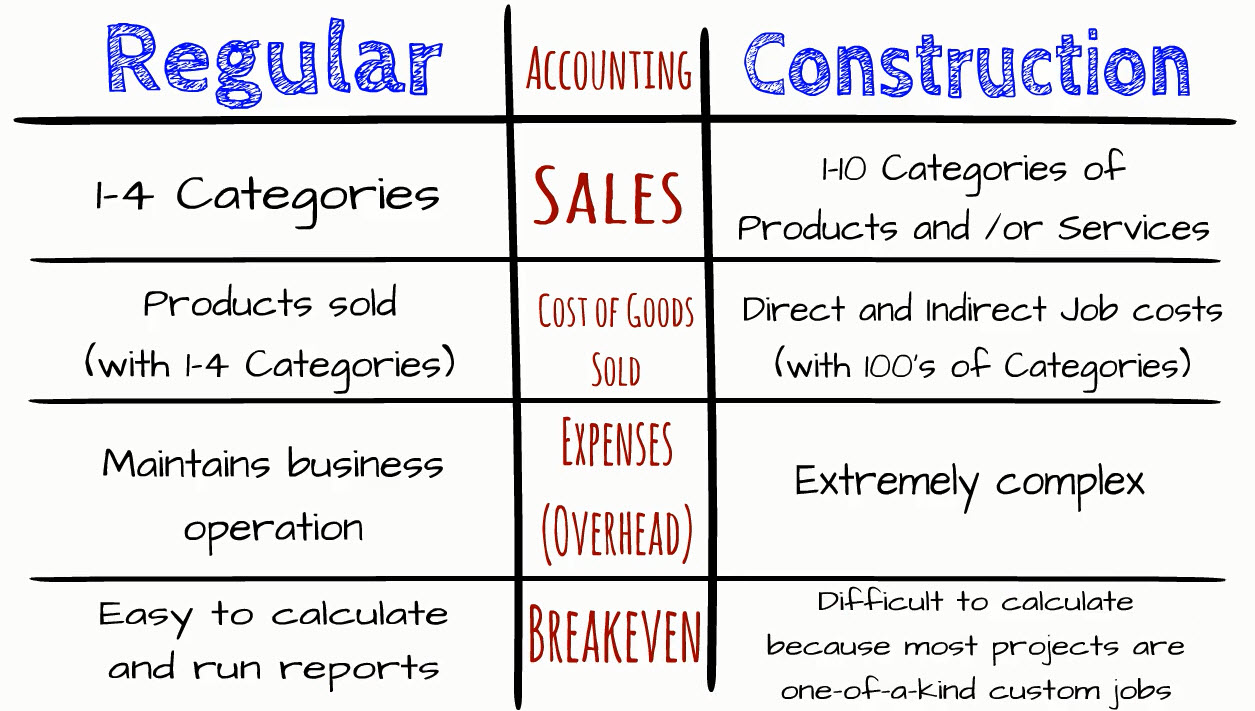 There is a world of difference between
Regular Accounting and Construction Accounting
. Construction Accounting is the center of your construction business; pay attention to what it says, and it can make you wealthy. The value in your bookkeeping is in the accuracy of the reports.
With the appropriate tools and processes, you can have the insights you need to manage and grow your construction company effectively and efficiently even without you running it. You can sit back and relax while you monitor and manage the work-in-process you already laid out. The last thing I leave you is "Knowledge is Power." There are simple answers to all complex problems, and they are usually wrong. Invest the time, money, and effort to do it right the first time. You have what it takes to be successful, and you deserve to be wealthy because contractors add value to other people's lives.