Sep 28, 2018
This Podcast Is Episode Number 0288, And It Will Be About
General Introduction and Steps Required in New Construction
Today's Podcast Is Based On A Guest Article From Christine Bourne Professional Editor, Consultant And Author
A house is no longer just a structure serving as a dwelling for one or more persons belonging to a family. Besides providing shelter, our houses provide refuge from life's stresses and dangers. When building a new home the ultimate objective is to have a peaceful, relaxing and worry free living. The pursuit for serene and simple homes has led to a more realistic approach towards home design. Before initiating a new construction, it is important to research the design thoroughly.
---
It is always advisable to build a home following standard building practices. The first step in the direction begins with planning of the budget. Comparisons on how much you are willing to spend and what your new home is likely to cost is very important. It gives an analysis of approximate costs that is then used to modify building plans to meet the budget. When choosing the land, thoroughly check the soil condition, zoning, drainage, building codes, and regulation of the region before you begin the construction.
Planning a new home requires the proficiency of teams of experts. This process of new construction of homes begins by first selecting either a contractor or an architect who will then select an expert team of a surveyor, excavator and an interior designer. These professionals will assist you throughout the design process in accomplishing your dream home. Plans for a new home are either taken from catalogued plans or are custom designed.
Building a plan from a stock requires minor modifications in room size, windows and door styles or other details. However, custom designed homes are created as per the requirements of the family that will be living there. The plan which best suits your needs should be chosen. After finalizing all the details, it is important to get a written contract signed and dated by both the contractor and the architect. The contract illustrates the project in detail and includes a list of all the parts to be integrated into the house.
Ways to Minimize New Construction Costs
When building a new construction expense is a major issue, which needs contemplation. Estimating costs before finalizing the plans is always beneficial. Analyzing cost details is crucial for minimizing the expenditure. Check out with builders who have constructed homes similar to your requirements in order to get a rough idea of the cost.
It is important to estimate in advance the price per square footage. Smaller homes have higher cost per square foot than larger homes. Minor details in the design of your home can make a huge difference in its cost. Estimating construction costs before finalizing the blue prints is the best way to cut down expenses.
Building homes with even-numbered size helps in reducing waste materials. Rectangular or dome shaped homes cost less to build by making efficient use of materials. Selecting one that does not require much of cleaning and grading can minimize site preparation costs. Inflation also plays a significant role when evaluating costs. In general, costs of building a new construction increases around 3 to 6 % every year.
---
CONCLUSION:
Cost overruns generally take place by making changes, overspending allowances or by encountering unforeseen problems. Allowing additional 10% to cover unforeseen costs is a good idea. The journey from the dream house to the real house can be made fruitful by applying the above guidelines.
---
About The Author:
Christine Bourne is a professional editor, consultant and author of many posts in https://topessaybuy.com. She has a experience in working with struggling and busy students who just can't find time to complete that assignment. She also writes for many other publications and has experience in any topics. If you have a writing project in need of shoring up, she can help!
---
The Information Shown Below Is From Fast Easy Accounting
The Information Shown Below Is From Fast Easy Accounting


Download The Contractors APP Now!
Access code: FEAHEROS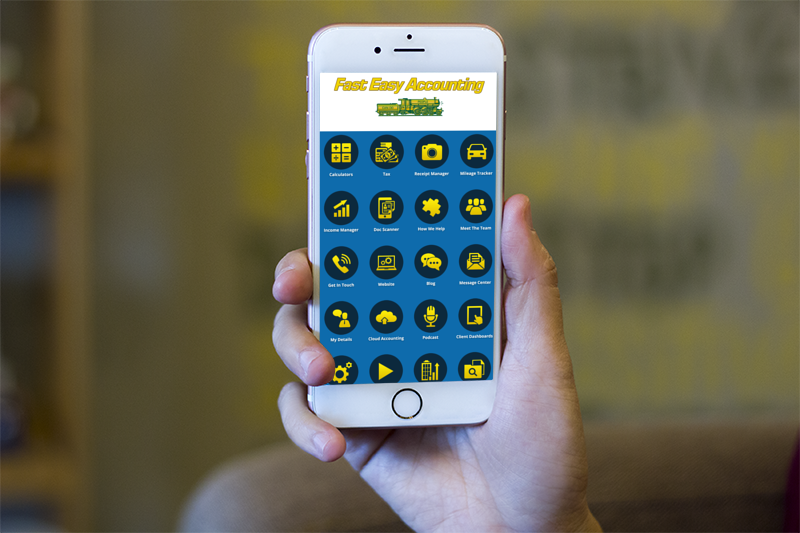 The QR Code Below Will Go
Apple Or Android Store
Whichever One
You Need
Simply scan the QR code below or search for 'MyAccountants' in the App Store and enter the Access code: FEAHEROS to utilize the powerful App features and capabilities, and benefit from having our Construction Accounting App at your fingertips, 24/7.

Access code: FEAHEROS
Or click to download the Contractors APP now from the App or Android store
Click here to download the App on iOS:
Click here to download the App on Android: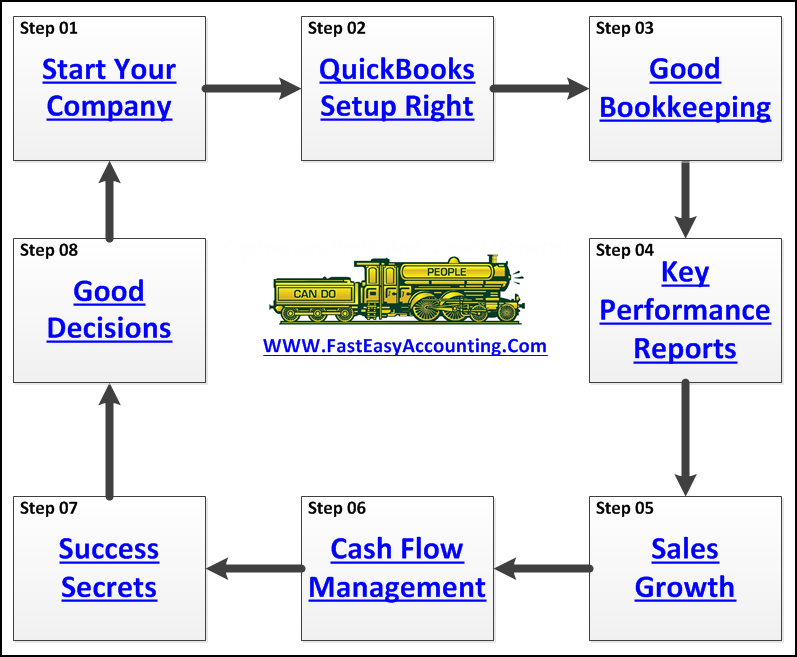 I trust this podcast helps you understand that outsourcing your contractor's bookkeeping services to us is about more than just "doing the bookkeeping"; it is about taking a holistic approach to your entire construction company and helping support you as a contractor and as a person.
We Remove Contractor's Unique Paperwork Frustrations
We understand the good, bad and the ugly about owning and operating construction companies because we have had several of them and we sincerely care about you and your construction company!
That is all I have for now, and if you have listened to this far please do me the honor of commenting and rating the Podcast www.FastEasyAccounting.com/podcast Tell me what you liked, did not like, tell it as you see it because your feedback is crucial and I thank you in advance.
You Deserve To Be Wealthy Because You Bring Value To Other People's Lives!
I trust this will be of value to you and your feedback is always welcome at www.FastEasyAccounting.com/podcast
This Is One more example of how Fast Easy Accounting is helping construction company owners across the USA including Alaska and Hawaii put more money in the bank to operate and grow your construction company. Construction accounting is not rocket science; it is a lot harder than that, and a lot more valuable to construction contractors like you so stop missing out and call Sharie 206-361-3950 or email sharie@fasteasyaccounting.com
Contractor Bookkeeping Done For You!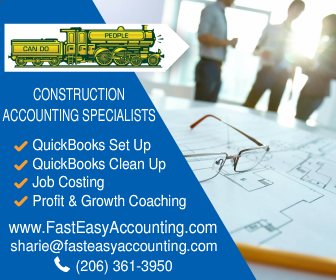 Thinking About Outsourcing Your Contractors Bookkeeping Services?
Click On The Link Below:
This guide will help you learn what to look for in outsourced construction accounting.
Need Help Now?
Call Sharie 206-361-3950
Thank you very much, and I hope you understand we do care about you and all contractors regardless of whether or not you ever hire our services.
Bye for now until our next episode here on the Contractors Success MAP Podcast.
About The Author:

For Contractors Who Prefer
To Do Your Bookkeeping
Most Contractors Setup QuickBooks Or Xero Online Accounting Using:
#1 EZ Step Interview inside QuickBooks Setup
#2 Asked Their Tax Accountant To Setup QuickBooks
#3 They Attended A How To Setup QuickBooks Class Or Seminar
And QuickBooks Does Not Work The Way They Want It Too!
The Answer: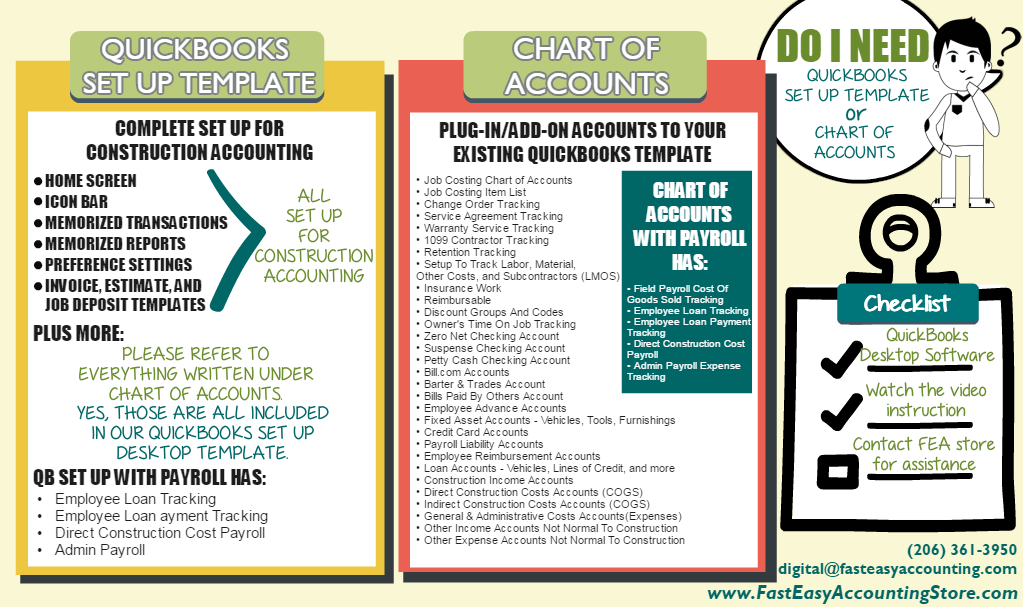 Short List Of Construction Contractors We Serve
Additional QuickBooks Templates, Resources, And Services
QuickBooks Set Up TemplatesSolopreneurQuickBooks Chart Of AccountsFree StuffQuickBooks Item Lists TemplatesConsulting

We Serve Over 100 Types Of Contractors So If Your Type Of Company Is Not Listed
Please Do Not Be Concerned Because If You Are A Contractor
There Is A Good Chance We Can Help You!
Additional QuickBooks Templates, Resources, And Services
QuickBooks Set Up Templates Solopreneur

QuickBooks Chart Of Accounts Free Stuff

QuickBooks Item Lists Templates Consulting

We Serve Over 100 Types Of Contractors So If Your Type Of Company Is Not Listed
Please Do Not Be Concerned Because If You Are A Contractor
There Is A Good Chance We Can Help You!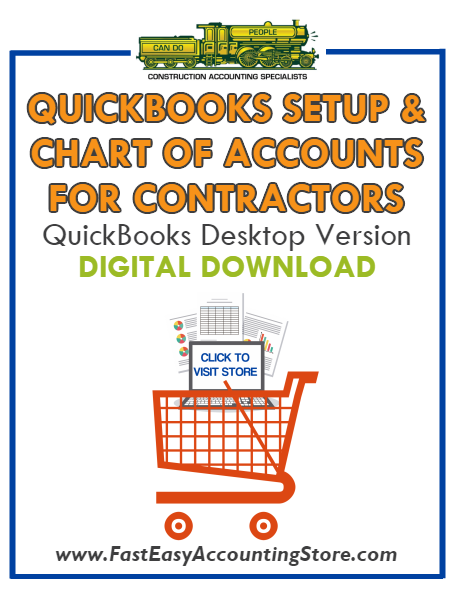 If you are a blogger, who writes about construction we would like to hear from you.
Contractors_Success_MAP, Contractors_Success_Marketing_Accounting_Production, Contractor_Bookkeeping_Services, QuickBooks_For_Contractors, QuickBooks_For_Contractors,Contractors_Success_Map_General_Introduction_and_Steps_Required_in_New_Construction