The pressures of owning and operating a construction company can be, at times, almost unbearable. Unlike any other business, there's no "one size fits all" solution in your toolbox to fix your dilemma.
Everything is created twice. First, in our minds, and when we do the work to bring them into physical existence. Take your power and take control of your ability to Be-Do-Have. You can re-write your scripts and take control and responsibility for the outcome of your Construction Company by using your imagination, conscience, and excellent implementation of your business plans.
Concentrate
Successful contractors know what type of contracting they are good at doing. SWOT Analysis is one of the tools we use in strategic planning for construction companies to evaluate the Strengths, Weaknesses, Opportunities, and Threats involved in determining the particular target market.
Strengths - are projects that your construction company does exceptionally well and earns a higher than average gross margin that gives you an advantage over other contractors. What are they, and how can your construction contracting company expand on them?
Weaknesses - are projects that your construction company does poorly at and breaks even or loses money. What are they, and how can your construction contracting company turn them into strengths?
Opportunities - are projects and markets not currently being served where your construction company can enter and turn them into strengths.
Threats - are elements outside your construction company that could cause trouble for you or your construction projects. What are they, and how can your construction contracting company turn them into opportunities?
A SWOT analysis will help you identify each of these characteristics for your business to understand better what you're doing well, what you could improve, and which external factors could affect your business.
Generate
Marketing is a science, not an art. Now that you've analyzed your SWOT, you laid the foundation by having a vision for what your Construction Company will be when you finish building it, you know who you are, and you know who your prime client is. You can quickly generate more leads than you can handle.
Let's Run The Numbers Starting With The Cost To Acquire A Customer
Step #1 – Generate a Profit & Loss Report from the previous two years and isolate total income. (Note: All companies are only two years old regardless of how long they have been in business because what happened more than two years ago doesn't matter when developing a financial forecast).
Step #2 – How Much Money Did You Invest In Marketing? Not investing money in marketing is like winking at a pretty girl or guy in the dark, you know you are doing it, but they don't. Relying on word of mouth means being in a race for the championship of low price leaders!
Step #3 – How many new customers or clients did you acquire during the past two years?
Step #4 – Divide Total Income from step #1 by the number of customers or clients in step #3, and you will have a rough idea of your sales per customer.
Step #5 – Divide The Amount Of Money You Invested In Marketing by the number of customers or clients in step #3. Just know that 80% of the marketing is done to keep current clients, and only 20% is designed to attract new ones. Why do you suppose the car manufacturers invest so much money advertising their products when most people continue to purchase similar makes and models repeatedly?
Step #6 – Multiply The Net Profit Percentage shown on your Profit & Loss by the sales per customer in step #4 to generate a rough idea of a customer's net worth to your Contracting Company. This is one of the numbers that become very important if you ever want to sell your Contracting Company.
Step #7 – Customer Gross Profit in step #6 minus marketing cost in step #5 = Customer Net Profit.
Step #8 – Where MR > MC - When the Marginal Revenue is greater than the Marginal Cost and risk is manageable, do the deal. MR>MC is a long discussion for more on it click here
Step #9 – Where is Break-Even, or how far can I go before it is time to quit doing it?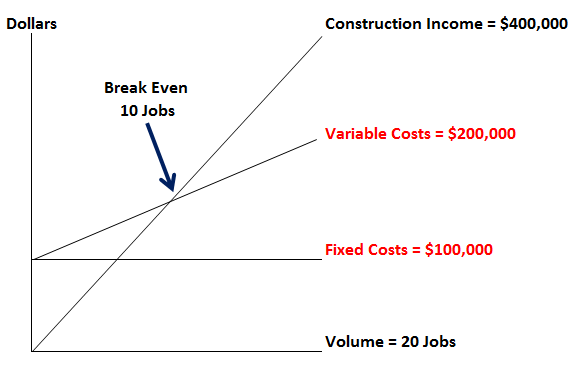 Step #10 – When You Know How Much A Client Is Worth, you will know how much you can invest to acquire a new one and as many new ones as you want.
Step #11 – Keep Your Existing Clients Happy and continue offering new products and services.
Would you like to start evaluating your geographic and demographic target markets and develop strategic plans to increase your company sales, cash flow, and bottom line profits? Focus on a few Key Strategies that require the least amount of effort and generate optimum sales cash flow and earnings for your contracting company by taking our SWOT Analysis class.
Final thoughts
Seeing the strengths, weaknesses, opportunities, and threats of your business and various projects is essential in fine-tuning your strategy. SWOT analyses are a great way to explore potential solutions, identify potential barriers, choose an effective strategy, or revise an existing policy. Conduct regular SWOT analyses to keep your business on the right track, and whenever you're faced with a decision.
Be the contractor who will do whatever it takes to rise above owning a job and develop a construction business that will provide for themselves and their families for a lifetime.